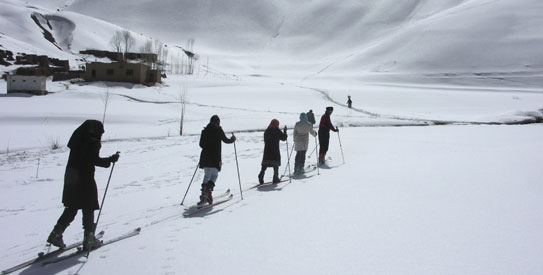 BAMIYAN: Best known for its historic Buddha statues blown up by the Taliban 10 years ago, the Afghan province of Bamiyan has a fresh attraction which it hopes will draw in tourists - skiing.
Travelling to the slopes in Bamiyan is a risky business due to the security situation in the war-torn country, although the central Afghan province itself, around 130 kilometres west of Kabul, is relatively safe.
While it is short on apres-ski and lifts, organisers are hopeful that adventurous travellers could have their interest piqued by Bamiyan's dramatic beauty and the promise of wild, ungroomed runs.
Afghans are also taking an interest in the sport, including a handful of women from the more liberal Kabul, despite conservative social codes in the country under which many still wear the burqa in public.
"In Europe and the US, more and more people want to go back to country skiing, wilder, without tens of people on the same piste," said Henry Charles, a 31-year-old British security worker who regularly skis in Bamiyan.
"That is a trend, and Bamiyan is all about that... you get your own line in fresh powder snow, that's great. We're at 2,500 metres (8,200 feet) so the snow stays very well, like sugar, for several days."
The 1.2 million dollar project to encourage skiing in the area was launched in 2008 by the Aga Khan Foundation (AKF) with the help of NZAID, the New Zealand government's international aid agency.
It is backed by local officials who hope that skiing and tourism more generally can boost the economy of the poor agricultural region, where world culture body UNESCO said last week it wants to set up several museums to house the remains of Bamiyan's Buddha statues.
The three summits of Koh-e-Baba, Bamiyan's ski area, face the cliff where the massive Buddhas were blown up by the Taliban 10 years ago this month.
Before the Soviet invasion and subsequent wars in Afghanistan, Bamiyan welcomed around 65,000 tourists a year, of which some 10,000 were from Japan and came to see the Buddhas.
Last year, the figure stood at just over 3,300, of which just 805 were foreigners, mainly those already working in Afghanistan. The AKF says the figures are gradually increasing.
Taliban activity in Bamiyan is extremely rare because the area is largely populated by the Hazara ethnic group, their historic foes.
But there are other problems with attracting tourists to Bamiyan. One is that getting there is tough, and local officials say government promises of help to improve the situation have not been delivered on.
The two main roads from Kabul carry the risk of mines and hijackings by insurgents looking for cash, making flying the safest option.
However, at this stage no commercial airlines operate between Kabul and Bamiyan so most people travelling to the province rely on United Nations flights or those operated by Western embassies.
"The government promised us a couple of choppers but we haven't seen them yet," said Bamiyan's vice governor Haji Qasim Kazemi.
Accommodation in the town is also primitive - none of its 18 hotels has round-the-clock electricity and hot water.
In addition, no one really knows what the security situation in Bamiyan will look like in a few years, after international combat troops are due to withdraw from Afghanistan in 2014.
Western sources suggest Bamiyan could be among the first wave of provinces in Afghanistan where responsibility for security will pass from international to Afghan forces from July.
Said Shah, a local teenager who has taken up skiing in recent years, highlighted fears that security could deteriorate, destroying Bamiyan's hopes of becoming a tourist destination again.
"If the foreigners continue their cooperation, we could be a ski station here one day. But peace is the first thing to achieve," he said.