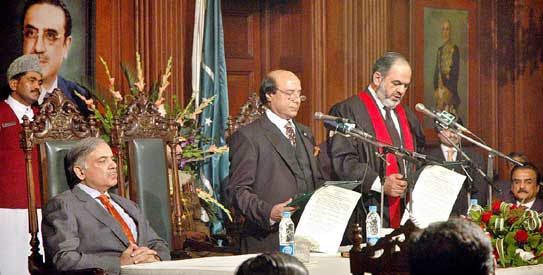 LAHORE: Sardar Muhammad Latif Khan Khosa took oath as Punjab Governor in a ceremony held at the Governor's House on Thursday.
Chief Justice Lahore High Court Ijaz Ahmed Chaudhry administered the oath to the Punjab Governor.
The oath-taking ceremony was attended by Punjab Chief Minister Muhammad Shahbaz Sharif, Federal Minister for Information and Broadcasting Qamar Zaman Kaira, Federal Ministers- Mian Manzoor Ahmed Wattoo and Firdous Ashiq Awan, PPP Secretary General Jehangir Badr, PPP Speaker Punjab Assembly Rana Muhammad Iqbal,PPP Information secretary Fauzia Wahab, PPP Punjab President Imtiaz Safdar Warraich, former president Supreme Court Bar Barrister Aitzaz Ahsan, Chariman ETPB Syed Asif Hashmi, Punjab Law Minister Rana Sanaullah Khan, Opposition Leader in the Punjab Assembly Ch Zaheeruddin, Senior Minister Raja Riaz Ahmed, Incharge Peoples Labour Bureau Pakistan Ch. Manzoor Ahmed and US Counsel General Carmela Conroy, PPP federal and provincial ministers, parliamentarians, PPP district presidents, office bearers and a large number party workers and lawyers representatives from across the country.
Chief Secretary Punjab Nasir Mehmood Khosa, IGP Punjab Javed Iqbal, Advocate General Punjab, provincial Ombudsman and high ranking officials also attended the ceremony.
The Darbar Hall of the Governor's House resounded with the slogans of 'Naara-e-Bhutto, Jiye Bhutto', 'Zinda hae Bibi Zinda hae.'
Punjab Governor Sardar Muhammad Latif Khan Khosa is the 33rd Governor of the province who succeeded Salman Taseer, gunned down by his body-guard in Islamabad.
Hailing from Dera Ghazi Khan, a district in the Southern Punjab, Sardar Muhammad Latif Khan Khosa's elevation as Punjab Governor symbolises the fulfilment of PPP's manifesto of the empowerment of the less priviliged as well as development of backward areas in the country.
Sardar Muhammad Latif Khan Khosa, a close aide of Shaheed Mohtarma Benazir Bhutto, is an astute politician as well as a lawyer leader who rendered valuable services during the lawyers movement launched for the restoration of judiciary.
Following is a brief profile of the Punjab Governor sardar Muhammad Latif Khan Khosa:
Sardar Muhammad Latif Khan Khosa was born in Dera Ghazi Khan on 25 July 1946.
He got his early education from schools in D.G. Khan and Lahore while graduated from the Punjab University.
Khosa won distinction in the matriculation and L.L.B examination during his academic careeer.
Blessed with rare rhetoric abilities, Sardar Latif Khan Khosa remained the best english debator in the Punjab University.
As a student leader, Khosa was elected as President Punjab University Law College Student Union during 1965-66.
As a lawyer Khosa has the unique distinction of being the first President of the Multan High Court Bar Association and was elected three time as President.
He also was elected member of Pakistan Bar Council on three occasions and Chairman Executive Committee and Appeals committee as well as Members Tribunal of the council.
Khosa, remained PPP Senator from March 2003 to March 2009.
He also served as Attorney General of Pakistan as well as adviser to the Prime Minsiter on Information Technolog/Minister-in-Charge.
Khosa was in the forefront of the lawyers movement who opposed the Musharraf dictatorial regime tooth and nail and shed his blood for the restoration of judiciary on March 12, 2007.
Sardar Muhammad Latif Khan Khosa has been elevated as Punjab Governor by the President Asif Ali zardari on advice of the Prime Minister Syed Yusuf Raza Gilani on January 11, 2011.