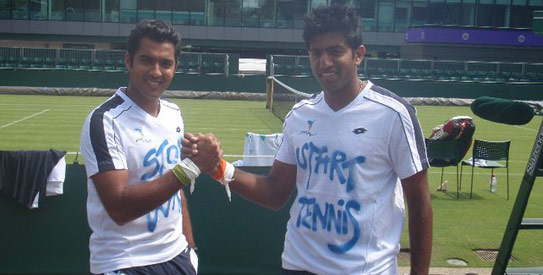 Aisam ul-Haq Qureshi, Pakistan's top tennis star and most recent recipient of the Sitara-e-Imtiaz, Pakistan's third highest civilian award, has earned another feather in his cap. The ATP Tour, the world governing body of Men's Tennis, has chosen Aisam to be awarded with the Arthur Ashe Humanitarian of the Year Award for the second time.
In 2002, Aisam won this award based on his stance, when partnering with an Israeli tennis player, that politics and religion should not be mixed with sport.
Since last year, Aisam has been pairing regularly with India's Rohan Bopanna. They went on to reach US Open Men's Doubles Final and have finished the year as no. 8 team in the world. Together, the two of them have been spreading the message of peace through the medium of tennis. In view of their efforts, the Monaco based 'Peace and Sport' organisation awarded them the title 'Champion for Peace'.
Their campaign 'Stop war, Start tennis' has garnered tremendous media attention, and the Indo-Pak express, as they are known, have now earned the accolade of the Arthur Ashe Humanitarian of the Year Award for 2010.
Aisam is the only person in the 27 year history of the award to be honoured twice.