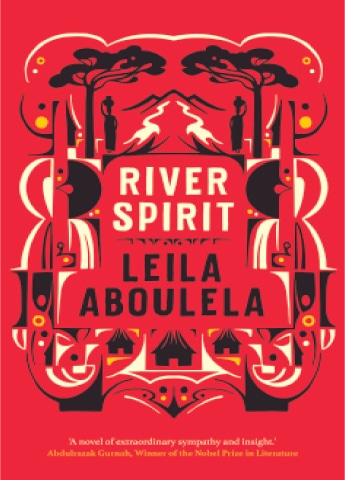 River Spirit
By Leila Aboulela
Saqi, UK
ISBN: 978-0863569173
320pp
Sudanese-Scottish writer Leila Aboulela's sixth novel, River Spirit, maintains the high standards set by her earlier books — The Translator (1999), Minaret (2005), Lyrics Alley (2010), The Kindness of Enemies (2015) and Bird Summons (2018), as well as her two short story collections, Coloured Lights (2001) and Elsewhere, Home (2018).
Her short story 'The Museum', which anticipated the global move towards decolonising the museum as an institution, won the first Caine Prize for African Writing in 2000.
River Spirit tells a story of religious corruption, unbreakable bonds and "seductive hope", and has already received high praise from British-Tanzanian author and Nobel laureate Abdulrazak Gurnah, who describes it as "novel of extraordinary sympathy and insight." Scottish-Senegalese writer Aminatta Forna is another admirer: "River Spirit had me gripped from the first page. This is real history, imagined in splendid detail, a story of ordinary people caught in extraordinary times."
The novel is set in 19th century Sudan, during the 18-year long Mahdist War, in which the self-proclaimed 'Mahdi' of Islam, Muhammad Ahmed bin Abdullah, and his followers fought the Khedivates of Egypt and later, the British forces, for control of Sudan.
Against this backdrop, Aboulela explores the lives of two women: the orphaned Akuany, sold as a slave to a Turkish governor's wife who renames her Zamzam, and the middle-class intellectual Salha. These two women are linked to each other by their relations to the merchant Yaseen, who is Salha's husband and a central force in Akuany's life, having taken the girl in after her father is killed in a raid upon her village.
A key theme of River Spirit is how different people respond to social upheaval and calamity. After the fall of Khartoum in 1885, Salha decides not to leave her city, since her identity is rooted in land, culture and tradition. "I don't have the courage for exile", she says. "I need to be among my people. The new rulers are allowing me to keep my social position, placing me with a compatible family. I must be grateful for this. It could be much worse. No, I can't make a run for it and live where no one knows me."
Akuany, on the other hand, is tied not to a place, but to Yaseen: "The river's song had always been that she would follow him, but now a more compelling power was taking them back where they started. They would build on what already existed. Beginnings that did not have the chance to flourish, were suppressed by circumstances, strangled but not killed. Alive enough to be rekindled, nudged back to life."
The newest amulet was given to her by the Mahdi himself. Not enough that the Expected One smiled at her, but to give her this special protection too! … It had been a special day when he arrived, the sky soft, the world bright. Each day of his visit had been charged by a particular aura, his sermons changing the daily life of the people, stirring hopes in them. He was the one they had been expecting, he was the Guided One mentioned by the prophecies. — Excerpt from the book
Through these personal stories about fragile realities and the possibilities of love, Aboulela explores the imperialist history of 19th century Sudan. In doing so, she places female characters at the centre of her narrative. As with figures such as Najwa in Minaret and Sammar in The Translator, both Akuany and Salha are strong and complex women.
Akuany is, by turns, enlightened, intellectual, sensual, manipulative and hopelessly romantic. "She was happiest when she was alone with [Yaseen], and she could pretend that nothing else mattered. Neither their hunger nor the future, nor the wife waiting for him in Khartoum … he desired her as a woman, she was the most beautiful one in the world. Because she had come to him by choice, she was strong. Because they had travelled, were separated and reconciled, their history provided hours of banter and reminiscence."
Through its focus on Sudan, River Spirit also connects to a broader exploration of the history of empire in Africa, describing the socio-cultural consequences of imperialist exploitation and injustice.
We see how political oppression infiltrates family life and the domestic sphere, particularly through characters such as Musa, a disaffected youth impoverished by unjust colonial taxes. The combination of poverty and the violence of his home life leads him to eventually joining the Mahdists, despite his lack of interest in religion.
For figures such as Musa, "the Mahdi has coalesced the nation's sense of injustice", offering an alternative to his sense of social and familial abandonment. Musa's abject condition prevents him from seeing that this movement, with "no more plurality, no more diversity of practice and interpretation — only one arbiter and a 'pure religion'", will not bring justice to a suffering people.
Yaseen, on the other hand, has an education in fiqh and Shariah from Egypt's Al-Azhar University and this, coupled with his financial prosperity, allows him to critique and question the self-proclaimed Mahdi: "I say, 'This is different. Muhammad Ahmed is basing law on a dream. Imagine if on the month of the pilgrimage, someone, no matter who, the most pious, the most learned and well respected wakes up one morning and says that the Prophet came to him in a dream and told him that today is the start of Ramadan.
"What then? The whole ummah abandons the Hajj and starts to fast? The calendar is readjusted? Would Islam have lasted through centuries if such madness has ever been allowed? I am not questioning his visions. They are his, but they are his alone. He has no right to extrapolate laws from them. They have no basis on the fiqh or the Shariah. Dreams are not evidence."
River Spirit asserts that in these situations, such dissenting voices are more valuable than ever.
The novel also traces connections between Scotland and Sudan via Robert, an aspiring Scottish painter who works in the Khartoum boatyard. He buys Akuany in Khartoum — a gateway to the East African slave market at the time — and paints her, hoping to make a name for himself in the Scottish art world for representations of the Orient.
Aboulela writes: "He had captured the girl's blue-black skin with accuracy, the feminine muscle of her arms, the row of scarification on her stomach. She was seated in a three-quarter pose against a black background, looking over her shoulder, gripping and pulling the edge of a white muslin veil that covered her head but not her torso."
Robert's reimagining of Akuany as the nude "Negress of the Nile" recalls Algerian poet, writer and literary critic Malek Alloula's book The Colonial Harem, which explores the white colonial master's fascination with paintings and photographs of nude Muslim women, manifesting the victory of the Occident over the Orient. Alloula writes: "the colonial postcard says this: these women, who were reputedly invisible or hidden, and, until now, beyond sight, are henceforth public […]. They offer their body to view as a body-to-be-possessed."
Yet Akuany rejects Robert's assumption of possession and, in a moment of rage, destroys the painting with a knife. This results in a brutal beating from Robert and her actions in the face of this violence represent a rejection of the passive female figure in the European art tradition, bringing forth instead a "vivacious", "luscious", "[f]ree, heart-tight, expectant, in love" Sudanese woman.
Through such moments, River Spirit pays tribute to the women of Sudan. These lively, confident, complex and unpredictable characters are the driving narrative force and Aboulela describes them in prose that is urgent, engaging and lyrical, even in its explorations of violence.
The result is a sweeping historical novel that succeeds in entwining themes of romance, resilience, faith and dogma through its intimate depictions of Akuany and Salha.
The reviewer is assistant professor of English and African literature at Lums, Lahore. She can be reached at sadia.zulfiqar@lums.edu.pk
Published in Dawn, Books & Authors, March 12th, 2023