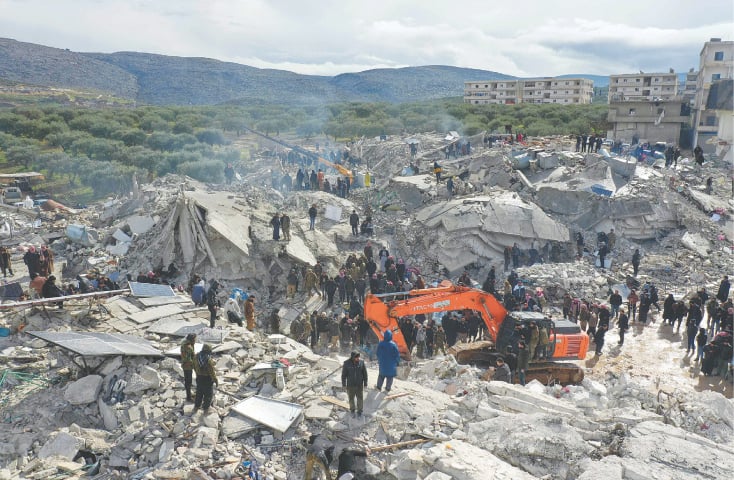 • Over 3,600 feared dead following 7.8 magnitude tremor, aftershocks
• Rescue work hampered by cold weather
• World scrambles to help; US, UAE sending aid
• Shehbaz calls Erdogan, due in Ankara today
SANLIURFA: A major earthquake struck Turkiye and Syria on Monday morning, killing more than 3,600 people and flattening thousands of buildings as rescuers dug with bare hands for survivors.
Dozens of nations have pledged aid since the 7.8-magnitude quake, which hit as people were still sleeping and amid freezing weather that has hampered emergency efforts.
Multi-storey apartment buildings full of residents were among the 5,606 structures reduced to rubble in Turkiye, while Syria announced dozens of collapses, as well as damage to archaeological sites in Aleppo.
The head of Syria's National Earthquake Centre, Raed Ahmed, called it "the biggest earthquake recorded in the history of the centre". The initial quake was followed by dozens of aftershocks, including a 7.5-magnitude tremor that jolted the region in the middle of search and rescue work.
At least 1,293 people died across Syria, the government and rescuers said. Turkish government officials reported another 2,316 fatalities, putting the combined total at 3,609. More than 12,000 people were injured in Turkiye, the disaster management agency said, while Syria said at least 3,411 people were injured.
Turkiye has declared seven days of mourning for the dead.
'Apocalypse'
In the southeastern Turkish city of Sanliurfa, rescuers were working into the night to try and pull survivors from the wreckage of a seven-storey building that had collapsed.
"There is a family I know under the rubble," said 20-year-old Syrian student Omer El Cuneyd. "Until 11:00 am or noon, my friend was still answering the phone. But she no longer answers. She is down there."
Despite temperatures falling below zero, frightened residents in the city were preparing to spend the night on the streets, huddling around fires to warmth.
Nearby Mustafa Koyuncu was sitting packed inside his stationary car with his wife and their five children, scared to move. "We are waiting here because we can't go home," he said. "Everyone is afraid."
"That was the first time we have ever experienced anything like that," said Melisa Salman, a 23-year-old reporter in the southeastern Turkish city of Kahramanmaras. "We thought it was the apocalypse."
Airports inoperable
Officials said the earthquake made three major airports in the area inoperable, further complicating deliveries of vital aid. The rescue was being hampered by a winter blizzard that covered major roads in ice and snow.
Monday's first earthquake struck at 4:17am (local time) at a depth of about 18 kilometres near the Turkish city of Gaziantep, home to around 2m people, according to the US Geological Survey.
Denmark's geological institute said tremors reached the east coast of Greenland about eight minutes after the main quake struck Turkiye.
'People under debris'
Osama Abdel Hamid, a quake survivor in Syria, said his family was sleeping when the shaking began.
"The walls collapsed over us, but my son was able to get out," he said.
"He started screaming and people gathered around, knowing there were survivors, and they pulled us out from under the rubble."
Some of the heaviest devastation occurred near the quake's epicentre between Kahramanmaras and Gaziantep, where entire city blocks lay in ruins under gathering snow.
A famous mosque dating back to the 13th century partially collapsed in the province of Maltaya, along with a 14-storey building with 28 apartments that housed 92 people.
Power outages
The Syrian health ministry reported damage across the provinces of Aleppo, Latakia, Hama and Tartus, where Russia is leasing a naval facility.
AFP correspondents in northern Syria said terrified residents ran out of their homes after the ground shook.
Even before the tragedy, buildings in Aleppo -- Syria's pre-war commercial hub -- often collapsed due to the dilapidated infrastructure, which has suffered from lack of war-time oversight.
Officials cut off natural gas and power supplies across the region as a precaution, also closing schools for two weeks.
Turkiye is in one of the world's most active earthquake zones. The country's last 7.8-magnitude tremor was in 1939, when 33,000 died in the eastern Erzincan province. The Turkish region of Duzce suffered a 7.4-magnitude earthquake in 1999, when more than 17,000 people died.
Experts have long warned a large quake could devastate Istanbul, a megalopolis of 16 million people filled with rickety homes.
Condolences and support
In the immediate aftermath of the powerful quake, messages of support and condolence poured in from all corners.
While US President Biden said he was deeply saddened by the loss of life and devastation, his national security spokesman John Kirby said Washington was sending two search-and-rescue teams of 79 people each, while the Pentagon and USAID were coordinating with their Turkish counterparts.
Chinese leader Xi Jinping told Turkish President Recep Tayyip Erdogan and Syrian President Bashar al-Assad in separate messages he was "shocked" to learn of the disaster, state broadcaster CCTV reported.
Ukrainian President Volodymyr Zelensky offered to provide "the necessary assistance" to Turkiye, whose combat drones are helping Kyiv fight the Russian invasion.
The United Arab Emirates pledged humanitarian assistance worth around $13.6 million to Syria, while it said it was planning to establish a field hospital in Turkiye and will also send search and rescue teams to Syria, along with urgent relief supplies and emergency aid.
Prime Minister Shehbaz Sharif also spoke to Turkish President Erdogan on Monday. "I told the President that Pakistan would do anything to help their Turkish brothers & sisters during this challenging time," he said in a subsequent tweet.
"Teams comprising doctors, paramedics & rescue workers are being sent to Türkiye today to help with the ongoing rescue efforts. A plane carrying medicines and other essential relief goods is also being dispatched soon," he tweeted.
Later, it emerged that PM Sharif was expected to travel to Turkiye today (Tuesday).
Published in Dawn, February 7th, 2023