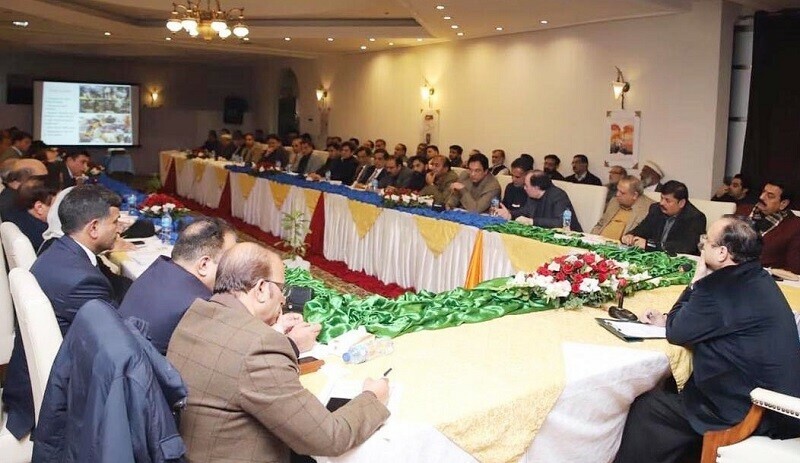 MUZAFFARABAD: Azad Jammu and Kashmir (AJK) Prime Minister Sardar Tanveer Ilyas has asserted that his government had been working on a comprehensive roadmap to make the liberated territory an ideal state economically and industrially.
He expressed these views while presiding over a high-level meeting held in the lakeside city of Mirpur to review the progress of all development and non-development departments.
Participants of the meeting included cabinet members, secretaries to the government and heads of the departments and other senior officials.
"We have to work hard today for a better tomorrow and make sure that all available resources and manpower are utilized honestly and effectively," the prime minister said at the meeting.
Terming Mirpur as the "most modern and planned town" after Islamabad, PM Ilyas said that the infrastructure of the city, which was home to thousands of dual nationality holders, should be of the international standards.
"Expatriates are our asset; the government will provide all possible facilities to them and all those who will make investments in the territory," he said.
Regarding the federal government funded Rathoa-Haryam Bridge over a portion of Mangla reservoir, he claimed that obstacles to its long overdue completion had been removed following the "near settlement of issues related to funds, workforce and consultants."
While terming the 'qabzamafia' as the biggest hurdle in the way of development and prosperity, PM Ilyas said that the administration must continue to take administrative and legal actions against land grabbers.
Appreciating the role of dutiful officers in society, he maintained that the areas where official machinery performed their functions with a missionary zeal achieve progress and prosperity by leaps and bounds.
The extraordinary meeting also minutely reviewed the progress on implementation of prime minister's directives quality construction, cleanliness and prevention of smuggling of flour, among other things.
The prime minister directed the participants to redouble their efforts to accelerate the process of development so that the ongoing projects in different parts of the state could be completed within the stipulated time frame.
He asked the civic bodies in Mirpur to raise a grand public park in the city with state of the art facilities to provide quality entertainment to residents and visitors, including the overseas Kashmiris.
Published in Dawn, January 31st, 2023