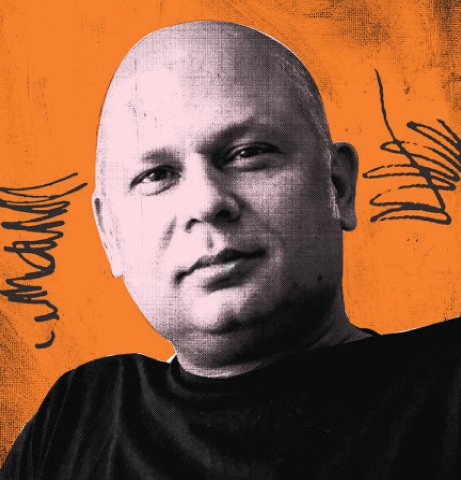 There was a time — not very long ago — when students, labour, journalists and a representative segment of literary writers methodically worked together across Pakistan to realise their collective aspirations for a people-centred polity and a progressive society.
Their networks of organisations took different shapes and forms, corresponding to their immediate environment in diverse parts of the country and in reaction to martial rules and authoritarian civilian interludes. However, a country-wide coordination remained, with significant involvement from all parts of Pakistan.
Besides, there was a deep awareness of seeing all workers', nationalist and democratic rights movements within the country in the larger global perspective. It brought a sense of international solidarity among all struggling for their respective rights across Asia, Africa, Latin America and elsewhere. This consciousness of the global human condition also helped in humanising each struggle by making it more inclusive and tolerant.
The critical link between literature and the politics of these struggles thrived in those days. From Chile's Pablo Neruda, Turkey's Nazim Hikmet, Palestine's Mahmoud Darwish and India's Ali Sardar Jafri across the world, to Pakistan's Ghani Khan, Faiz Ahmed Faiz, Gul Khan Naseer and Shaikh Ayaz, besides many others, there were stalwarts who infused a new spirit and romanticised the cause of oppressed classes and nations for political workers and rights campaigners.
It will be interesting to note that the radical poetry of women such as Kishwar Naheed and Fahmida Riaz predate the systematic struggle of women's rights waged in Pakistan. It was the poets who were the trailblazers.
Aakash Ansari, one of the finest Sindhi language poets today, comes from that time and belongs to that league. In 1954, when the provinces of then West Pakistan were merged into one unit — depriving each province of its identity and rights — in order to seek parity with the then more populous East Pakistan, a new consciousness emerged in Sindh.
Shaikh Ayaz was among those who led in shaping that consciousness. Along similar lines, Ansari is one of those who helped shape the consciousness during Gen Ziaul Haq's martial rule and chronicled the people's suffering during the Movement for Restoration of Democracy (MRD) in the 1980s.
Later, during Gen Pervez Musharraf's martial law, Ansari wrote scathing poetry to counter the official narrative. One poem, on judges who succumb to the pressure of dictators, remains one of my favourites.
Celebrated scholar Jami Chandio terms Ansari a symbolic revolutionary voice of that era. and I've had the privilege of listening to Ansari's work since the 1990s. His choice of contemporary Sindhi language and accessible idiom makes it easy for those of us who, regrettably, have limited understanding of the language, particularly its classical dialects, to follow him.
Ansari's poetry is not limited to political content. He is critically acclaimed for his romantic verse and seen as one who uses the most delicate metaphors in his love poems. As goes the tradition of South Asian progressive poets, to which he belongs, Ansari's verse is a mash-up of romance and a struggle for revolution. His love for his land, language and people — Sindh in its entirety and expanse — oozes from his expression.
He is also sung by some of our top-most vocalists, such as Abida Parveen, Ustad Mohammad Yousuf and Mahesh Chander, among others. None other than Noor Jehan sang a film song by Ansari in Sindhi.
His collections Keean Rahan Jalawatan [How I Remain in Exile] and Adhoora Adhoora [Incomplete, Incomplete] containing 68 and 88 poems respectively, are popular among both connoisseurs of literature and purely political workers. His knowledge of music, raags and rhythm brings a soothing melody to even the most rebellious of his poems. The prosody he uses in his poetry gels perfectly with music. One reason is his imbibing Shah Abdul Latif Bhitai's transcendental verse since forever.
For the benefit of those who do not know the Sindhi language, Dr Sahar Gul has translated 34 selected poems of Ansari into English, in a collection titled An Elegy for the Brave Hearts of Tomorrow: Poems of Love, Revolution and Resolve, published by Roshni, Hyderabad (Sindh), in 2022.
Gul is a leading writer of fiction and non-fiction and a literary scholar in her own right. She enjoys an equal command over English, Sindhi and Urdu. Her knowledge of Persian is no less formidable. That has helped her offer the true essence of Ansari's poetry to his reader in English.
Translation is a painstaking job and a good translation itself falls within the creative realm. In her preface to the book, Gul writes: "The message in this poetry is the bewail of a bird flying suspended in the skies, frantically plunging down to the lower altitudes to search for its nest, failing to find that reverting back to the skies again."
From love and longing, to political resistance, to a sense of deep loss in the wake of most dreams shattered with time, Ansari brings out divergent themes through rich imagery. On the one hand, he never gives up hope: "In the shadows of skies now/ Heavenly lanterns dimmed down/ Stars slept, becoming tired, dimmed down/ Since long the stars turned their directions/ But the caravan awaiting/ Get never exhausted, drained!/ You will come, you will come and you will come, no doubt."
On the other hand, he says: "Neither the passion, as volcano ever erupted/ Nor the flame of yearning, in heart, ever fainted!/ Neither the piercing pains turned us into a fire-flash/ Nor could we drop like a singed cigarette's ash!/ Hurt, seared, half-done, pained/ Incomplete, all life, we remained."
Reading Ansari's work reminds me of a Persian couplet by Amir Khusro: "Shad bash ay dil keh fardah bar sar-i-bazaar-i-ishq/ Muzhda-i-qatl ast garcheh wada-i-deedar neest" [Celebrate my heart for tomorrow in the bazaar of love/ There is a good tiding of I being killed, but there is no promise that the beloved will be seen].
The columnist is a poet and essayist.
He has recently edited Pakistan Here and Now: Insights into Society, Culture, Identity and Diaspora. His latest collection of verse is Hairaan Sar-i-Bazaar
Published in Dawn, Books & Authors, January 22nd, 2023