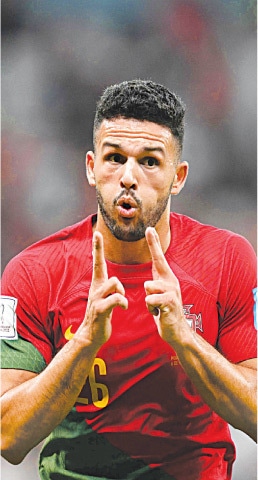 DOHA: As soon as Cristiano Ronaldo, a World Cup trophy earring and an abnormally large Adam's apple included, walked into the hall, known in football jargon as the mixed zone, the change in the air was palpable: The 'oohs' and the 'aahs' and then the sound of hurried footsteps; a herd rushing on the carpeted, panelled floor.
Shepherded by Portugal's media manager through the zig-zag that runs from broadcasters to written press on the way to the team bus, a waist-high wooden panel separating players from the throngs of reporters, Ronaldo had a wide smile as he whisked through; the press pack following him through every turn like a swarm of bees. Ronaldo, though, isn't taking questions, only giving a fist-bumps and high-fives. Until just as he's about to get away, a female reporter quips, "Cristiano, are you happy?". "Of course I am, we're in the quarter-finals of the World Cup!" is Ronaldo's reply.
Happy or not, Portugal's progress on Tuesday night had no contribution from Ronaldo. They didn't need their totemic 37-year-old forward to make the last eight of the World Cup for the first time since 2006. It's of course not discounting Ronaldo's performances over the years for his national side where he single-handedly carried them with his stratospheric return of goals. Now, though, the side has outgrown Ronaldo. Their tennis score win over Switzerland — 6-1 it finished — was an exhibition of football. Portugal looked so much better without Ronaldo; his absence unleashing the creative force and imagination of technically-gifted players like Bruno Fernandes, Bernardo Silva and Joao Felix who played with a carefree abandon without the pressure of giving the ball to Ronaldo up front.
But can you shift the focus off Ronaldo? As Portugal lined up for their national anthem, photographers clamored to take pictures of him on the bench. There was little interest in those taking to the pitch. Goncalo Ramos, the 21-year-old Benfica striker who replaced Ronaldo with just over half an hour of international football under his belt, got a hat-trick here. Yet, even if polls in Portugal showed that a large majority wanted Ronaldo out of the starting line-up, the loudest cheers at the Lusail Stadium came when Ronaldo came on for Ramos. Fans from Portugal might have been delighted to see the way Portugal played without him but the crowd was largely made up of fans from around the world who wanted to see the global icon in action. When Fernandes came to the mixed zone, the Portugal press officer had to plead to reporters to ask questions about Ramos. Yet, the focus remained on Ronaldo.
"Cristiano is the most famous player in the world, across all sports," said Fernandes. "People come to see Ronaldo and I'm not surprised." Asked about Ronaldo's future with the team, he added: "We won our first two [group] games with Cristiano. Had he played today, probably he would've scored three goals and no one would be talking about that. Cristiano is doing his job, doing his part. He's happy with the result because it takes us one step ahead."
At the start of the World Cup, Fernandes and Ronaldo were still team-mates at Manchester United. But the drama around Ronaldo at the World Cup saw United sever their ties with him. Ronaldo had complained about his lack of playing time at the club. Portugal's performance shows he'll have to accept a bit-part role with the national side now. It was symbolic that Portugal, who have always had Ronaldo in their big World Cup games, broke a 16-year glass ceiling at the tournament without him. Coach Fernando Santos, who had been unimpressed with Ronaldo's gestures after he was substituted in their last group game against South Korea, made a statement here and at the press conference later on, he was non-committal about Ronaldo being able to win back his starting berth. Ramos said it was "his wildest dream" to start a knockout game for his country and that his "idol" Ronaldo had "motivated him" ahead of the game.
Ramos gave Portugal the mobility that Ronaldo's aging legs don't offer anymore, allowing Felix, Fernandes and Silva to pull the strings behind him with their darting runs and quick interchanging. "We are 26 players that are prepared to play for the national team," said Silva, when asked by Dawn about Portugal's breathtaking performance without Ronaldo. "Today, the manager chose 11 players and they had a great game. We're very happy with our performance but we keep going. Our goal doesn't stop here. We want to reach the big thing."
So far in Qatar, Ronaldo has scored just one goal — that too from the penalty spot in Portugal's win over Ghana in their opening game. In an eventful tournament, he's yet to light up the World Cup. He awaits his moment. It could yet come in a dream World Cup final against Argentina and his long-time nemesis Lionel Messi; a tie to settle the GOAT debate. There, he might come off the bench and score the winner. First up, though, are a Morocco side brimming with confidence and full of belief after sending Portugal's Iberian rivals Spain home.
Published in Dawn, December 8th, 2022