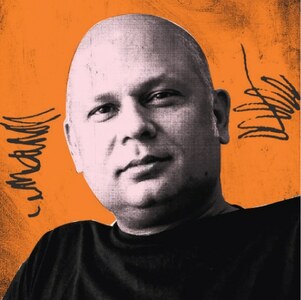 When I heard about the government banning the film Joyland — even after it was declared fit to be screened by three censor boards — the late Saqi Farooqui's Urdu poem 'Mastaana Heejra' [The Carefree Transperson] began echoing in my mind.
Farooqui begins the poem with his signature playfulness and brings in sensual innuendos before the verses take a tragic final turn. The last two lines sum up the treatment meted out to transgender persons and their existential suffering: "Aur main zameer-i-aalam ke tang maqbaray mein/ Zinda gara hua hoon" [In the narrow grave of people's conscience/ I am buried alive].
Joyland has already won the Un Certain Regard jury prize at the Cannes International Film Festival and, ironically, is Pakistan's official entry in the international films category for the Oscar awards. As in the case of the film Zindagi Tamasha [Circus of Life], banned a couple of years ago, those who have participated in running a smear campaign against Joyland have not watched it, since it has not yet been released in Pakistan.
The argument against the film by its critics is that it stands against our values, because it purportedly shows a man falling in love with a transperson. I don't know if this is true since, like the critics, I haven't seen it yet and the film must have a lot more to offer in terms of both drama and detail. But to flatly deny things happening around you, and then take a high moral pedestal to judge others, is the favourite pastime of our religious right and its vested interests, articulated through its political outfits.
Senator Mushtaq Ahmad Khan of the Jamaat-i-Islami thinks that the film promotes homosexuality and harms Pakistani values. On the same pretext, Senator Khan was equally vocal against the Transgender Persons (Protection of Rights) Act of 2018, which the incumbent government has agreed to revise under pressure from hardliners.
There are a few things that need consideration here. First of all, what are Pakistani values and who determines their imposition on us collectively? Second, regarding those who have taken upon themselves to be the custodians of these values, what have they done for the protection of children in madressahs and seminaries and for the safety of transpersons who are beaten, raped and killed on a regular basis? Just to remind the senator: the province he represents is where transpersons are continuously being targeted for the last few years.
It seems things are going from bad to worse in Pakistan when it comes to broad-brush censors and arbitrary bans — I recall watching, some 20 years ago, a scene in the film Raat Chali Hai Jhoom Ke [aka The Long Night] of the marriage of a man with a transperson, in a working-class neighbourhood of Karachi, although it was more of an aside in the film.
Art is both mysterious and subversive, but real life is no less mysterious. We don't have to agree with every event we observe or incident that we experience, but denying the very existence of issues that surround us is like an ostrich burying its head in the sand.
For instance, by undercounting the transgender population in the last census, Pakistan has not made them disappear. They are equal citizens of the country and all their rights must be realised.
Likewise, when it comes to books, Mohammed Hanif's A Case of Exploding Mangoes was published in 2008 and must have sold tens of thousands of copies in Pakistan alone since then. But three years ago, when its Urdu translation came out, all copies of the translation were confiscated.
Imagine, this was 11 years after the original was published and had been reprinted several times. In the same spirit, a couple of years ago, the then government in Punjab banned sales of After the Prophet: The Epic Story of the Shia-Sunni Split in Islam — a thoroughly researched and lucidly written book by British-American journalist and author Lesley Hazleton, which presents an account of Islamic history just after the passing of the Prophet (PBUH).
Besides a few other accounts on the subject found in English and other languages, Zamir Niazi is a must-read for those who wish to understand what happened in Pakistan from day one of its creation, to the late 1990s, in terms of bans, confiscations, censorship and violence against those who dissented from the official line. In his books Press in Chains, The Press Under Siege and The Web of Censorship, he has documented everything with careful referencing.
Niazi is primarily a chronicler of press freedoms, but in his book on censorship he mentions artworks and films as well. Since then, press freedoms are being monitored and recorded more systematically by people across Pakistan. But what is happening within the realm of art, culture and literature is not being properly documented. We need to do that. Art has a much longer shelf-life than journalism and a much deeper impact over shaping hearts and minds.
It is said that the first attempt at censorship by the powers-that-be was to edit parts of Quaid-i-Azam Mohammad Ali Jinnah's inaugural speech to the first constituent assembly of Pakistan.
In the early years after Independence, Saadat Hasan Manto faced legal trials on charges of being obscene and immoral in his short stories — stories that are now considered among the best ever written in any language, anywhere in the world.
The Pakistani state and society has continued to humiliate its writers and artists. One regime after the other has gladly put our poets into prison, or sent them into exile. During Gen Ziaul Haq's martial rule, even celebrated filmmakers such as Zia Sarhadi were not spared. Sarhadi was picked up, put into solitary confinement and physically tortured on charges of sedition. Consequently, he spent 15 years in London as an exile.
In 1793, just before being guillotined, French writer Madame Roland famously said something about liberty. For us in Pakistan, I replace liberty with morality: Oh Morality! Morality! What crimes are committed in thy name.
The columnist is a poet and essayist. He has recently edited Pakistan Here and Now: Insights into Society, Culture, Identity and Diaspora. His latest collection of verse is Hairaan Sar-i-Bazaar
Published in Dawn, Books & Authors, November 20th, 2022