KARACHI: The stock market remained under pressure throughout the session on Friday amidst sideways trading because of the investors' concerns about flood-related losses and their impact on the economic output.
Arif Habib Ltd said the stock market opened in the positive zone but traded within a range afterwards. The continued depreciation of the rupee against the dollar coupled with political and economic uncertainties kept investors on the sidelines, it added. Volumes remained decent in the main-board stocks while third-tier shares stayed in the limelight.
The local currency lost 0.41 per cent from a day ago to close at 236.84 against the greenback. According to Forex Association of Pakistan Chairman Malik Bostan, the rupee's value was in decline because of the rising import bill, which must be curtailed via a ban on the dollar-based purchases of non-essential and luxury items.
As a result, the KSE-100 index settled at 41,679.49 points, down 92.6 points or 0.22pc from a day ago.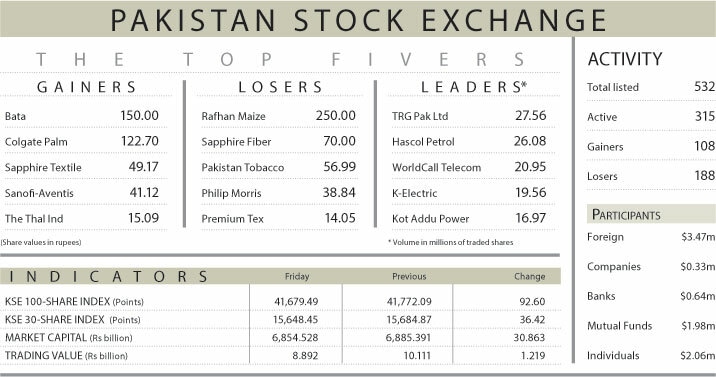 The trading volume decreased 15.6pc to 219.4 million shares while the traded value went down 12.1pc to $37.5m on a day-on-day basis.
Stocks contributing significantly to the traded volume included TRG Pakistan Ltd (27.56m shares), Hascol Petroleum Ltd (26.1m shares), WorldCall Telecom Ltd (20.95m shares), K-Electric Ltd (19.56m shares) and Kot Addu Power Company Ltd (16.97m shares).
Sectors that contributed to the index performance were banking (-81.3 points), exploration and production (-27.3 points), tobacco (-18.4 points), cement (-16.7 points) and investment banking (-10 points).
Companies registering the biggest increase in their share prices in absolute terms were Bata Pakistan Ltd (Rs150), Colgate-Palmolive Pakis­tan Ltd (Rs122.70), Sapphire Textile Mills Ltd (Rs49.17), Sanofi-Aventis Pakistan Ltd (Rs41.12) and the Thal Industries Corporation Ltd (Rs15.09).
Shares that declined the most in rupee terms were Rafhan Maize Products Company Ltd (Rs250), Sapphire Fibres Ltd (Rs70), Pakistan Tobacco Company Ltd (Rs56.99), Philip Morris Pakistan Ltd (Rs38.84) and Premium Textile Mills Ltd (Rs14.05).
Foreign investors remained net buyers as they purchased shares worth $3.48m.
Published in Dawn, September 17th, 2022
Now you can follow Dawn Business on Twitter, LinkedIn, Instagram and Facebook for insights on business, finance and tech from Pakistan and across the world.