Secret artwork of Van Gogh uncovered
A previously unknown self-portrait of Vincent van Gogh — complete with pre-severed ear — has been discovered. The artwork shows a bearded sitter in a brimmed hat with a neckerchief loosely tied at the throat. His left ear, which he famously cut off in 1888, is clearly visible.
Hidden from view for more than a century, the sketch was unearthed after an X-ray was taken of another of Van Gogh's works — Head of a Peasant Woman (1885) — and it was found on the back of the canvas, hidden by layers of cardboard. Van Gogh often reused canvas to save money by turning it round and working on the opposite side.
Research is taking place as to how to separate the two pieces without harming Head of a Peasant Woman.
A 'mewseum' of cat figurine collection
A Wisconsin couple turned their collection of more than 13,000 cat figurines and feline-themed pieces of art into a 'mewseum' to raise money for shelter cats.
Shawn Redner and Hilary Siegel-Redner remodelled the basement of their Menomonee Falls home, also known as Redner's Rescued Cat Figurine Mewseum, so they could display 7,000 cat figurines. They offer tours of their home and proceeds from the tours are donated to local cat shelters.
They plan to build a cat cafe and museum to house their collection.
The couple first started collecting cat figurines in 2018 and they now visit various thrift stores, rummage sales and flea markets every weekend to find new pieces for their mewseum.
491 people make slime at Montreal museum
A Guinness World Record for the world's largest slime-making lesson was broken at a Montreal museum when 491 people participated in it.
The event at the Montreal Science Centre was led by 'local slime star' Yannick Bergeron, and was organised as part of the Science of Guinness World Records, a travelling museum exhibition, Guinness said.
The participants made their own slime using water, calcium chloride and sodium alginate. Sara Arsenault, one of the organisers, said Guinness rules required at least 90 percent of participants to remain for the entirety of the lesson and all of those counted had to create their own slime.
100-million-year-old dinosaur footprints in a restaurant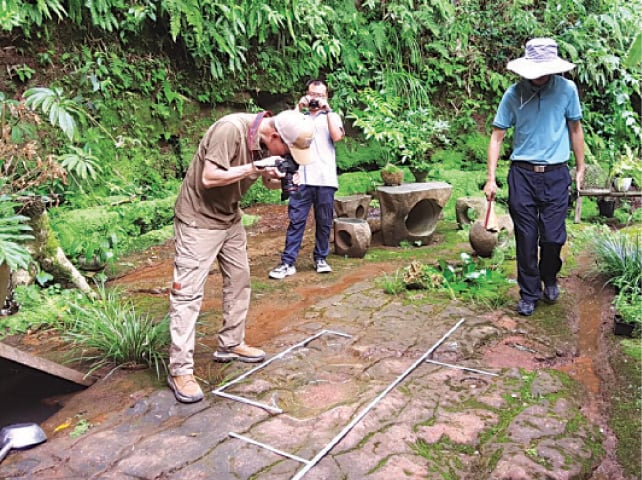 An observant patron at a restaurant in southwest China spotted a set of footprints in the stone floor of the courtyard where they were dining.
After palaeontologists arrived on the scene, they discovered a new set of footprints belonging to two dinosaurs some 100 million years ago. Palaeontologist Dr Lida Xing and his team used a 3D scanner to confirm that the imprints were left by sauropods. Sauropods were plant-eaters with small heads and long necks and tails, and they were monstrous.
While fossil footprints might not seem quite as dramatic as finding bones, they allow palaeontologists to take a unique glimpse into how dinosaurs lived.
Published in Dawn, Young World, August 6th, 2022