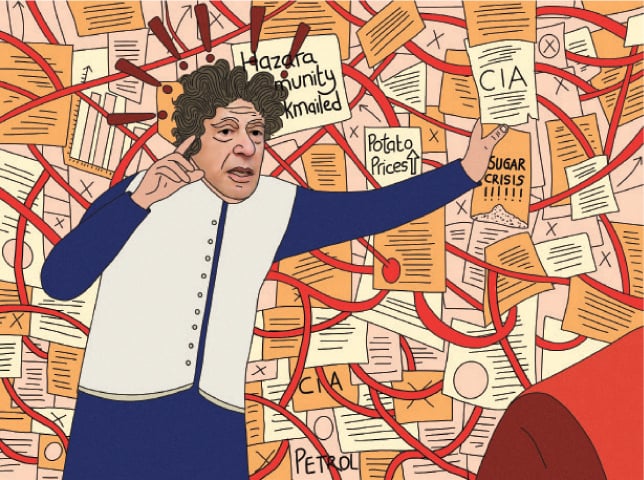 As we all know by now, the CIA conspired to remove Imran Khan from the prime minister's seat.
Arif Alvi, still the dentist president of Pakistan, wrote in a recent letter addressed to himself that the CIA had successfully enforced regime changes in many countries in the past, and therefore a thorough investigation should be carried out to find a 'smoking gun' in the hands of the conspirators.
He also added that whether people or guns, smoking is injurious to health and harmful to one's teeth, making them yellow with nicotine stains that he then has to clean up.
Khan, who struggled for 26 years to finally get a motion of no confidence, is a former cricketer, an ongoing philanthropist and an everlasting hero to millions of overseas Pakistanis going through a midlife crisis, who've never set foot in Pakistan since 1992, when Khan won the World Cup, by himself, and then retired and transitioned into politics, not by himself.
Turns out that the CIA's plan was really Imran Khan's plan all along
Humble, respectful and intelligent are just some of the words that have never been used to describe him. He's stood in pouring rain, he's stood in scorching heat, he's stood in a packed parliament even when there was an empty seat right behind him — Khan vows to come back stronger and remains undaunted by the fact that he lasted a shorter duration than the army chief he gave an extension to.
The CIA has been after him because of his anti-drone stance, his close friendship with China and Russia, and his insistence that we've been fighting someone else's war since 9/11, when America first started a manhunt for Osama bin Laden. Abbottabad is in another country, Khan maintains.
The CIA framed him, the Hazara community blackmailed him, the price of potatoes perplexed him, the sugar crisis turned him sour, and the petrol crisis almost drove him up the wall — almost, because there was no petrol to drive him up a wall with. As he's explained, he's not an accountant, he's a leader. Leaders don't count the prices of commodities, or the bills of their helicopter rides.
The CIA, meanwhile has installed a puppet prime minister in Shahbaz Sharif, who's struggled for 26 years with hair fall, has never won a World Cup and was brought into politics by his older brother, by himself. He's also stood in pouring rain, stood in scorching heat and stood in packed parliaments, although nobody's sure why.
A CIA special task force was assembled to find out which of the Sharifs were still eligible and intelligible enough to be appointed in ministerial positions. Hamza Shahbaz, just as he's allowed into his own house, only got in through the backdoor. The remaining Sharifs are still confused about which offshore account belongs to whom.
The CIA kept tabs on Bani Gala of course, more than the CDA ever has — the 300-kanal house, the early morning jogs, the sprinkles of fluffy white coc…onut water, the kind of dogs he has and people he hangs out with, and vice versa.
CIA operatives kept checks on Salman Ahmed and Shaan Shahid's tweets, in search of the day they start making sense. In fact, it was their sabotage that caused the poor lighting in Shaan's recent interview.
The professional saboteurs also replaced Khan's world map so that Germany was shown bordering Japan and Nepal was in Kathmandu. Khan once said that China has trains that travel faster than the 'light of speed', the CIA is covering that up too.
Khan also said that Hitler and Napoleon would not have lost their wars had they not insisted on going to Russia. He would never have done that. Then Khan lost his own war by insisting on going to Russia.
He's still distinguished as the only person who's gone to Oxford and learned absolutely nothing. He says he did try hitting the books once, but some of the books hit back.
After Khan made several statements saying that Western culture has ruined the family system — 'just look at their divorce rates' — the CIA was quick to point out that America's divorce rate is substantially lower than Khan's own.
Khan, who knows the West better than anyone else, including the West itself, was asked how he was unaware of the CIA's plan. He says he wasn't. Khan knew the CIA wanted to take him down with a motion of no confidence, so he intentionally dissolved the assemblies so that the Supreme Court would restore them and order the motion to go ahead. Just to give the CIA the illusion that their plan was working.
He knew it was the CIA who leaked the Panama Papers to put Nawaz out of contention for the next elections, so that Khan could come into power so they could force his exit in an embarrassing fashion. They also took Nawaz Sharif's name off the ECL just to spite him.
But Khan also knew that petrol prices were going to rise higher and that an electricity shortage would spike again this summer, that there would be a very negative reaction to this year's budget and the stock exchange would take a massive hit.
Khan allowed the CIA to do all this so that the rag-tag coalition of politicians that form the PDM can take the brunt of the blame for what's about to happen in the next twelve months. All while he delivers speeches from the top of containers or, given where the economy is headed, from the top of foot rests, leading up to the next elections.
So the CIA's plan was really Khan's plan all along. To come back and win the next elections with a clearer majority. As Khan once announced, he didn't really like the parliamentary system and the majority required to pass legislation. He prefers the China model, where you have an election after a one-party government without any opposition is already formed. As it should be in any democracy.
Published in Dawn, EOS, May 22nd, 2022