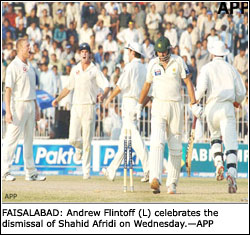 FAISALABAD, Nov 23: Andrew Flintoff, England's Ashes hero in the summer, made two deadly strikes that put Pakistan under pressure on a dramatic fourth day of the second Test at the Iqbal Stadium on Wednesday.
Pakistan appeared to be doing well at 164-3 after bowling out the tourists for 446 in the morning. But Flintoff's late-day brace off successive balls rocked the hosts.
Clearly, Inzamamul Haq would not have expected such a finish to the day: 183-6, an overall lead of 199 runs. Fortunately for the home side, the captain was still hanging in there on 41.
Flintoff winged in to clean bowl Mohammad Yousuf for 20 in his third spell after tea and then gave Shahid Afridi the same treatment whose wicket he snapped up for nought.
A thorn for England in the first innings with an electrifying 92, Afridi was greeted with a thunderous applause by the crowd, expecting more fireworks. Not this time. Seeing his back, the spectators began to leave.
Pakistan lost further ground when Kamran Akmal played a Steve Harmison delivery through to wicket-keeper Geraint Jones that left the side in more trouble.
Shortly afterwards came the close 16 overs early because of bad light.
Earlier, the English tail wagged, only briefly though. The resistance, in which Shaun Udal and Steve Harmison shared 47 runs for the 10th wicket was brought to an end by Afridi, the star of the morning session.
Just when crossing Pakistan's fist innings total of 462 had looked a real possibility, a mix-up between the two batsmen led to Harmison being run out for 16.
As the big man dashed out of his crease looking for a single, an accurate throw at the non-striker's end by Rana Navedul Hasan saw Afridi snap up the bails in a flash.
Two earlier breaks were also provided by the all-rounder who has been banned for one Test and two one-dayers for his dance on the pitch on Monday.
Afridi's first victim was overnight batsman Ashley Giles (26), beaten by a delivery that nipped in sharply and then Matthew Hoggard fell for two, attempting a sweep he mistimed.
Udal's 33 runs featured a six to mid-wicket in one Shoaib Akhtar over off which he plundered 16 runs after England resumed on 391-7.
But Afridi, who achieved his career-best figures of 5-52 against Australia in 1998, would have been content with his effort of 4-95 here.
Pakistan's start to the second innings was good just as it was in the first innings. A 50-run partnership between openers Shoaib Malik and Salman Butt was intact at lunch, the two helping the side reach 50-0.
It was a cautious beginning although there were quite a few boundaries, Malik striking four to be 25 not out and Salman, who was 23, stroking three fours.
There were wickets for England in the second session. In the first over after the break, Flintoff sent Malik on his way, the batsman hitting straight to Ian Bell in the covers.
Hoggard broke a blossoming second-wicket stand between Salman and Younis Khan that had produced 50 runs.
Younis, the Pakistan vice-captain, was trapped in front for 27, just as the bowler came on for a second spell. Television replays suggested the batsman was unlucky to be given his marching orders by umpire Simon Taufel.
Salman, who scored a century in the first Test at Multan, fell after scoring a patient 50, Udal trapping him lbw and England, all of a sudden were back in the game but only just.
Australian umpire Darrell Hair warned Salman for running onto the pitch and disallowed a run before Udal struck off the next delivery.
Scoreboard
PAKISTAN (1st Innings) 462 (Inzamamul Haq 109, Shahid Afridi 92, Mohammad Yousuf 78).
ENGLAND (1st Innings, overnight: 391-7):
M.E. Trescothick c Kamran b Sami 48
A.J. Strauss b Rana Naved 12
M.P. Vaughan b Rana Naved 2
I.R. Bell c Kamran b Shahid Afridi 115
K.P. Pietersen c Yousuf b Shoaib Akhtar 100
A. Flintoff b Shoaib Akhtar 1
G.O. Jones lbw b Shahid Afridi 55
A.F. Giles b Shahid Afridi 26
S.D. Udal not out 33
M.J. Hoggard b Shahid Afridi 2
S.J. Harmison run out 16
EXTRAS (B-1, LB-12, W-1, NB-22) 36
TOTAL (all out, 132.3 overs) 446
FALL OF WKTS: 1-33, 2-39, 3-107, 4-261, 5-272, 6-327, 7-378, 8-395, 9-399.
BOWLING: Shoaib Akhtar 27-4-93-2 (4nb, 1w); Rana Navedul Hasan 20-2-63-2 (8nb); Mohammad Sami 19-4-51-1; Shahid Afridi 30.3-3-95-4 (7nb); Danish Kaneria 32-3-102-0 (3nb); Shoaib Malik 4-0-29-0.
PAKISTAN (2nd Innings):
Shoaib Malik c Bell b Flintoff 26
Salman Butt lbw b Udal 50
Younis Khan lbw b Hoggard 27
Mohammad Yousuf b Flintoff 20
Inzamamul Haq not out 41
Shahid Afridi b Flintoff 0
Kamran Akmal c Jones b Harmison 9
Rana Navedul Hasan not out 0
EXTRAS (B-4, LB-4, NB-2) 10
TOTAL (for six wkts, 66 overs) 183
FALL OF WKTS: 1-54 2-104 3-108 4-164 5-164 6-183
BOWLING (to-date): Hoggard 9-0-28-1; Flintoff 19-2-46-3 (2nb); Harmison 14-2-41-1; Giles 13-2-35-0; Udal 11-2-25–1.