KARACHI: The stock market remained volatile on Tuesday owing to a rapid surge in the number of Covid-19 cases, according to Arif Habib Ltd.
The positivity rate in the past 10 days jumped from 1.08 per cent to 3.66pc. The increase is 338.9pc since the start of 2022.
Profit-taking took place across the board, but a rally in the banking sector was observed due to the expectation of foreign inflows.
As a result, the benchmark index lost 6.50 points or 0.01pc to close at 45,881.13 points.
Market participation decreased 5pc to 339.1 million shares while the value of traded shares went down 17.9pc to $55.2m.
Sectors taking away the highest number of points from the benchmark index included cement (30.89 points), oil and gas exploration (27.84 points), technology and communication (19.91 points), power generation and distribution (10.20 points) and tobacco (9.57 points).
Stocks that contributed significantly to the traded volume included WorldCall Telecom Ltd (44.67m shares), Hascol Petroleum Ltd (33.12m shares), Unity Foods Ltd (22.49m shares), TRG Pakistan Ltd (21.07m shares) and Hum Network Ltd (14.02m shares).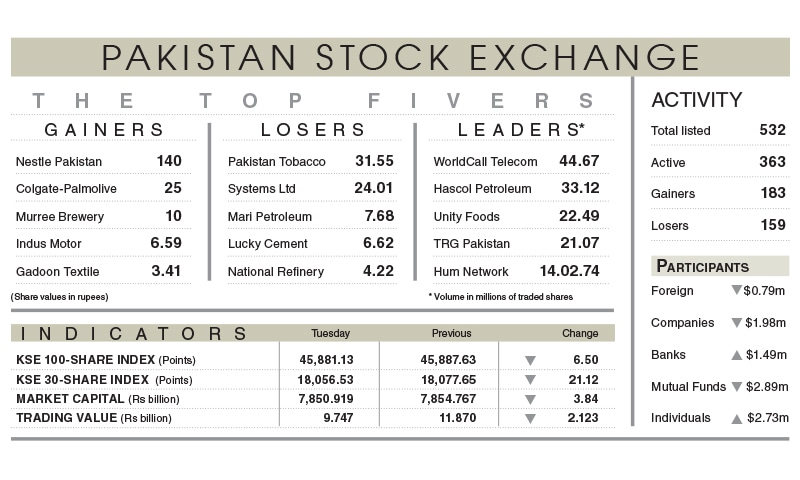 Shares contributing positively to the index included Habib Bank Ltd (31.95 points), MCB Bank Ltd (28 points), TRG Pakistan Ltd (23.22 points), United Bank Ltd (11.02 points) and Engro Fertilisers Ltd (10.18 points).
Stocks that took away the maximum number of points from the index included Systems Ltd (48.12 points), Engro Corporation Ltd (22.47 points), Lucky Cement Ltd (18.13 points), The Hub Power Company Ltd (11.30 points) and Oil and Gas Development Company Ltd (10.30 points).
Stocks recording the biggest declines in percentage terms included Systems Ltd, which went down 2.97pc, followed by Pakistan Tobacco Company Ltd (2.66pc), Pakistan International Bulk Terminal Ltd (1.79pc), Pakistan Stock Exchange Ltd (1.43pc) and National Refinery Ltd (1.4pc).
Foreign investors were net sellers as they offloaded securities worth $0.798m.
Published in Dawn, January 12th, 2022