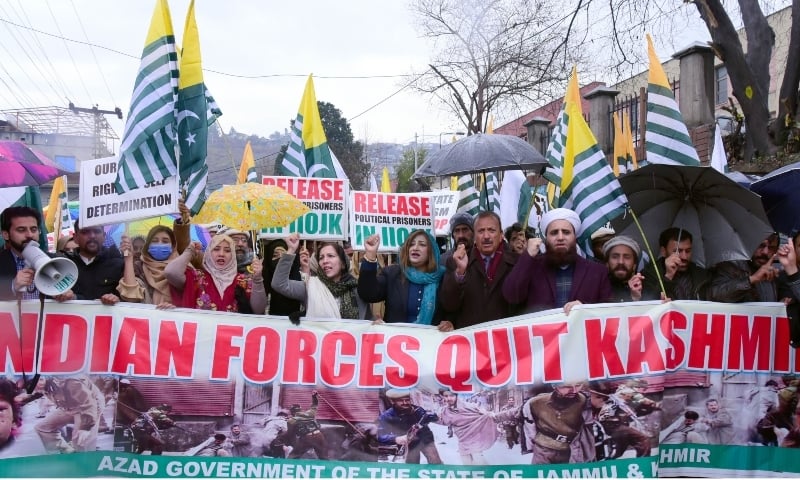 MUZAFFARABAD: The international community should impose sanctions on India for unleashing terror in the illegally occupied Jammu and Kashmir and persuade the United Nations (UN) to carry out its responsibilities with regard to grant of right self-determination to Kash­miris in accordance with the Security Council resolutions on the issue.
This demand was made by participants of two separate rallies held here on Wednesday amid downpour to mark the 72nd anniversary of the passage of a UNSC resolution envisaging the Kashmiris' right to decide by themselves the future status of their motherland by voting for its acc­ession either with India or Pakistan in a free, fair and impartial plebiscite.
The first rally started from Burhan Wani Chowk under the aegis of Pasban-i-Hurriyat Jammu Kashmir (PHJK), an organisation of post-1990 migrants from occupied Kashmir, while the second rally was taken out from the district headquarters complex, under the aegis of the state-run Jammu Kashmir Cultural Academy (JKCA).
Both rallies concluded outside the office of the UN Military Observers Group for India and Pakistan (UNMOGIP) near Domel.
Participants of the rallies were holding banners and placards inscribed with anti-India and pro-freedom slogans.
"Indian forces quit Kashmir," read one of the banners.
Prominent among the participants of both rallies were parliamentary secretary Taqdees Gillani, University of AJK Vice Chancellor Prof Dr Kaleem Abbasi, JKCA Director General Dr Irfan Ashraf and PHJK Chairman Uzair Ahmed Ghazali.
In their speeches on the occasion, they said that Kashmiris had taken up arms against India's illegal occupation after failing to see any action on the part of the UN and international community to resolve the longstanding dispute that had disturbed their peace, security and livelihood.
The Kashmiris were demanding a free, fair and impartial UN-sponsored referendum to decide their fate on their own free accord which was the sole objective of their struggle against India, they added.
Later, Mr Ghazali, Mr Ashraf and some others presented a memorandum to the UN observers calling upon the world body to fulfil its pledges on Kashmir before it was too late.
Published in Dawn, January 6th, 2022