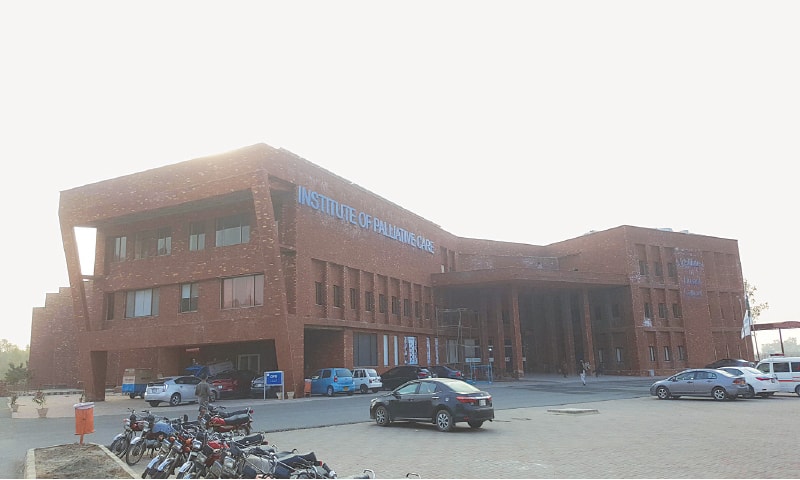 CANCER is rising fast across the world. In Pakistan around 364,000 new patients are detected each year, with Punjab contributing the largest share of 167,000, according to estimates — the most common type being breast cancer. The treatment centres in the country generally have limited capacities, so most of the cases are detected in advanced, incurable stages. Cancer can be cured only if detected at an early stage for which screening is vital. The West enforces breast cancer screening by law, which is lacking in Pakistan — a mammogram detects a lump in the breast half the size of a rice grain.
When patients in an advanced, incurable stage of cancer are denied admission by hospitals, at a time when they need the most attention, and are poorly managed at home with distressing symptoms, it becomes important to lessen their pain, rehabilitate them and make them comfortable to allow them a peaceful journey. It is for this purpose that a state-of-the-art hospital-based palliative care unit has been established as part of the 27-acre Cancer Care Hospital and Research Centre off Rohi Nullah bypass in Raiwind, Lahore.
"We bring the patients to this purpose-built model (centre) for palliative care, not to cure them but to take care of the symptoms. The objective is to make them comfortable, train their caregivers to look after them at home for that short period they have, so that they pass on peacefully among their loved ones and not in a hospital," said director of the hospital's Institute of Palliative Care (IPC) and founding trustee, Dr Riazur Rahman.
As one enters the huge brick gate, the 1.8-kilometre drive to the building is lined on both sides with vast pieces of vacant land. Touted as the first in the country, the three-storey 120-bed IPC started functioning in mid-2020 with an outpatient department, followed by chemotherapy and in-patient palliative care less than two weeks ago.
Dr Pamela Sutton, an American palliative care physician and former World Health Organisation consultant and dean of IPC, helped Dr Rahman and founder and chairman Dr Shaharyar realise this decades-long dream. She says the goal of palliative care is to improve the quality of life through pain and symptom management, and emotional, psychosocial and spiritual support.
"Hospitals here despair with advanced cancer — nobody likes to imagine their patient is going to die. But my idea and that of many palliative care physicians is a person may not live long but if I can make them comfortable, I will give them a gift. I can't prevent death, but if your goal is comfort and longevity then I can help."
Read: Cancer care and policies in Pakistan
Every room in the palliative care unit has a separate balcony for patients to sit in and enjoy live music, drama performances for at least two days a week on a stage created outside in a garden as part of their therapeutic treatment. From beds and mattresses to machines and equipment, a hallway, ward or room, everything here has been donated by either those who lost a loved one to the disease, recovered from it or jewellers, gas companies, schools, etc.
Nameplates put up across the building signify what has been donated by whom and in whose memory. A wing has been named after DIG Capt Ahmed Mubeen, who was martyred in a suicide bomb blast on The Mall in 2017 and whose mother donated the entire money she received as compensation. Another is named after former CJP Justice Hamoodur Rahman, also the father of IPC Director Dr Rahman.
The palliative care unit also houses what's claimed to be the first cancer emergency ward with seven beds and is set to start operations in January. Its OPD is visited by at least 150 people daily with seven consultants to facilitate them. Walls of the building are lined with vibrant paintings and poetic verses by Iqbal, Ghalib and Faiz.
A few feet to the right side of this unit is 'Sarai Bashar', a three-storey building offering lodging and free meals to 180 patients and attendants who cannot afford to go back home and return to Raiwind frequently.
The entire hospital is, and will keep, running primarily on charity collected through the efforts of renowned oncologist Dr Shaharyar to provide cancer treatment and facilities for free, regardless of one's background, nationality, age, stage of disease. Not a single penny is charged from anyone for any facility or treatment, though the well-to-do patients could make any donation.
Read: How Pakistan's fear of opioids forces my mother to endure cancer pain
Oncologist Dr Shaharyar, who retired from the King Edward Medical University, Mayo Hospital, a few years ago, came up with the idea of a free cancer hospital after he witnessed first-hand the misery of patients at Mayo, who lacked adequate facilities and couldn't afford expensive treatment. "Five years before my retirement in 2014, I started struggling with Punjab governments of both Pervez Elahi and then Shehbaz Sharif, but nobody listened to me. Then I started gathering funds from my colleagues and friends and started this project on my own in 2015. We started with the first mass mammography screening programme and carried out more than 42,000 tests in remote areas," he told Dawn.
While separate blocks for breast cancer and oncology are in the pipeline, the "backbone of the hospital", its radiation block, was the first to be inaugurated at the facility in June 2019 and now treats around 150 patients a day in seven bunkers equipped with the latest machinery. "Radiation is a double-edged weapon: it can cure as well as cause cancer. So we have installed the machines inside bunkers to avoid leakage of radiation. If radiation is applied to a patient in the early stage then the cancer is 100 per cent curable, but in the last stages it provides relief as a pain killer. We are the largest radiation block in Pakistan and, we claim, the largest in Asia. Each of our bunkers with 4.5- to 8-foot-thick walls costs Rs35 to 50 million and all seven were constructed in a record eight months," says Prof Areesha Zaman, the director of medical radiation at the hospital.
Prof Zaman sees hardly any effort at the government level to facilitate cancer patients. All the radiation machines in public hospitals are out of order, the hospitals don't admit patients in advanced stages of the disease or charge them huge amounts that discourages patients, she says.
The incidence of breast cancer is spreading fast from old to younger people. "In my four decades of experience, I've realised that stress is the major reason for breast cancer among women caused by either socio-eco problems or diet. So one should lead a positive life with a healthy lifestyle, and that's true for all countries," she suggests.
Published in Dawn, December 6th, 2021