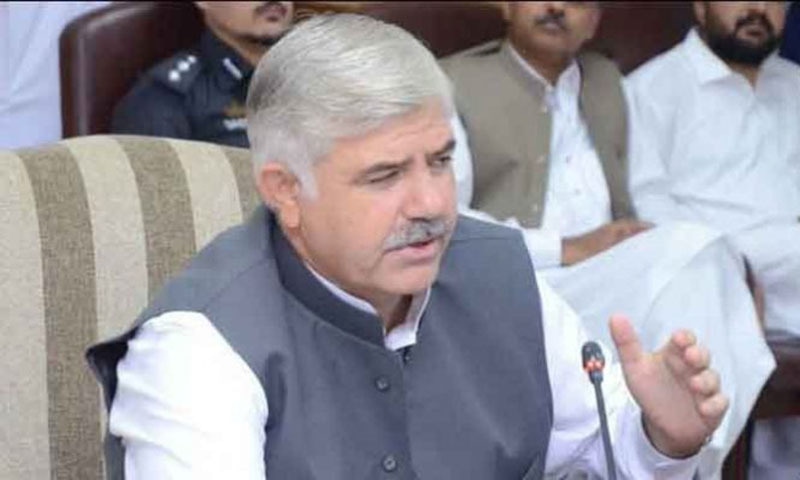 PESHAWAR: Khyber Pakhtunkhwa Chief Minister Mahmood Khan on Monday ordered the establishment of citizen facilitation centres (CFCs) in the capital city and divisional headquarters of the province.
He was chairing a meeting regarding the initiatives to be launched under the e-governance strategy.
The participants included minister for science and information technology Mohammad Atif Khan, special assistants to the chief minister Kamran Khan Bangash and Arif Ahmedzai, and senior relevant officials, according to a statement issued here.
The chief minister directed the officials to ensure the establishment of a model CFC in the provincial capital in three months and divisional headquarters in six months.
He set the one-month deadline to the relevant quarters for the launch of e-summary system to improve the efficiency of government departments and reduce the time involving the manual system of summary approval.
The meeting reviewed progress on the establishment of CFCs and the launch of the paperless governance initiative with a special focus on the e-summary system.
Examines initiatives of e-governance strategy
Regarding CFCs, the meeting was informed that 38-40 kinds of services of nine different service delivery departments would be provided to the citizens under one roof, including issuance of domicile certificate, identity cards, birth certificate, Form-B, arm licence, driving license, and registration and mutation of land.
All these services will be provided in CFCs in phased manner. However, the priority service will be provided in the very first phase. The chief minister directed the relevant quarters to identify such priority service as soon as possible and submit a report for approval.
Regarding the paperless governance initiatives, the meeting was apprised that the initiative would be launched in June next year and would be implemented in three phases to be completed by June 2023.
It was further informed that 5,000 government officials would be trained for the implementation of the paperless governance initiative.
Mr Mahmood decided to constitute a committee headed by the additional chief secretary for effective coordination among the provincial government department for the purpose.
The meeting was further informed that under the e-governance strategy, work was in advanced stages on the digital mapping of state and forest lands in the province to effectively check encroachments.
The chief minister said the establishment of CFCs and the launch of paperless governance system were very important components of his government's e-governance strategy.
Published in Dawn, October 19th, 2021