KARACHI: The Pakistan Stock Exchange (PSX) remained under pressure on Monday because of the delay in the conclusion of the country's economic managers' negotiations with the International Monetary Fund (IMF).
As a result, the benchmark index closed at 44,629 points, down 192 points or 0.43 per cent.
According to Arif Habib Ltd, investors didn't like the uncertainty around the resumption of the IMF loan programme even though the Ministry of Finance highlighted that the negotiations were ongoing and that underlying terms would be negotiated soon.
Oil chain and banking stocks went positive earlier in the session that added a total of 169 points to the index. However, selling pressure eroded this gain later.
Among scrips, Hum Network Ltd topped the volume with 25.1 million shares, followed by WorldCall Telecom Ltd (20.8m) and Hascol Petroleum Ltd (13.8m).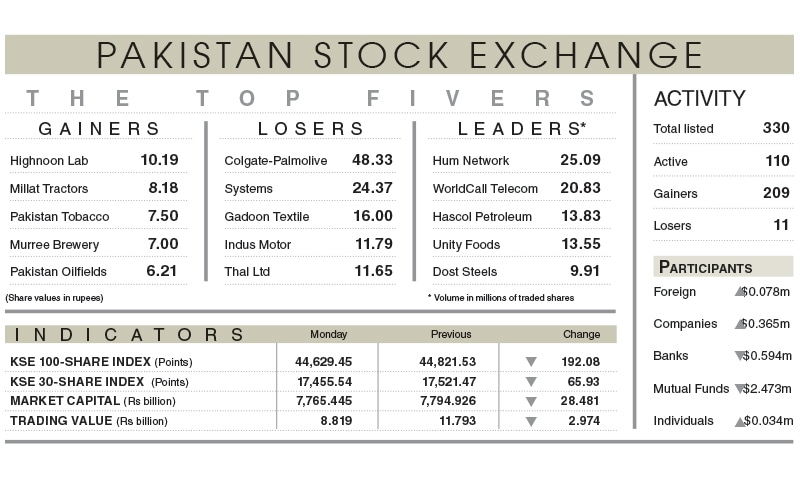 Sectors contributing to the index's performance included technology (-146 points), cement (-47 points), engineering (-27 points), textile (-24 points) and refinery (-18 points).
The traded volume declined from 334.3m shares to 248.3m shares, down 26pc on a day-on-day basis. The average traded value also declined 25pc day-on-day to reach $51m against $68.2m.
Stocks that contributed significantly to the volume include Hum Network Ltd, WorldCall Telecom Ltd, Hascol Petroleum Ltd, Unity Foods Ltd and Dost Steels Ltd, which formed 34pc of the total traded volume.
Stocks that contributed positively to the index included Habib Bank Ltd (48 points), MCB Bank Ltd (31 points), Oil and Gas Development Company Ltd (30 points), Pakistan Petroleum Ltd (29 points) and Engro Corporation Ltd (27 points).
Stocks that contributed negatively included TRG Pakistan Ltd (-88 points), Systems Ltd (-47 points), Bank Al Habib Ltd (-42 points), Fauji Fertilisers Company Ltd FFC (-22 points) and Unity Foods Ltd (-17 points).
According to JS Global, investors should wait for the market to settle down amid changing economic indicators. They should try to benefit from major dips to accumulate banking and oil and gas exploration sector stocks, the brokerage house added.
Published in Dawn, October 19th, 2021