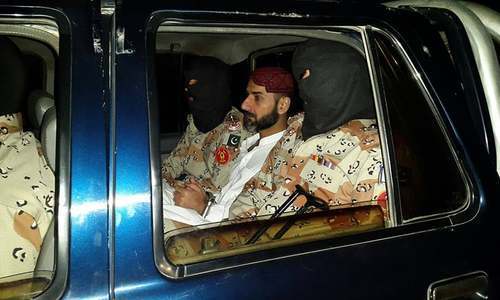 KARACHI: An antiterrorism court has summoned the head of a joint investigation team (JIT) that had grilled chief of outlawed Peoples Amn Committee Uzair Baloch regarding commissioning of alleged criminal activities in the garb of a public welfare charity.
Uzair Baloch has been facing trial in dozens of criminal cases pertaining to murder, kidnapping, extortion and terrorism.
On Monday, the ATC-XVI judge directed the head of the JIT, SSP Fida Hussain Janwari, to appear in court to testify about the alleged confessional statement of Uzair Baloch before the JIT with regard to the murder of two Rangers personnel.
The judge also directed the SSP to bring all relevant documents to the court so that his statement could be recorded without any hassle.
According to the JIT, Rangers personnel Muneer Ahmed Bhutto and Aijaz Ahmed Baloch, who were on intelligence duty, were kidnapped from Lyari by another co-accused Sher Muhammad Sheikh and later killed on the orders of Uzair Baloch in March 2013.
Published in Dawn, October 19th, 2021