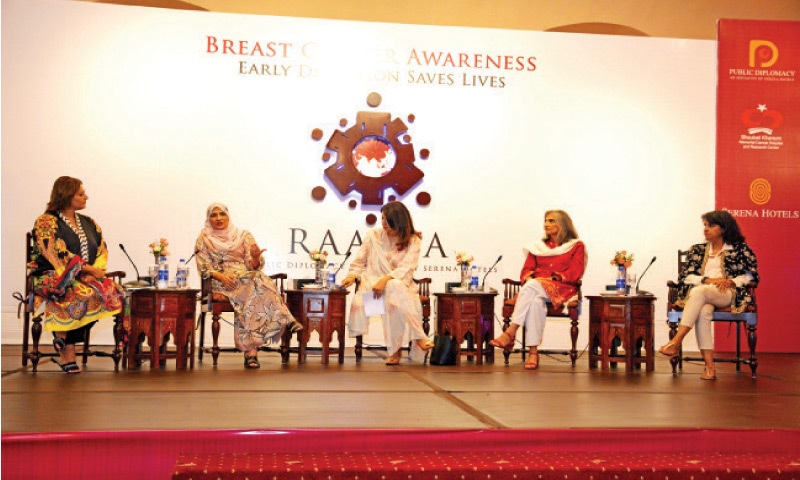 ISLAMABAD: First lady Samina Arif Alvi has urged women to take time out for regular checkups, yearly mammograms and self-check routine to catch the early onset of breast cancer.
She was speaking at an event titled 'Breast Cancer Awareness – Early Detection Saves Lives' through a video link.
The event was held at a local hotel in collaboration with Shaukat Khanum Memorial Cancer Hospital and Research Centre (SKMCH&RC) to mark the October Breast Cancer Awareness Month or 'Pinktober'.
The event was held as part of Raabta, a public diplomacy initiative of Serena Hotels, which aims to facilitate conversations and public discourse about important issues of national concern.
The discussion was moderated by broadcast journalist Sidra Iqbal and featured senior oncologist Dr Umme Kalsoom Awan, and a number of breast cancer survivors who came forward to share their experience and dispel misconceptions about the disease.
Samina Alvi appreciated the facilities established by the government for screening and early detection at public and private health facilities.
Co-founder and curator of Raabta, broadcast journalist Sidra Iqbal said in her opening remarks that Pakistan had one of the highest incidences of breast cancer in the world, with over 40,000 women diagnosed yearly.
She pointed out that if detected at early stages, a cancer patient had a much better chance of full recovery as opposed to late detection.
She said it was heartening to see the breast cancer awareness campaign spearheaded countrywide by Samina Arif Alvi over the past three years, with the cooperation of the government, healthcare workers and other stakeholders, which was leading to increased early stage screenings and saving lives.
The breast cancer survivors on the panel spoke about the taboos, misconceptions and emotional upheaval faced by patients in our society and shared messages of hope and inspiration for fellow patients and their families.
Dr Umme Kalsoom shed light on the risk factors of breast cancer, some of which are modifiable, like exercise and healthy diet, and some that she termed non-modifiable, like genetics. She urged the women and men to adopt healthy lifestyles and undertake regular checkups.
Published in Dawn, October 18th, 2021