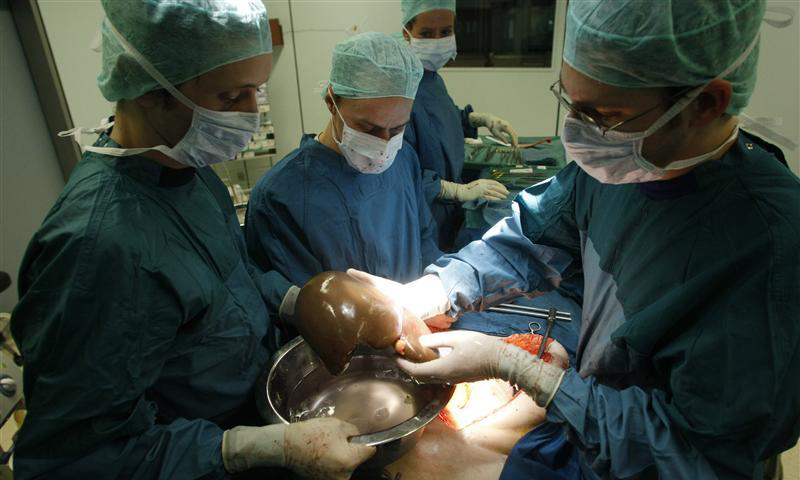 PESHAWAR: The health department is set to sign contracts with two private hospitals for free liver transplant of the residents of Khyber Pakhtunkhwa amid plan to include Shaukat Khanum Memorial Cancer Hospital and Research Centre for free medication of all kinds of cancer under Sehat Sahulat Programme.
"We would be inking agreements with two private hospitals, one each in Islamabad and Lahore, for free liver transplant of the people of Khyber Pakhtunkhwa. Rates would be finalised soon after which patients with damaged liver would be able to undergo cashless transplant in both the health facilities," officials at health department told Dawn.
According to them, so far 6,030,000 patients have been treated under the free treatment programme costing Rs16 billion since the initiative began in 2015 initially covering three per cent population in four designated districts of the province.
The programme was extended to 51 per cent and then 69 per cent population of the province and in November last year. The government has now begun provision of free health coverage to the entire population of Khyber Pakhtunkhwa.
Plan afoot to include SKMCH in scheme
"Now each of the 7.469 million families of the province stands entitled to seek treatment up to Rs1 million free of cost in any of the 523 hospitals, including public and private countrywide and 163 in Khyber Pakhtunkhwa," said officials. They added that the programme covered all the major diseases.
Officials said they were in the process to include SKMCH in the list of empanelled hospitals of SSP as so many people wanted to seek treatment for cancer there. "SKMCH has very strict policy regarding selection of patients for treatment but we have requested it to modify the policy so we can enter into agreement with the facility. The government is eager to have SKMCH on the panel and enable the people to receive quality treatment there," they added.
During the first tenure of the Pakistan Tehreek-i-Insaf government in Khyber Pakhtunkhwa, the health department had expressed desire to take SKMCH on the panel of hospitals but the plan couldn't see light of the day because it would have caused political controversy. "Since the hospital was established by Imran Khan, whose PTI was in government in Khyber Pakhtunkhwa, therefore, the authorities concerned didn't finalise the agreement for fear of criticism from opposition parties," said officials.
They said that they were receiving requests from the patients to provide them with free services at SKMCH. "Therefore, we have held preliminary meeting with the officials concerned. The SKMCH would discuss our requests for modification of policy in its internal meetings because we pay for every patient regardless of age and hope that the hospital would accommodate our patients," said officials.
They said that under the SSP, no patient could be excluded from free treatment as the programme was started on humanitarian grounds to provide services to all.
Currently, SSP has eight hospitals for cancer treatment, including five in Khyber Pakhtunkhwa and one each in Islamabad, Karachi and Lahore but given the reputation of SKMCH, the patients want to be sent there for free of charge services.
"People are requesting cashless services in SKMCH but they aren't entitled to treatment because we have not signed contract with the hospital," said officials.
Published in Dawn, October 11th, 2021