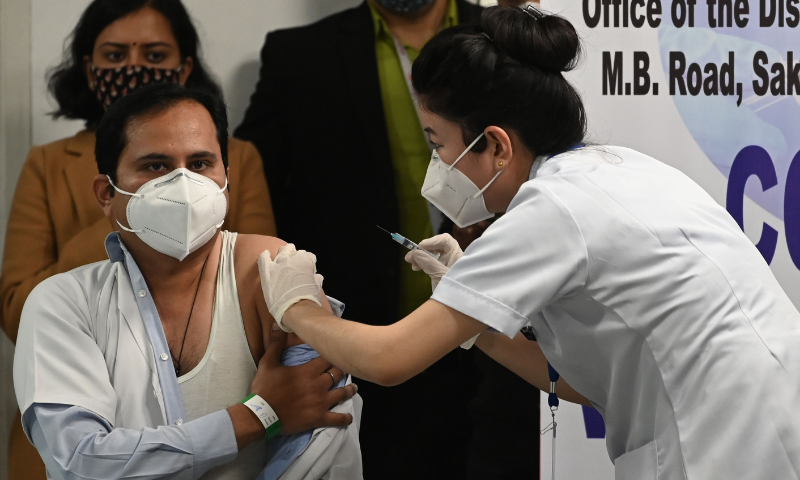 • 3m Sinovac doses arriving today
• 42 people die, over 2,000 new patients surface
ISLAMABAD: While Prime Minister Imran Khan suggested vaccine equity across the globe during his speech at the United Nations, the Independent Allocation of Vaccines Group (IAVG) of Covax has expressed concern over the 25 per cent reduction in supply forecast for the fourth quarter of 2021.
The group is also concerned about the prioritisation of bilateral deals over international collaboration and solidarity, export restrictions and decisions by some countries to administer booster doses to their adult populations.
In another development, an official of the Ministry of National Health Services (NHS), requesting anonymity, said three million doses of Sinovac vaccine were arriving in Pakistan on Sunday (today).
On the other hand, 42 people succumbed to Covid-19 and 2,060 new infections were reported across the country in a single day.
Talking to Dawn, the NHS ministry official said three million Sinovac doses would be reaching Islamabad on Sunday.
"A total of around 120 million doses have so far arrived in Pakistan, including 25.5 million obtained under Covax and 4.7 million donated by China," he said, adding that the remaining doses were procured.
The official further said around 30 million vaccine doses were currently in the distribution system.
Meanwhile, the World Health Organisation (WHO), in a statement, said the IAVG continued to be very concerned about the evolution of the pandemic and its health, social and economic impacts, and offered its full support to Covax partners to ensure that critical messages were channelled to the relevant fora to raise the awareness of governments, manufacturers and stakeholders of the challenges being faced in getting access to Covid-19 vaccines.
The IAVG was established by the WHO in January 2021 and is composed of 12 members who serve in their personal and independent capacities to review and assess Vaccine Allocation Decision (VAD) proposals generated by the Covax Facility Joint Allocation Taskforce (JAT) on the volumes of vaccines that should be allocated to each participant under Covax within a given time frame.
"The IAVG continues to be concerned by the low supply of vaccines to Covax, and reiterates the need for manufacturers, vaccine producing and high-coverage countries to prioritise vaccine equity and transparency, the sharing of information about manufacturing capacity and supply schedules to Covax as well as vaccine access plans," the statement said.
"While recognising the need for additional doses to protect certain vulnerable, immune-compromised populations, the IAVG suggested countries collect and review more evidence before implementing policies regarding the administration of booster doses to their populations," it further stated.
It is worth mentioning here that Prime Minister Imran Khan, while addressing the UN General Assembly's annual high-level debate on Sept 24, had said the world was facing three challenges — Covid-19, economic calamities and climate emergencies.
He had said the virus did not discriminate between nations and people, adding that though Pakistan was successful in containing the pandemic through "a calibrated strategy of smart lockdowns", there was a need for a "comprehensive strategy" that encompassed vaccine equity, financing for developing countries and investment strategies to alleviate poverty, create jobs, build sustainable infrastructure and bridge the digital divide.
In February this year, Covax, which has pledged free vaccine for 20pc population of Pakistan, had announced that 17.2 million doses would be delivered by the mid of the year but it could not meet the timeline due to supply issues.
On the other hand, Pakistan, time and again, has faced shortage of vaccine due to which it had to carry out rationing.
Islamabad received the first consignment of over 1.2 million doses of AstraZeneca in the first week of May, which was administered to the people. However, later supplies were delayed due to which the government was left with no option but to postpone the second dose.
Chinese vaccine Sinopharm also ran short in the country, with some people getting Sinovac as a second dose.
"The IAVG reiterates the need for countries which are sharing doses with Covax to reduce/remove all earmarking and ensure the donated vaccines have an adequate remaining shelf life to allow for their use," the WHO's statement said.
According to data issued by the National Command and Operation Centre (NCOC), 77,437,397 doses of vaccine have been administered in Pakistan. Meanwhile, the number of active cases recorded in the country as of Sept 25 was 52,042, with 4,503 patients admitted to hospitals across the country.
Published in Dawn, September 26th, 2021