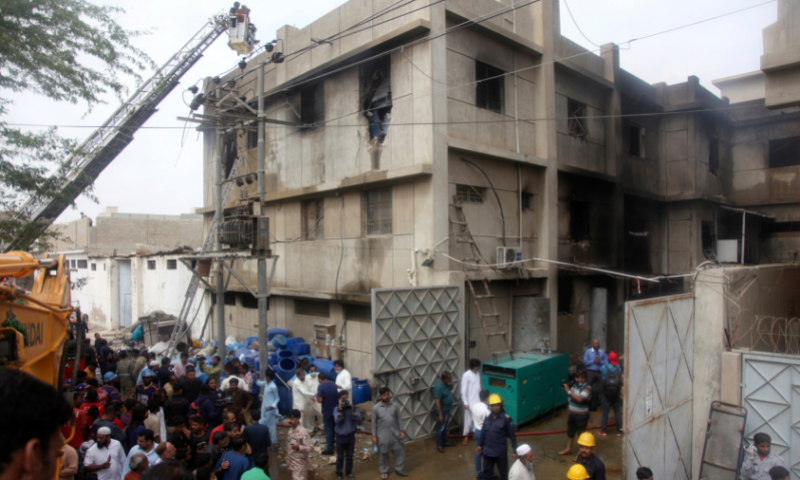 KARACHI: A judicial magistrate on Wednesday remanded three men, including the owners of a Korangi factory and its building, in police custody in a case pertaining to the death of 16 workers in a fire in the industrial unit last month.
The fire allegedly caused by an electric short-circuit engulfed the industrial unit, BM Luggage, in Mehran Town on Aug 27 killing the 16 workers.
On Tuesday, police had arrested factory owner Hassan Meetha alias Ali Meetha, its building's owner Faisal Tariq and supervisor Syed Imran Ali Zaidi after District and Sessions Judge (East) Khalid Hussain Shahani had revoked their interim pre-arrest bail.
The held suspects along with two supervisors, Zafar and Rehman, and watchman Syed Zarin have been booked for their alleged involvement in the manslaughter case.
While the watchman is already in custody, the two supervisors are purportedly still at large.
The court grants three-day police remand to IO for interrogation
On Wednesday, the IO produced the three held suspects before Judicial Magistrate (East) Sher Mohammad Kolachi to seek their physical remand for interrogation and investigation.
The IO, Sub-Inspector Izat Khan, submitted that the suspects were taken into custody from the court premises after dismissal of their interim pre-arrest bail on Sept 7 since they were booked for the manslaughter of 16 workers, who perished in the factory fire.
He submitted that their physical custody was required for interrogation in order to arrest their accomplices, who were both working in the factory as supervisors.
The IO further informed the court that the Crime Scene Unit of police had already inspected the building of the factory from where they had collected some nine bags containing various articles, such as burnt clothes, burnt machines, paint of the walls, etc, as evidence.
"The samples of collected evidence have been sent to the Forensic Science Laboratory of the University of Karachi for chemical analysis," the IO said, adding that a report of the laboratory was due in a week.
He asked the judge to grant 14-day physical remand of the three held men in the custody of police for interrogation as well as completion of investigation and other legal formalities.
However, the judge remanded the suspects in police custody for three days. The IO was directed to produce them on Sept 11 and also submit an investigation report.
The judge also directed the IO to ensure required medical treatment was provided to suspect Hassan Meetha, who purportedly suffers from heart ailments and was shifted to the National Institute of Cardiovascular Diseases (NICVD) for his medical check-up as his condition deteriorated in the lock-up following his arrest.
A case was registered under Sections 322 (manslaughter) and 34 (common intention) of the Pakistan Penal Code at the Korangi Industrial Area police station on behalf of the state through SHO Mohammad Tariq.
Published in Dawn, September 9th, 2021