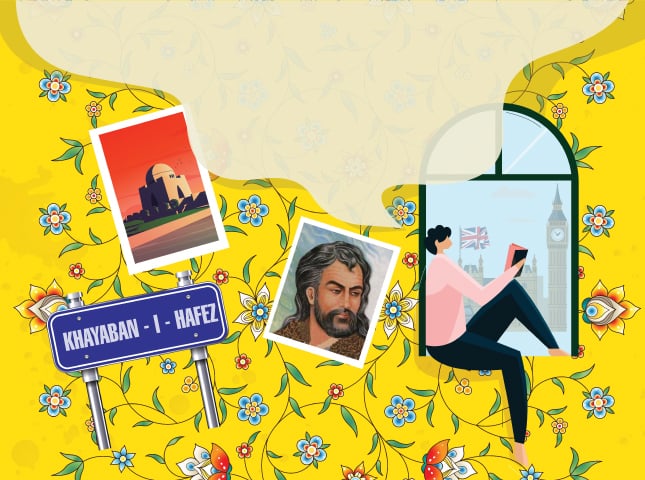 Exactly a year ago, I remember clutching on to an old kurta my mother had left behind in London, attempting to find her presence in the faint smell of powder and argan oil which still lingered, grabbing on to whatever reminders I had of her.
With travel bans firmly in place, I was, like so many others, steeped in the profound heaviness of a pandemic-laden Eid, feeling the unwavering weight of separation from my family, and consumed by the uncertainty of when — if — I would see them again. My only source of solace came from Hafez, his words whirling relentlessly in my mind, as I questioned every decision that had led me to this singular moment:
Oh grieving heart, one day you will mend, don't lose hope
Your frenzied mind will eventually return to balance, so do not grieve
On any given day, I missed Karachi — my hometown, a land fertile with customs and rituals, my city by the sea with streets named after Persian poets, its cuisine unparalleled and its buzz, infectious. My inability to call London home, where I've lived for over a decade, was a persistent testament to my homesickness.
An expatriate caught far away from home and family because of the pandemic restrictions, ponders the meaning of the Abrahamic story that Eid-ul-Azha commemorates
But my yearning for home soil, usually a simmering presence in the background, would flood over on those two distinct occasions when almost every Pakistani household becomes a breeding ground for freshly cooked savaiyyaan, drawn-out lunches, ceaseless hospitality and a nation-wide energy few other events can replicate.
My Eids in London, on the other hand, were a stark contrast: quiet, solitary, unnoticed. Some spent at the office, others in the library. The most celebrated days in my motherland were like any other in the once-Imperial capital, albeit distinguished by congratulatory Whatsapp messages and an Instagram feed vibrant with family photos — one I kept at a safe distance, to prevent myself from spiralling into uncontrollable nostalgia for the life I'd left behind.
I often wondered, did I over-romanticise our ways of life, our gusto-fuelled celebrations, our enthusiasm for age-old traditions, because I was no longer a part of that world, just a mere spectator watching from the sidelines, the distance between Karachi and I adding a rose tint to my memories?
The answer was blatant: I did not. The Eids of my childhood were a grand, elaborate affair. They involved weeks of preparation, starting with overworked tailors bickering at the timeliness of our order and excitement over bringing home the goats. They involved chaand raats spent at Uzma Centre, amidst mehndi-walis and bangle stands, bringing an impalpable liveliness to the occasion. They involved Eid day itself, when we dressed to the nines, ate our hearts out, mingled with a barrage of guests we probably wouldn't see again for a year and negotiated incremental increases to our Eidi.
I could never over-romanticise the warmth, the festivity, the camaraderie that our holiday represented. Even when deaths in our family and siblings moving away gave it a solemn undertone, some rituals remained intact: squabbles with the butcher (who commanded celebrity-like status for those handful of days), four legged stars being taken to slaughter and meat distribution strategies spearheaded by mom. That consistency, untarnished by time, was comforting.
---
When I was younger, my mother, the best storyteller I know, frequently narrated the Abrahamic tale which underpinned our practices centuries later, her voice modulating with every dramatic twist it entailed.
"He opened his blindfold, and saw a lamb sacrificed in place of his son," she'd say, "that is why we do what we do, all these years later, to honour his legacy, his unflinching obedience to his Creator." For an animal loving child, quick to attach to our temporary guests, that context made a gruesome situation somewhat noble. We, simply shadows of the greats who walked before us, were retracing the footsteps of father and son, generation through generation, era through era.
I was enamoured by that story, its grandiosity, the customs it brought into my life, the way it lit up our home. It added to my world an elaborate dressing up process, a long holiday with family and centre-staged freshly-cooked qorma doused in masala, to commemorate that fateful day when earthly mortals collided with a Divine miracle. It was later I realised that, although this legend is part of me on a cellular level, it was an anecdote I never empathised with in the past. It was beautiful but unrelatable, worldly yet otherworldly, adopted yet detached from.
When 2020 stormed into our homes, our minds and our hearts, the unimaginable became our reality. A micro-organism, invisible to the naked eye, systematically ravaged the world and sent its inhabitants into global, collective trauma. Overnight, life changed permanently in ways that were inconceivable once.
When the virus reached Pakistan, I felt a tsunami of fear shake my core, my thoughts fixated on my family. Every odd-timed phone call resulted in a panic attack. Every day, I wondered what tomorrow would bring. Every conversation was underlined with razor-sharp terror that it could be our last tete-e-tete. Every death felt like a footstep, trying to find its way into my home.
Recollecting those sleepless nights still makes me shudder, my expat vulnerability no longer containable. I remember frantically calling the Pakistani embassy every day, in hope for repatriation. I remember filling out the form to secure my spot on the only flight heading home and cancelling it last minute, in fear I may take the virus back and endanger those I loved beyond measure.
I remember being torn to shreds, breaking down uncontrollably in Regents Park, when I checked the news and learnt the fate of those who did board that plane but couldn't reach Karachi unscathed. As London quickly became the new epicentre, my stone-age emotions retreated into a dark vacuum, tearing through the scar tissue accumulated on previous trauma, bringing it to life once again.
I call 2020 the great reductionist, which took all my accrued priorities and scraped them down to their bare bones. With the magnitude of change in my environment came a profound internal shift, dulling the lure of my privileges in London, and hauling me home with an uncontrollable gravitational force. The event which overshadowed Eid that May loomed like a dark cloud, spilling into the subsequent occasion, as hearts grew heavier with chilling images of that year's Haj. And it reinforced that all I wanted was to be reunited with my family, wherever they may be, in Karachi or elsewhere.
It was in those months I reacquainted with Hafez, who became my primary source of consolation, giving me hope at a time when I had none, urging me not to grieve when that was the overarching emotion to all I did; reminding me time is not changeless when it felt stagnant; reassuring me that my frenzied mind will, in due course, find balance; that one day, I will be heading back to my land of the pure.
Although this part of your journey home is dangerous, your destination out of reach
No roads are without an end, so do not grieve
Fast forward a year later and here I am, perched on my dad's bed, framed by mirrored walls, relishing every sound coming from my mother's kitchen as she prepares breakfast. I wake up to squawking crows, find myself immersed in frequent battles with domestic staff, listen to my family complain about ever-rising inflation, contemplate why so many wires are cloaking Karachi's streets, bask in recurrent scolding's about how I can never do anything right because I am the youngest, despite my accomplishments.
And even when temperaments around me get overbearing, as they often do, I derive infinite delight from it all, not taking a moment for granted in the four months I have spent here, my sense of belonging sharpened by last year's events. The road leading to my home — Khayaban-i-Hafez — has taken on a new meaning, making me smile every time I pass by, that ghazal I love truly coming full circle.
Looking back, I cannot help but reflect on that story again, the one I've always heard, and rejoice in that same ritual we've always mimicked, this time through a more humanised, empathetic prism. Maybe the chaand raats, guests, goats and qormas were not the purpose of Eid after all.
Maybe that story was ultimately about reunion: about a family allowed to remain intact by a stroke of fate; relief engulfing a father when he removed his blindfold; a household spared from living with the irreplaceable void death brings forever.
For now, that is all I see leading up to this Eid's celebration: unencumbered gratitude for my family that is still in my life; ceaseless thanks for everyone Covid-19 has spared this year; a reminder that, even though so much has been lost, and so many people affected, we take this occasion to celebrate those who remain. As a father did on that momentous day, once upon a time ago.
The writer is a social scientist based in London, UK.
She instagrams @lifethroughawindowseat
Published in Dawn, EOS, July 18th, 2021