• Bilawal rejects offer, saying govt is not serious in reforms
• Imran urges people to pay taxes to become a 'real sovereign nation'
• Warns citizens of a 'very tough time' ahead in view of emerging Afghanistan situation
ISLAMABAD: For the first time, Prime Minister Imran Khan himself on the floor of the house has invited the opposition to sit with the government on electoral reforms to hold 'objection-free' general elections.
"Time has come that [when] we contest elections, no one worries about being defeated through rigging... We came to one result — the only solution is EVMs [electronic voting machines]. All that [post-voting] rigging period can be eliminated if result comes [immediately] after election," said Mr Khan before offering the opposition parties to sit with the government for electoral reforms.
"Our government is ready to listen if the opposition has any other advice regarding the reforms," the prime minister said in his wide-ranging speech on the conclusion of federal budget 2021-22 session in the National Assembly.
Although leader of the opposition left the house when the prime minister started his speech, some 70 to 80 opposition members, sitting in the middle and rear rows, did not create any disturbance apparently due to the last week agreement between the government and the opposition that they would not sabotage speeches of each other's party heads in the parliament.
Pakistan Peoples Party (PPP) chairman Bilawal Bhutto-Zardari stunned the house with his two back-to-back fiery speeches, while the absence of opposition leader Shehbaz Sharif for a second consecutive day was noticed.
In his 88-minute speech, the prime minister lauded Pakistan Tehreek-i-Insaf-led government's economic team for presenting what he called "the best possible relief budget for the common man" and vowed to improve growth (GDP) rate of the country from prevailing 4 per cent.
Warning the people that the government was introducing a new system under which tax evaders could be jailed, Mr Khan appealed to the people to give taxes to become a "real sovereign nation". Currently, he said, only 2.2 million out of total 220 million people were paying taxes.
He said when the PTI government came to power in 2018 current account deficit was the biggest problem. "[Pakistan] had the biggest deficit in history which means our currency was in danger. Our team was new and we had no experience ... We took many difficult steps to stabilise our economy which were painful."
Mr Khan then thanked China, the United Arab Emirates and Kingdom of Saudi Arabia for "protecting us from defaulting". He said his government had avoided going to the International Monetary Fund (IMF) initially because of its "strict conditions" but it was "forced" to do so because of the tough economic situation.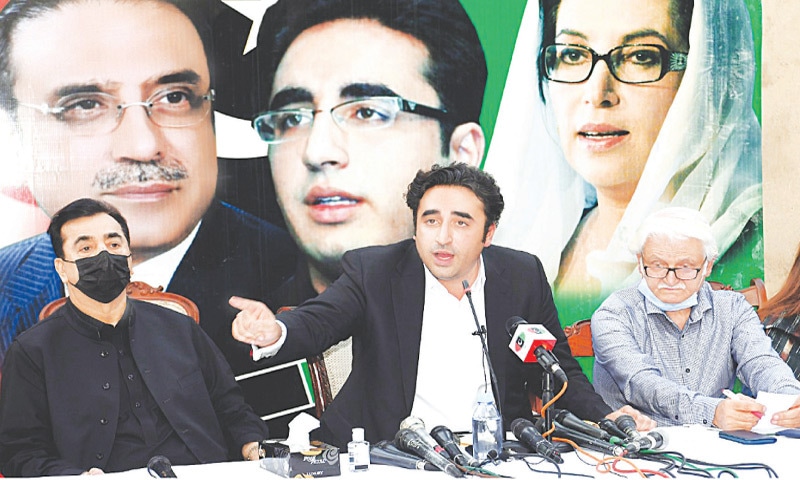 'Very tough time ahead'
The prime minister warned the nation that there was a "very tough time" ahead for Pakistan in view of the situation in Afghanistan.
He said he was thankful that the United States had recognised there was no military solution to the Afghan conflict but it should have done that early. "Afghanistan has never accepted interference from outside. If we were proactive and a self-respecting government had stood up and said [the US] was wrong, then we would have protected them."
Gen Pervez Musharraf's regime had committed a blunder by siding with Americans in "the war on terror" in neighbouring Afghanistan, which triggered the worst wave of terrorism in Pakistan causing death of 70,000 innocent citizens and over $150bn loss.
Now after setting an exit date and deciding that there was no military solution to the conflict in Afghanistan, the US wanted Pakistan to bring the Afghan Taliban to the negotiation table, the prime minister said.
"What leverage do we have? We can only tell them that if you go [towards military activity] then there will be civil war," Mr Khan said.
"Pakistan does not want strategic depth in Afghanistan or any favourite political party because whoever the Afghan people choose, we are with them," he said.
"We can be the US partner in peace but not in conflicts," he said while refusing to become an ally in prolonging wars in the region.
The prime minister said he was the one who had opposed Gen Musharraf's decision to become partner of the US in war in Afghanistan against Taliban and that was why he (PM) was called Taliban Khan.
"At that time I felt insulted as whatever the US said, we kept doing. Musharraf had said in his book that he took money and sent people to Guantanamo Bay prison," Mr Khan said.
The prime minister said that in a meeting of the US Senate, an American commander said the Pakistan government did "not tell the truth" to its citizens [about drone strikes]. "We disrespected ourselves, the world did not disrespect us," he said. "On the US orders we also sent our army to tribal areas. The US killed our people with drones and the people of tribal areas killed army personnel and common citizens in reaction thus both ways our people died," he explained.
In an apparent reference to Muttahida Qaumi Movement (MQM) founder Altaf Hussain, the prime minister questioned if the UK would allow Pakistan to kill a terrorist sitting in London for past 30 years in a drone strike.
"Will they give us permission to attack him?" he asked, adding that if they would not give that permission, then why Pakistan did give such permissions. "Are we subhuman or half human or do our lives not have enough value?" he remarked.
He said that overseas Pakistanis hid their faces after the raid by US Navy Seals in Abbottabad in which Osama Bin Laden was killed, because "our ally did not even trust us enough to carry out the attack."
"When we gave so many services, did they (US) praise us or acknowledge our sacrifices? Instead, they called us a hypocrite and blamed us. Instead of appreciating us, Pakistan was bad-mouthed," he added.
Bilawal's reaction
Later, PPP chairman Bilawal Bhutto-Zardari addressing a presser at Zardari House strongly reacted to the PM's speech in the National Assembly and rejected his offer to the opposition to sit with the government for electoral reforms.
"Government is not serious in electoral reforms and people want to hear what is happening in Lahore, Quetta, Karachi and Multan. They do not want a lecture on history or Islamic history from Imran Khan and what happens in different parts of the world. You had to give the record of three years, you are lecturing us, and you are trying to fool the nation. All the ministers were cheering on this kind of budget."
"This budget is also an NRO to the rich, there is relief for the rich and distress for the poor. The people must have confidence in the state and democracy. You are giving arrest powers in the name of FBR which is totally wrong," Mr Bhutto-Zardari said.
Replying to questions, the PPP chairman said the prime minister should have given details of the past three years. "We will hold you [the PM] accountable for all these wrongdoings. Instead of telling stories, the speech should tell us the solution to problems," he added.
He said Asad Qaiser had been the "worst NA speaker" in the country's parliamentary history.
Strongly condemned the raid on the house of a PPP leader Aijaz Jakhrani by the National Accountability Bureau, the PPP chairman said: "Unless the chairman and all NAB officers disclose their assets, they have no right to check the assets of others."
Published in Dawn, July 1st, 2021