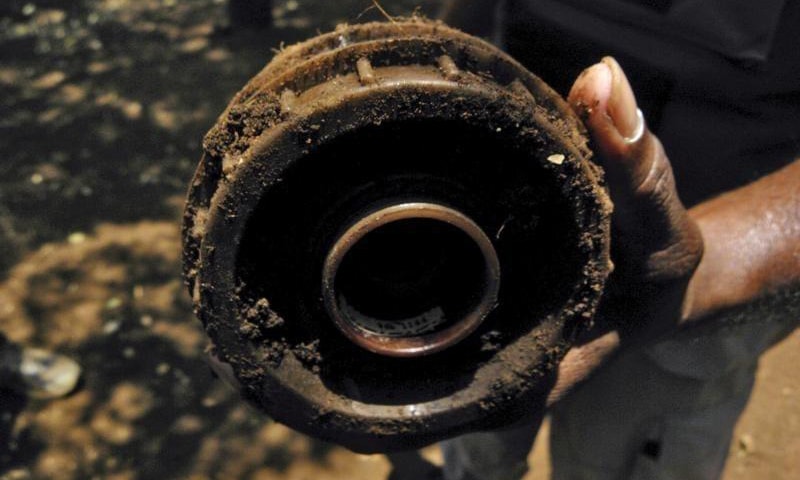 PESHAWAR: As landmines are taking a toll on the lives of civilians, especially children and the personnel of law-enforcement agencies, large swathes of land in parts of the militancy-hit tribal districts have yet to be cleared of unexploded ordnances.
Official sources said that South Waziristan and North Waziristan tribal districts were the major areas of concern for the explosive defusing units of the army, where around 80 square kilometers area had yet to be de-mined.
Official statistics available with Dawn show that the security forces had completely cleared Malakand and Bajaur districts of explosives, including landmines, while the clearance operation in other districts of the erstwhile Fata was in progress.
According to the documents, more than 80 teams are currently operating in different areas of the tribal districts to remove unexploded ordnances, including improvised explosive devices and toy bombs.
Waziristan major concern for army's explosive defusing units, say officials
Officials said landmines and other unexploded ordnances were posing threats to the lives of civilians and military personnel.
They said that 37 personnel had embraced martyrdom in the landmine blasts and 17 suffered fatal injuries since 2018.
The officials also said 45 civilians had lost lives in landmine- related incidents and 85 suffered injuries.
The surge in landmine blasts in the merged tribal districts also shocked international agencies.
The UNICEF, in a statement last week, expressed concern about the killing of children in landmine blasts in the region bordering Afghanistan.
"No child should fall victim to landmines or explosive remnants of war. The Unicef will continue to support the government of Pakistan in mine risk education to raise awareness onthe risks posed by landmines and explosivesamong children and families living in crisis-affected areas. It is equally important to continue clearing minefields and torehabilitate and reintegrate those who have survived accidents," the UN agency said on June 6.
The issue of landmines in Khyber Pakhtunkhwa, especially former Fata, has been lingering since the days of Afghan war.
These 'hidden killers' had put lives of women and children at risk in areas adjacent to the Afghan border. Unexploded ordnances from the Afghan war had also plagued the area.
Several international agencies had conducted awareness campaigns against landmines especially toy bombs in the tribal districts. The situation deteriorated when the militants set up parallel administration in the former Fata and Malakand division.
Officials said that security forces had conducted 14 major operations against the militant outfits including foreigners in the region since 2001-02.
They said that the militants had planted landmines and IEDs in some pockets of the merged districts and also left behind unexploded ordnances when the security forces launched operations.
According to the details, security forces had cleared 13 square kilometers area out of 14 square kilometers in Mohmand, eight out of 12 square kilometers in Khyber, five out of six square kilometers in Orakzai, four out of six square kilometers in Kurram, four out of 37 square kilometersin North Waziristan and 15 out of 62 square kilometers in South Waziristan tribal district.
Published in Dawn, June 12th, 2021