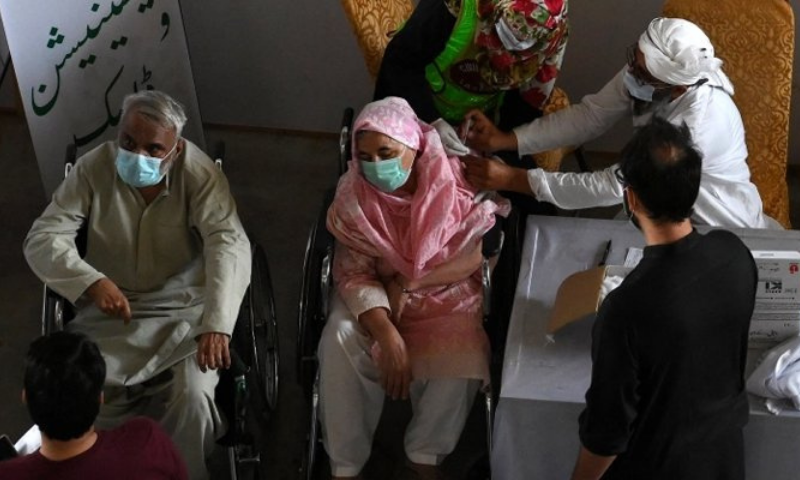 PESHAWAR: With seven more Khyber Pakhtunkhwa residents, including a gynaecologist, losing life to coronavirus on Saturday, the World Health Organisation has revealed that high Covid-19 incidence was reported among visitors to sentinel sites of hospitals, polio vaccinators, other health workers, and contacts of confirmed patients.
The health department said in a report that the province detected coronavirus in 395 more residents and recorded 614 recoveries from the virus during the in 24 hours.
According to the department, the lives claimed by the virus totalled 4,060 and the cases 132,170.
A total of 122,795 of the cases (92 per cent) have recovered, while there are 5, 315 active cases in the province.
Meanwhile, a WHO report said 3,921 health workers, including 28,234 men (72 per cent) and 1,098 women (28 per cent) had tested positive for coronavirus in the province since its outbreak in March last year and 43 health workers from the government facilities had died of the virus.
Among the infected health professionals, 1,822 (46 per cent) were doctors, 1,560 paramedics and other workers (39 per cent), and 539 nurses (14 per cent).
Gynaecologist among seven killed by coronavirus
Another WHO report revealed that the weekly positivity rate for Covid-19 among visitors to hospital sentinel sites was 7.5 per cent, health workers 5.9 per cent, contacts of confirmed patients 5.1 per cent, staff members of private and public offices 4.9 per cent, anti-polio and dengue workers 4.3 per cent, villagers 3.9 per cent, employees of hotels 3.6 per cent, drivers, conductors and passengers of public transport vehicles three per cent, participants of religious gatherings 2.8 per cent, staff members and students of educational institutions and visitors to tourist places 2.2 per cent each, visitors to marriage halls 1.9 per cent, and shoppers 1.8 per cent.
The province recorded three per cent Covid-19 case fatality rate. It was 4.6 per cent in Mardan, 4.2 per cent in Abbottabad, 4.1 per cent in Peshawar and Swabi each, and 3.9 per cent in Swat.
Officials said the department was ensuring adherence to Covid-19 precautions by the people to disrupt the transmission of the virus, whose third wave was highly virulent.
They said besides the enforcement of standard operating procedures, the vaccination process was also in progress at 482 vaccination counters in all districts of the province and mass vaccination centres in Peshawar's Khyber Medical University and Nishtar Hall and in Mardan.
The officials said vaccination of at least 70 per cent population was needed for the province to return to normality.
They said the people shouldn't ignore preventive measures against the virus such as social distancing, hand hygiene and avoidance of crowded places.
The officials said 72,812 health workers had so far got the first dose of the vaccine and 44,803 the second.
Meanwhile, Dr Zubair Zahir, chairman of the Provincial Doctors' Association, told Dawn that the health professionals, who died of coronavirus in the province since March last year, totalled 106, including 66 doctors.
He said the health department should give away Shuhada Package to the families of all of them.
Dr Zahir said the department had so far given Rs7 million compensation package to each of 10 families.
"We demand speedy payments as the heirs of the martyred health workers face serious financial problems," he said.
The PDA chairman said Dr Alia Mukhtiar, a graduate of the 1994 batch of the Khyber Medical College, Peshawar, breathed her last at a private hospital with which she was admitted for two months.
He said the health workers contracted the infection in both private and public hospitals.
Published in Dawn, May 30th, 2021