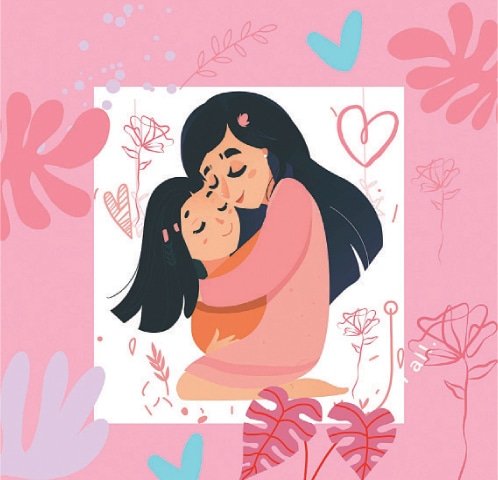 Like a lot of things happening around us, Mother's Day garners a lot of debate. And like all debates, there are two sides — one which is all in favour of celebrating a day dedicated to mothers, and the other which calls it a western concept that we should not have anything to do with.
Whichever side of the debate you may stand with, there is no denying that the second Sunday of May is recognised as a day to honour the most important woman in our life, our mother. One may choose to celebrate it with the usual show of affection, flowers, gifts, a dinner or family gathering, or it can pass like any other day when sometimes we are nice to our mums and at all the other times, she is busy making life lovely for us.
Frankly speaking, there really isn't much that we don't know about what mothers do for us or what mothers mean to us — we already know it. What really needs to be discussed is what we do for our mothers. Yes, have we ever given a thought to how we behave with her or what kind of kids we are? Mothers have often been divided into different kinds, the controlling ones, the strict one, the over-protective one and what not. But I have yet to come across an article anywhere focusing on the kind of kids we are.
So, on this Mother's Day, let us turn our focus to ourselves, and honestly see what kinds of kids we are for our mothers, and if we are what she deserves. Seems strange, does it? It really shouldn't be because if we have an honest look at our behaviour towards our mother, and parents in general, we will realise so many things that we are doing right, and which we should continue with, but we will also find some things in our behaviour that can be improved. It's like, let's not ask what mothers do for us, but what we can do for mothers. And this, my friends, will be the best Mother's Day gift for her.
The weepy kid
This kind of kid is always ready to cry buckets at all real and perceived slights, making the mother feel she needs to protect and pamper this one at all times. The tears are mostly for attention. And once the attention is received, it disappears and so does the child, who gets busy in games and activities, but the mother remains worried for hours. Poor thing!
The lost one
This child is lost without mother — because he can't find anything for himself. He never keeps his own things so the mother has to do all his tidying and picking. She picks up the clothes that have been thrown around carelessly after changing. She is the one who empties the pockets before laundry, takes out the empty lunch box and bottle from the school bag and packs the bag for school.
The child happily leaves everything for the mother to do. And when she misses taking care of any stuff, the lost baby throws a tantrum and the mother blames herself, not him, for whatever is lost. Good for the child that neither the child, nor the mother realises who is really at fault.
The royalty
This child is born with a crown that only the mother can see and so is a princess or prince of the mother's heart. And the mother is also a loyal subject who will forever remain faithful in their command.
And just like a prince or princess expects special treatment as a right, this child also believes they deserve the best. They think, because mummy dearest says so, they are born to rule — but the only person willing to be ruled here is the mother. So she tries, day and night, to serve to the best of her ability, not for any riches or ranks, but just to receive a loving glance or a smile.
Frequently, this little royal also remains close to the mother, for no one else showers so much love and attention to them, so the bond here is very strong.
The sticker
While a toddler, this child was always at the mother's side, holding on to her shirt corner or dupatta. And even after towering over the mother, she or he needs to hold on to her arm or dupatta, sticking around her wherever she goes, like a destination sticker on a suitcase.
This one doesn't have many friends or any sense of independence. They ask mum before doing anything, they don't go anywhere without the mother and the only one they listen to and obey is the mother too.
This kind is usual more obedient than the usual child. And while they may need the mother around for most things, they too are there for the mother whenever she needs them. It's a child a mother can depend upon the most.
The rebel
This child gives mum the most headaches, for rules, commands and even request are unheeded and ignored. They set their own rules, follow their own heart and listen only to the little voice in their head — the poor mother doesn't come into the picture much.
Imagine how hard it is for her to raise a child who thinks her care and protectiveness are overpowering, her simple rules are suffocating and her worry for their well-being is possessiveness. Eventually, she realises that it is best to leave them to their own device, for this child will only learn from the mistakes they make, and then understand that 'mum is always right'.
The quintessential child
The quintessential child is what every mother hopes for her child to be — devoted, obedient, smart and well-behaved — perfect in every way. But this child is also as rare to find as perfection.
This responsible child is well-aware of his or her duties and responsibilities, and also attuned to the needs, wishes and hopes of the mother. This child is ideal for mum's peace of mind and they have a very healthy and warm relationship.
Only a few mums get this lucky, but most mothers, being mothers, think their child is the embodiment of perfection for she can see no fault in her child.
The bonus child
This one is a bonus because either their arrival is a surprise for the mother or how well they turned out was a surprise for her. Since a bonus is something that you have over and above the regular expectations and it always gives you pleasure, this child can be a source of happiness for any reason.
So, this one is usually pampered, dotted and loved, making the child somewhat proud and spoilt. But still mum loves this child, for mums loves them all, whatever kind they are.
So, did you find yourself in any of these categories of kids? And what did you think of each? And, most importantly, what did you think of the tough time the mother has raising children, usually each being very different and demanding in their own way? And even if you think you don't belong to any of the types, do look at how you behave with your mother and what you demand from her. And if you can see any room for improvement anywhere, go for it — this will be the best reward for your mother on this Mother's Day.
A very happy Mother's Day to all mothers and all the women in our lives who have played a role in making us who we are today.
Published in Dawn, Young World, May 8th, 2021