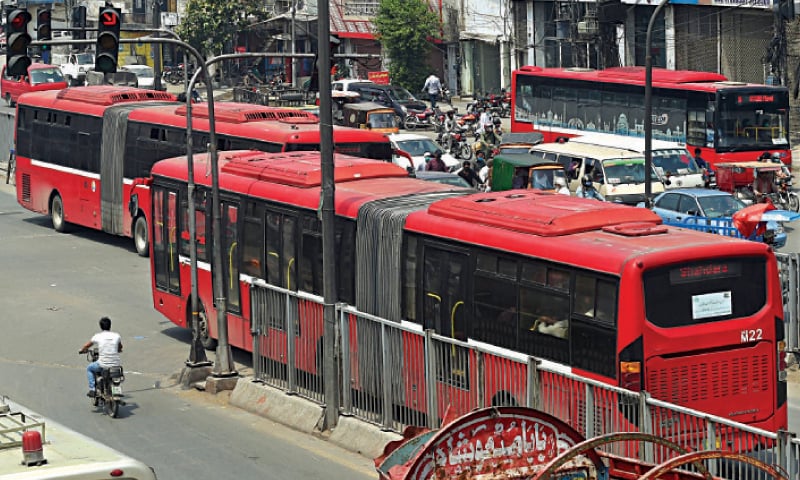 LAHORE: The Punjab Masstransit Authority (PMA) on Wednesday resumed the operation of metro bus in Lahore, Multan and Rawalpindi after the health department clarified that the April 12 lockdown notification does not bar the intracity public transport operations.
The PMA resumed operation of Speedo bus in Lahore and Multan after 22 days, but it could not resume the Orange Line train in Lahore due to damage to stations in recent protests, according to a senior PMA official.
"We've resumed metro bus operations in Lahore, Rawalpindi, and Multan," said the official.
He said the resumption of the orange line operation was no simple like the metro bus operation. "This may take some days to resume, as the trains and other installations are to be retested before the resumption of the operation, he added. Another issue, he said was the damage caused by the protesters at two elevated stations of the orange line situated on Multan Road.
"The protesters vandalized Bund Road and Salahuddin (near Yatim Khana and Scheme Morr) stations. Our teams are assessing the loss," the official argued.
He said a survey team of the insurance company would also visit these stations to assess the loss.
CLEANLINESS OPERATION: The Lahore Waste Management Company on Wednesday resumed its cleanliness operation in the areas which were sealed due to the protests near Samanabad and surroundings.
According to a spokesperson for the LWMC, tons of garbage were lifted in a major cleanliness operation "On Wednesday alone, the LWMC lifted more than 6,000 tons of waste from Multan Road and several other parts of the city," he said, adding that all the points would be cleared within the next two days.
RAIL POLICE: A police team traveling in Green Line Express returned 1,405 euros to their owners -- two Italian passengers.
According to a railway spokesperson, a railway vendor found a purse with 1,405 euros and other valuables. He immediately called railway police traveling on the train. At the Rawalpindi station, passengers filed a complaint with the railway police station.
On this, the police team handed over the purse to them.
LDA: The Lahore Development Authority (LDA) has decided to hold a third draw for the allotment of plots among 2,000 allottees in LDA City's Jinnah Sector after Eid, according to a spokesman.
Published in Dawn, April 22nd, 2021