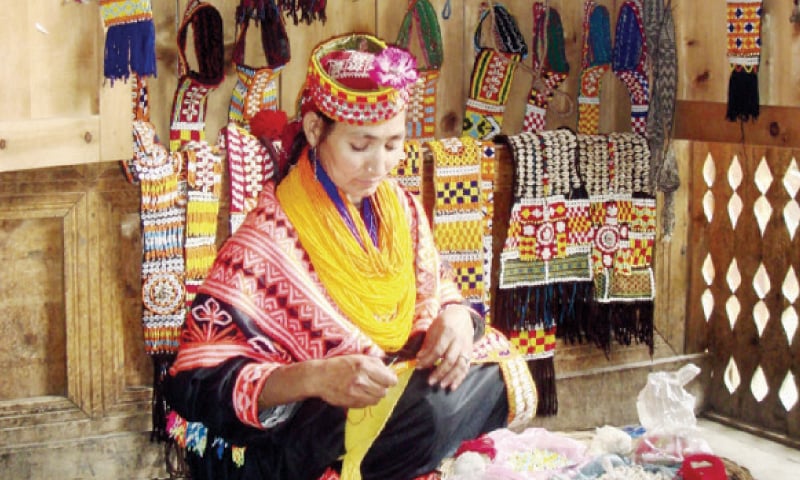 CHITRAL: The handicrafts of the Kalash community are gaining popularity among the tourists including foreigners, thereby boosting their income and improving their living standards.
The primitive tribe known as Kalash living in three adjacent Bumburate, Rumbur and Birir valleys in southern Chitral though possessed a distinct and unique material and immaterial culture, but it remained untapped till recently.
Said Gul, an archaeologist and first-ever Kalash graduate woman, said the tourists coming to the valley about 10 years ago hardly found any article related to the Kalash culture as gift to purchase and take to their country as there was no gift shop where local products could be made available.
She, however, said the situation had changed altogether and now every household had become an art and craft producing place to be sold even on commercial scale. "Now the Kalash folk do not waste their time in useless pastimes and utilise it in making different articles."
"The chief characteristic of the Kalash art is that most of its ingredients are indigenous with simple finishing, which give it a pleasing look."
Now a visitor to the valleys has a wide range of choice of articles in a gift shop ranging from Kalash dresses to embroidery, decoration to wooden items, including baskets and bags of twigs.
"Artisans are found in almost every house of the community and it is interesting to note that male and female have their specific fields of skills," said Said Gul.
She said the female dress of Kalash included a long black-coloured shirt embroidered with cowrie shells and beads while the traditional cap was lavishly embellished with tiny beads of different colours tied to a small hanging ribbon.
"The women artisans also embroider and fabricate decorative pieces for wearing on arms and chest apart from developing different patterns of beads, shells in threads as decoration pieces for wall hangings and purses," she added.
Rahima Bibi is a young Kalash woman running a gift shop in Krakhal village of Bumburate, employing another woman to assist her as she finds it difficult to deal with the growing number of customers.
Sharing her experience, she said female tourists yearned to attire themselves in the Kalash women dresses. "They purchase the attires despite high prices."
"With increase in contacts of Kalash people with the outsiders, their art and craft has seen a great transformation conforming to the needs, fashions and tastes of the modern age.
"Proper marketing of handicraft is one of the major problems which impede the artisans to produce items on commercial scale as they do not find market to sell," she said.
Ayun and Valleys Development Programme chairman Rahmat Elahi said the Aga Khan Rural Support Programme had established centres in Bumburate and Rumbur after imparting training to the artisans for development of Kalash handicraft.
Published in Dawn, March 1st, 2021