KARACHI: Stocks remained under pressure on the first trading day of the week with the KSE-100 index recording a steep decline of 337.61 points, or 0.73 per cent, to close at 45,890.04.
The index hit intraday low by 465 points. The investors displayed anxiety over the two major events that simultaneously started that day: The four-day Financial Action Task Force (FATF) plenary session started on Monday to take stock of the steps taken by Pakistan against the Anti-Money Laundering and Terror Financing. While much of the market hoped for a removal from the grey list, reports suggested campaign by belligerent countries to keep Pakistan in the grey list.
Monday also saw the start of the future rollover week which pushed investors to cover their positions.
The KSE-100 index opened in the positive and clawed up to intraday high by 175 points before it succumbed to a widespread selling in the lead of commercial banks, cements, fertilisers and the Exploration & Production sectors.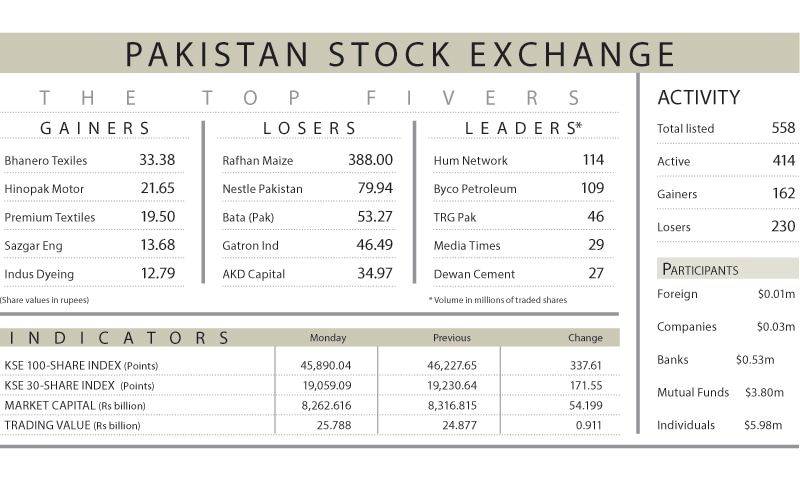 The investors' interest in the banking sector had dampened after several major banks disbursed poor dividends. Investors had little expectations of a positive upset from UBL which is to unveil financial results and payout on Wednesday.
Among banks, UBL lost (4.1pc), HBL (3.5pc), Bank Alfalah (3.3pc), Bank of Punjab (2pc) and Faysal Bank (2.3pc). In cements, Kohat, Cherat, Fauji, D.G.Khan and Pioneer closed lower. In the E&P sector also, the values continued to recede with almost all scrips in the red. Technology sector was lone saver of the day where TRG, Netsol, Hum Network and Media Times closed in the green.
The major scrips that dragged down the index included HBL (73 points), UBL (59 points), OGDC (34 points), PPL (24 points), and BAHL (21 points). Among local participants, major selling came from mutual funds amounting to $3.80m.
The traded volume edged up by 4pc over the previous session to 722.1m shares while the value also rose 4pc to Rs25.7bn.
Published in Dawn, February 23rd, 2021