World's smallest reptile
Meet Brookesia nana, an extremely tiny species of chameleon from the rainforests of northern Madagascar. It is stated to be the world's smallest male reptile, which can fit right on your fingertip!
In a study published in January in the journal Scientific Reports, researchers described the one male and one female of the species that they have studied. Measuring just half an inch (13.5 millimetres) from snout to cloaca, the fully grown male is the smallest adult reptile ever described.
In fact, the male B. nana measured even smaller than his female counterpart, which had a length of 0.75 inches (19.2 mm) from snout to cloaca. Not only is she longer than her mate, but she is also slightly longer than the Caribbean gecko Sphaerodactylus ariasae, which currently holds the title for smallest female reptile, the researchers wrote.
---
Threatened
The Caribbean gecko sphaerodactylus ariasae is threatened by deforestation of its habitat. Legislation protects trees on Beata, which is part of the Dominican Republic's Jaragua National Park, but the laws are not enforced.
Tiny lizards dry out quickly because their surface area is relatively large compared to their volume. "If we don't provide a moist environment when we collect them, they rapidly shrivel up and die by evaporation," says Hedges.
---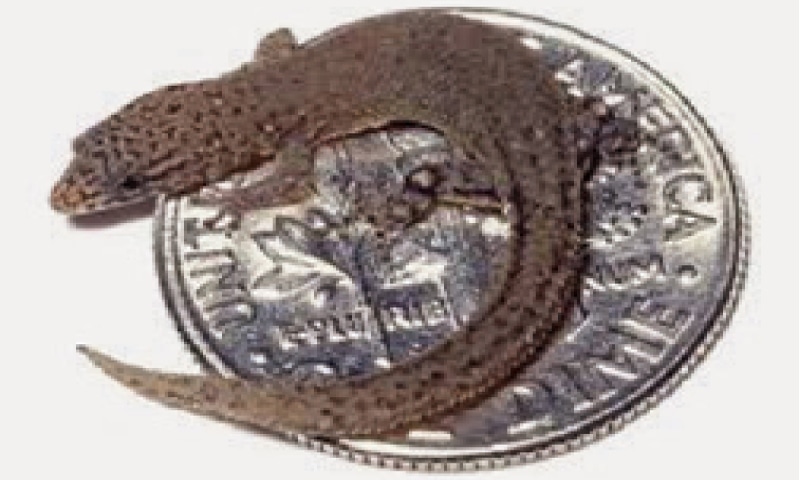 In danger
And scientists still don't know how endangered the Brookesia nana are, but because the rainforests of Madagascar face a significant threat from encroaching human activities — like deforestation and agriculture — these teensy lizards are likely in danger, too, the researchers wrote. Without significant conservation efforts, the world's smallest reptiles could easily slip through our grasp.
---
Almost as small
The Caribbean gecko Sphaerodactylus ariasae was discovered in 2001 on a remote island called Beata in the West Indies by researcher Blair Hedges of Pennsylvania State University.
Its adult length is only about 1.6 centimetres, less than the width of a five-pence piece, and it weighs less than a fifth of a gramme.
---
Book returned to library after 82 years
The Cape Breton Regional Library said the book, The Adventures of Doctor Dolittle, by Hugh Lofting, was returned to the McConnell Sydney Library, 82 years after it was checked out from the Sydney Public Library.
The book was returned by Jordan Muscyscyn, a Sydney man who found it while renovating his century-old home. Muscyscyn said the copy of Doctor Dolittle stood out because it bore markings from the Sydney Public Library.
Library officials said the old Sydney Public Library burned down in 1959, destroying most of its books.
They said the book returned might not have survived if it had been returned on time.
Published in Dawn, Young World, February 6th, 2021