Jingle Jangle: A Christmas Journey is so sweet that it may give you diabetes. This Christmas musical fantasy film is full of energetic dance sequences, amazing CGI animation, delightful stop-motion, hope and wonder. In a dreary year like 2020, it can feel a little too sugary — however, if you let go of your cynicism, you'll realise that Netflix has crafted a holiday classic.
One of my favourite things about Jingle Jangle: A Christmas Journey is that it features a cast of mostly black actors: you have talented dramatic actor Forest Whitaker playing Jeronicus Jangle, a toymaker and proprietor of Jangles and Things; young Madalen Mills starring as Jeronicus's granddaughter Journey, who also has a penchant for inventing; Anika Noni Rose essaying Jeronicus's estranged daughter Jessica; veteran Cosby Show actress Phylicia Rashad playing the grandmother, and hilarious comedic actor Keegan-Michael Key in the role of the antagonist, Gustafson.
Jingle Jangle: A Christmas Journey also sees pop legend Ricky Martin voice act and motion captured as the hilarious doll Don Juan Diego.
If you let go of your cynicism, you'll realise that in Jingle Jangle: A Christmas Journey Netflix has crafted a holiday classic
It's interesting for a film like this to feature predominantly African American actors because it's rare — watch any classic holiday movie, and it's almost always an all-white cast.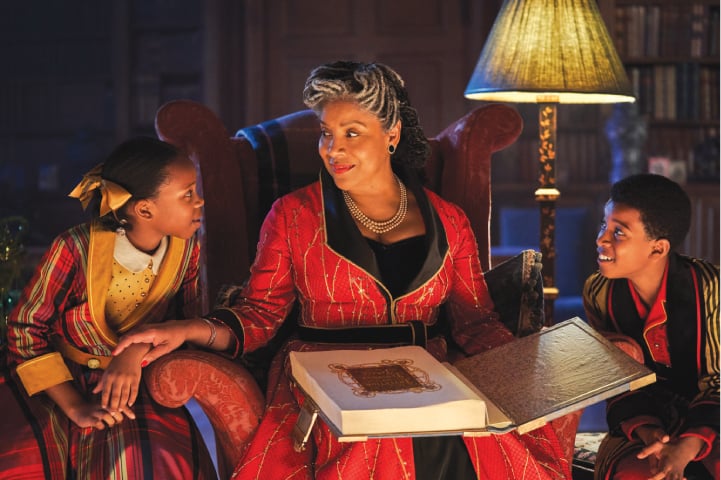 Director David E. Talbert, who also wrote the story for Jingle Jangle: A Christmas Journey, puts together a script that captures the whimsical spirit of the holiday season. The story begins when young Jeronicus (Justin Cornwell) finally creates the sentient doll, Don Juan Diego, who looks heavily inspired by Lumière from Disney's Beauty and the Beast (1991).
When Jeronicus goes to celebrate, the toy expresses his fears to the young apprentice Gustafson (Miles Barrow) that if he's mass-produced, he'll no longer be one of a kind. Gustafson uses this as an excuse to steal Jeronicus's book of inventions, as well as Don Juan Diego, and leave to start his own shop.
Three decades later, we see that Jeronicus is a shadow of himself. Failing to recover from the theft, he now runs a pawnshop. To make matters worse, his wife is dead and he barely talks to his daughter. He's also in financial trouble and desperately needs a successful invention. Meanwhile, Gustafson now runs a toy empire with Don Juan Diego still inspiring him to do evil.
Jingle Jangle: A Christmas Journey kicks into top gear when Jeronicus meets Journey. Initially, the old toymaker isn't happy to see his granddaughter because she reminds him of his failures. Jeronicus works on an old project called The Buddy 3000, which frankly looks a lot like Wall-E from the titular 2008 Pixar Animation Studios picture. When Journey realises that The Buddy 3000 was pioneered by her mother many years ago, she is determined to get the toy working. Seeing his granddaughter share his old passion for inventing slowly lights an old spark in Jeronicus, and the Jangle family eventually fights back against Gustafson.
Look past the liveliness and colour, and you'll see a film driven by excellent performances and strong characterisation. Aside from some sickly-sweet moments, my only criticism of the film is that it borrows heavily from other family adventures, which is ironic when the narrative teaches you lessons on the evils of thievery. This nitpicking aside, Jingle Jangle: A Christmas Journey is a welcomingly enchanting adventure at the end of a year that's lacked magic.
Rated PG for peril and some thematic elements
Published in Dawn, ICON, November 29th, 2020