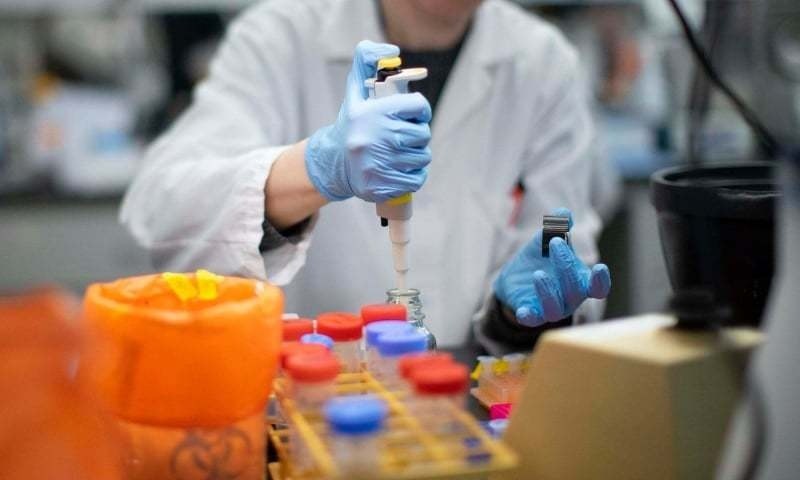 PESHAWAR: The Khyber Pakhtunkhwa government has so far spent a total of Rs770 million funds on the treatment of coronavirus patients across the province, the provincial assembly was told on Friday.
In written reply to a question of MPA Sirajuddin during the session chaired by Speaker Mushtaq Ahmad Ghani, the health department informed the house that it had spent Rs770 million on the treatment of the confirmed virus patients, purchase of medicines and personal protective equipment, establishment of call centres and rapid response teams, hospital waste management, and testing through private laboratories.
It, however, said it was not possible for it to produce the details of spending per Covid-19 patient.
Dawn learned from a member of the finance minister's team on condition of anonymity that over Rs2 billion had so far been spent on the treatment of Covid-19 patients across the province and of the amount, Rs770 million was provided by the provincial government and the rest by donor agencies.
Assembly legislates to reduce term of KPPSC members by two years
The house also approved an amendment to the KP Public Service Commission Ordinance, 1978, reducing the tenure of the commission's members from five years to three years.
However, the amendment moved by law minister Sultan Mohammad Khan, will not apply to the current chairman and members of the commission.
Meanwhile, the speaker expressed annoyance at the absence of officials of the excise and taxation, tourism and home departments from the session and summoned their secretaries.
"It is a highly irresponsible attitude of the high-ups of these departments that questions related to them are on the house's agenda but no official is in attendance," he said.
The speaker also directed the government departments to submit response to the questions of MPAs to the assembly's secretariat within two weeks.
He said the departments took months and sometime a year to respond to the lawmakers' queries.
"The members seek important information about matters of public importance. However, as the government department provide the information after a delay of months, it is of no use," he said.
Mr Ghani said the lawmakers had the right to table privilege motions against the relevant secretaries over the failure of government departments to produce the sought-after information within two weeks.
During the last three sittings of the house, the speaker had issued directives to the chief secretary and secretaries of government departments to ensure the presence of one additional secretary in the house for responding to the questions, but to no avail.
The speaker annoyed when the questions of a few lawmakers were placed on the agenda for the day but the relevant department had not submitted their reply.
Pakistan Peoples Party member Nighat Orakzai complained that secretaries of the government departments didn't take the house seriously.The chair adjourned the session until Monday.
Published in Dawn, August 8th, 2020