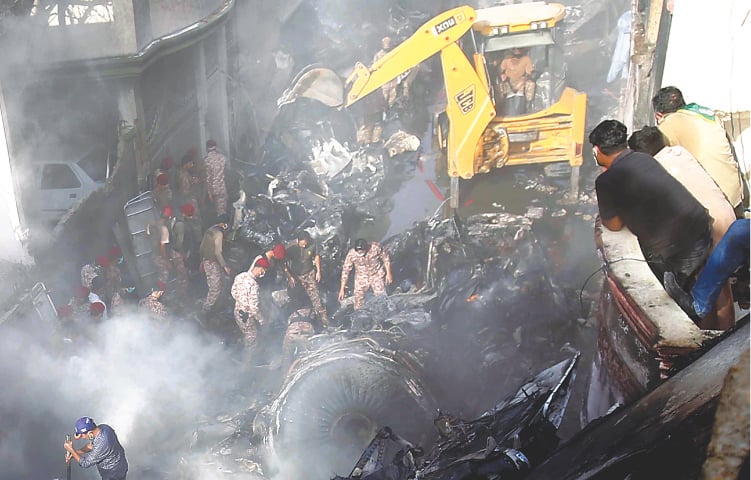 KARACHI: "It tried to land twice but its wheels were not coming out. And its belly touched the runway before the pilot pulled it up again. The second time he did that I saw one of its engines was on fire because it had brushed the runway. It didn't return a third time but crashed here," said Ijaz Masih, who witnessed the crash of the Pakistan International Airlines flight PK8303 in Model Colony, just a stone's throw away from the Karachi airport on Friday afternoon.
The aircraft, an Airbus A320 carrying 91 passengers and eight crew members was coming to Karachi from Lahore before it crashed in the densely populated locality.
"I'm just a sweeper. I'm no expert. I was waiting for the flight to land and the passengers to disembark before I could go inside to clean the plane ahead of its next journey. But I wish the pilot had just landed in the muddy side strips of the runway instead of going up again and again," said Masih, the eyewitness.
Rescue work hindered by onlookers
He was accompanying the PIA Emergency Response Unit in Model Colony where the plane crashed eventually on top of some residential buildings killing and injuring several inhabitants. "I still remember the plane's individual number painted on its side 'BLD'," he added.
Moving scenes witnessed in hospitals where dead and injured of Model Colony plane crash were taken; narrow lanes, crowding hamper relief work in congested locality
There was chaos all around the narrow streets of the Model Colony neighbourhood with so many people gathering to watch the charred bodies being pulled out, some from the broken plane and the others from the buildings.
They were being baton-charged and slapped by policemen to get out of the way as ambulances and fire tenders were unable to reach the exact site of the crash due to the narrow streets. Then a wall in one of the buildings' parking lots had to be knocked down to bring the dead and injured out from there.
It was true that the people were a huge hindrance in the rescue work and in the way of the many ambulances and fire tenders there. Then their idea of getting out of the way was to climb on the roof of an area school, the Al Khadeeja Public School, from where they could get a good view of the burning plane and the buildings with the rescue work under way.
Among the rescuers were several people from PIA who were also there to volunteer any help like Masih.
Dr Mazhar Naeem from PIA's Medical Unit said that they were also there to help and offer assistance to the residents of the area. "We have brought out two ambulances that are also engaged in rescue work," he said.
A young man was being helped by his friends as he cried and screamed to them to take him to the Jinnah Postgraduate Medical Centre (JPMC). Someone said that he was a resident of one of the buildings and he had lost his brother. The ambulance volunteers who took his charred body away had said they were taking the remains to the JPMC.
Scene at hospital
At the JPMC there was a list of just six people who had been brought there initially. Later, the number went up. One of them, with 'unknown' written under the names column had been brought in dead. The rest, who were stated as injured, were 25-year-old Zubair s/o Gulzar, 10-year-old Faizan, 45-year-old Habib-ur-Rehman s/o Abbas Ali, 40-year-old Aziza Haji Vicky and Nahida Ghulam Qadir. They were all said to be residents of Model Colony.
"Then where are the plane injured," asked Altaf, who was frantically searching for his brother Mohammad Zubair, and going to the list again and again. Someone pointed out to him the top name on the list, which was also 'Zubair'. But he only shook his head sadly and pointed out that his brother was Mohammad Zubair and not Zubair s/o Gulzar. But later Mohammad Zubair, a young engineer, was discovered alive with some burns in the Burns Ward of the Civil Hospital, where some 15 injured with burn wounds had been shifted.
A young man standing inside JPMC's parking lot was also checking the list of injured brought in. He said his cousin Zara Abid, a model, was also on the plane. He was also angry with the national flag carrier and alleged that the crash must have been caused due to lack of maintenance by the PIA during the Covid-19 pandemic lockdown when flight operations had been stopped.
Naseer Ahmed was also looking for his cousin Shabbir Ahmed. He said that he didn't know whom to call and where else to go for information.
Mojis Iqbal was looking for his brother Kashif Iqbal about whom he said that he worked in Lahore and was coming to Karachi to spend Eid with his family here.
And Sharif Raza was looking for his young sons, 23-year-old Shoaib Raza and 21-year-old Zohaib Raza. "They are very close and worked together in setting up their own business. They were also travelling together. Please pray that they haven't been called by God together," the father said as he wept softly.
Published in Dawn, May 23rd, 2020