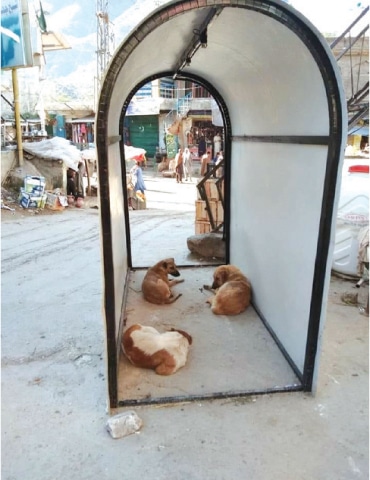 KHAR: The disinfectant walk-through gates installed at the entrance of the district headquarters hospital and other public places in Bajaur tribal district have been lying dysfunctional for last several days, Dawn learnt on Friday.
The residents told this correspondent that all the six disinfectant gates stopped functioning only a few days after they were installed some three weeks ago.
These smart sanitising walk-through gates were installed at the main gate of district headquarters hospital, Khar, in civil colony, Khar, Nawagai bazaar and the bus stand in Khar as part of the safety measures to prevent the spread of Covid-19 in the region.
Employees in the DHQ hospital said the walk-through gate was in order, but its water tank had been empty for last several days.
They argued that no one was using the gate nor any one had asked why the facility was lying non-functional.
A few dogs were seen resting under a disinfectant gate installed on the entrance to the Nawagai Bazaar.
The local residents blasted the district administration for not keeping the gates functional. They termed the installation of such facilities nothing else but a waste of public money.
Meanwhile, an administration official confirmed to Dawn that all the six disinfectant walk-through gates had been out of order for about two weeks.
Requesting anonymity, the official said the gates were installed on the directives of the provincial chief secretary in order to contain the spread of coronavirus in the region.
He said the TMA and the district administration were to keep the gates functional by continuously filling the tanks with chlorine-mixed water.
He said the administration had allocated reasonable funds for the purpose, adding such a facility was to be extended to other areas.
Published in Dawn, May 2nd, 2020