In a time of crisis such as the prevalent global pandemic, gender equity issues tend to be seen as a secondary concern for policy­makers; immediate lifesaving and preve­ntion are the primary focus. However, past epidemics such as Zika and Ebola reveal that gender analysis and equity consideration can be a vital factor in preparedness, prevention, outbreak management and rehabilitation during the spread of infectious diseases. Recognising that Covid-19 is affecting women and men differently can be key for creating effective, equitable programme interventions and policies.
When discussing disaster management, we refer to the capacity of a country, a group or an individual's ability to anticipate, cope with, resist and recover from the impact of a hazard. However, vulnerabilities are intensified when people are destitute, isolated and insecure in the face of risk, shock and/or stress. Individuals and groups differ in their exposure to risk based on a number of factors, including but not limited to their social group, gender, ethnic and other identities — such as age, disability, sexuality and geographical location. This consideration is termed intersectional analysis.
Data reveals that epidemics have inequitable effects on all vulnerable groups. In the case of women, this can include: increased burden of unpaid care work on women and girls, increased gender-based violence and social protection risks, increased vulnerability of female healthcare providers working on the frontlines, challenges in accessing necessary information, and reduced access to quality reproductive health and family planning services, as well as precarious employment.
Access to clean water
Most Covid-19 precautions require access to clean water — a right that is denied to the majority of residents of informal settlements in both urban and rural areas. Much of domestic work performed by women, such as cooking and cleaning, is also dependent on access to water and sanitation (WASH). Ensuring the availability of water is largely considered a woman's responsibility. In a recent article in Dawn, the Karachi Urban Lab, a research institute, calculates that the financial cost of following basic precautions against the virus are beyond the means of the poorest families. This raises serious concerns around the ability of congested and water-scarce communities to protect themselves from the virus.
Epidemics have inequitable effects on all vulnerable groups and individuals. Here is how the government can provide the necessary support systems to everyone, especially women, during the current crisis
Unpaid care work
Much like other parts of the world, women bear the brunt of unpaid work in Pakistan, including care work at home. A recent UN Women report shows that, for every hour spent by men on domestic or unpaid work, Pakistani women put in 11 hours of work.
Many Covid-19-positive patients are advised to quarantine at home, which will further exacerbate women's unpaid work as caregivers, and also expose them to the risk of getting infected. The closure of schools is also likely to have increased the burden on women and young girls at home.
Gender-based violence and social protection risks
In a country where over one-third of households face food insecurity on an average day, the additional shock of the crisis is bound to increase hunger and further strain poorer households. Given that traditional gender roles establish men as breadwinners but hold women responsible for feeding the family, the burden of increased food insecurity is bound to fall on the women, exacerbating stress and possibly incidences of gender-based violence.
Research shows that incidences of gender-based violence increase in situations of disasters. Heightened anxieties that accompany the necessary lockdown are likely to be a contributing factor during the current pandemic, warns a recent article on Dawn.com ("Home isn't a safe space", March 31). Indeed, other parts of the world that have also imposed lockdowns report an increase of up to 50 percent in domestic abuse, reported via dedicated helplines. While we do not yet have official data of this nature related to the lockdown in Pakistan, existing data on gender-based violence paints a grim picture. The Demographic Health Survey 2017-18 finds almost one-third of women between 15 and 19 years of age reported facing physical violence, with older women facing comparatively less violence. For almost all women, regardless of age, the perpetrator was someone in the immediate family. It is also alarming that over half the women who reported having experienced violence never sought help or told anyone.
Apart from the stigma and patriarchal notions of privacy attached to violence within the home, the lack of sensitisation of frontline officials and police or a proper referral system in this regard discourages women from reporting cases of domestic violence, which results in non-reporting and inhibits help-seeking. In a lockdown, the increased exposure to the perpetrator makes women and children more vulnerable, with even less means of reporting due to curbs on mobility.
Vulnerability of female healthcare providers
Over 70 percent of the nursing staff in the country, who are at the forefront of the fight against Covid-19, are women, while a large proportion of hospital staff (including sanitation workers) belong to ethnic and religious minorities.
The lack of protective equipment has raised concerns for the safety of medical professionals globally as well as in Pakistan. In other parts of the world, up to 20 percent of health workers have been affected by the virus. Increased hours and overnight shifts by healthcare workers also raises concerns about the physical safety of women who remain vulnerable to physical violence and sexual harassment in healthcare organisations.
Quality reproductive health and family planning services
The emergency response to Covid-19 means that resources may be diverted to deal with the outbreak, deprioritising reproductive healthcare services. This may contribute to an increase in maternal mortality and neonatal child deaths in Pakistan, which already ranks the highest in South Asia, according to the United Nations Population Fund (UNFPA).
A recent UNFPA report points out that the pandemic response in many countries will disrupt supply chains, including those for menstrual health and family planning. This may leave over 28 million women of reproductive age in Pakistan without access to commodities and services that are essential to their health, empowerment and dignity.
Precarious employment
We know that the informal economy is highly gendered, and that the majority of it is constituted of women. Over 8.5 million domestic workers in the country are also largely women and children. It is commendable that the Government of Sindh has banned dismissals or cuts in employees' salaries during the lockdown. However, the policy does not cover those engaged in precarious employment, and who continue to exclusively rely on the whim of their employers.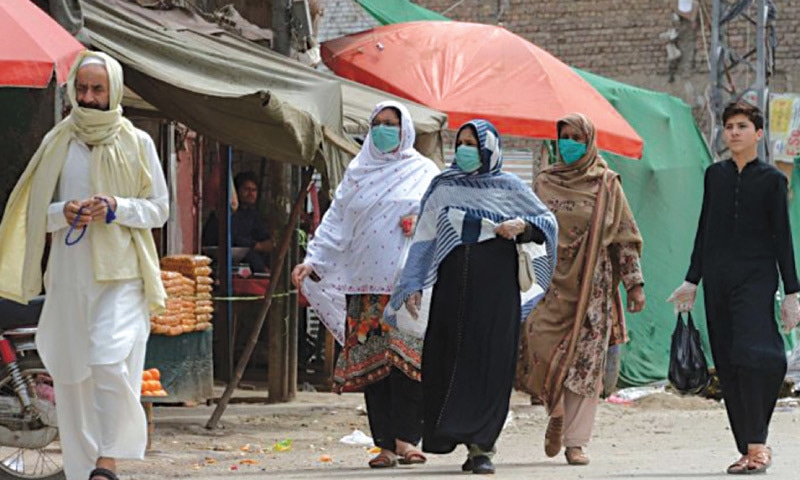 The economic crisis expected to follow the disaster is also likely to lay off most casual workers. The textile industry has taken a hit as export orders are being cancelled. Women constitute a large number of factory workers and other vulnerable workers. These women, who are often the sole breadwinners of their families, may become particularly vulnerable to the financial crisis accompanying the disaster.
Many of those belonging to the informal economy also tend to live in informal settlements, making them vulnerable to the risk of infection, without having access to effective and affordable healthcare. In India, the lockdown and loss of casual jobs triggered a large movement of informal workers from urban to rural areas. A similar situation in Pakistan would compound the impact of the disaster, given the already precarious status of healthcare services in rural areas.
Access to disaster information and relief
Research from disasters in Pakistan shows that women's access to early warning and disaster risk information is generally limited. This is due to the fact that informal systems of information communication typically operate through males. This is particularly true for rural areas, where information is transmitted from local government officials to informal leaders of various villages who then deliver the message to male heads of households. Moreover, women's ownership and access to cellphones is also limited in resource-constrained households. In a fast-spreading contagion such as that of Covid-19, the delay in valuable information may leave women and other marginalised groups underprepared to deal with the outbreak.
In addition, there are limited gender considerations in relief responses to disasters. It is also important to note that most strategies in the past have been built to cater to natural disasters such as earthquakes and floods, which may not be useful in a pandemic. In general, relief goods are distributed by governments as well as NGOs against Computerised National Identity Cards (CNICs), which approximately 34 percent in Pakistan still do not possess, according to the Domestic Household Survey 2017-18.
The traditional relief distribution strategy also has two main limitations that may prove particularly disastrous in the current situation: 1) it will attract crowds, thereby violating social distancing requirements; and 2) in the absence of comprehensive maps or social registries, it will not be able to cater to the most vulnerable groups and individuals, particularly those who are disabled or lack mobility due to home-isolation or lack CNIC cards. This calls for innovations in targeting and relief distribution that allow some level of social inclusion.
The federal and provincial governments, along with concerned civil society actors, have already taken important steps in the right direction with the announcement of extending the coverage of the Ehsas programme and provision of services, commodities and protective gear. However, further steps are urgently required to build on current initiatives in the country. It is critical that the federal and provincial government utilise a human rights approach and an intersectional analysis to ensure that everyone has access to necessary information, support systems and resources during the current crisis.
For this approach to be comprehensive and sustainable, inter-agency coordination is mandatory. It requires all lines departments, not just the first responders like the police, the Provincial Disaster Management Authority, the armed forces and health departments, to be engaged. This includes the Department of Women's Development, Human Rights, Social Welfare, Population Welfare and the Commission on the Status of Women.
Additionally, in order to reduce vulnerabilities, it is essential to understand policy from a continuum perspective overlapping both development and humanitarian settings. This means that the needs of marginalised populations must be addressed at all times, pre-crisis, during crisis and post-crisis, in order to work around the four phases of the disaster continuum: preparedness, response, recovery, and mitigation.
An Effective Policy Framework for the Vulnerable Population
Below are some recommendations for effective equitable program interventions and policies based on best practices and expert consultations:
Healthcare
• Direct all healthcare institutions to provide adequate healthcare services free from discrimination
• Ensure data collected is disaggregated/ broken down by sex, and disability status, including differentiated infection and mortality rates
• Ensure timely access to necessary and comprehensive reproductive health services, including family planning and menstrual hygiene kits
• Train medical staff and frontline workers to recognise signs of domestic violence and provide appropriate resources, services and referrals
• Implement systems to effectively meet mental health needs, including accessible (e.g., sign language, captions) hotlines, emergency services and delivery of medications
• Ensure health service providers and all frontline staff receive adequate training and equipment to protect their own health and offer mental health support
•Assess and meet the specific needs of women health service providers
Gender-based Violence
• Gender-based violence or GBV referral pathways should be set up from the district level in collaboration with the district administration, Department of Social Welfare, the health department, police and Women Development Department
• First responders must be trained on how to handle disclosures of gender-based violence
• Psycho-social support should be available for women and girls who may be affected by the outbreak and are also violence survivors
• Increase resourcing for civil society organisations that respond to GBV and provide assistance — including shelter, counselling and legal aid — to survivors, and promote those that remain open
• Disseminate information about GBV and publicise resources and services available
• Direct designated public services and shelters to remain open and accessible.
• Develop a protocol for the care of women who may not be admitted due to exposure to the virus, which includes safe quarantine and access to testing
• Direct police departments to respond to all domestic violence reports and connect survivors with appropriate resources
Food Security
• Send food supply to rural communities to be stored and distributed as needed to eliminate the delay in accessing supply
• Send food supply to people unable to leave their homes (e.g., disabled people living alone or in remote areas)
• Create an updated social registry at local government level to ensure proper mapping of vulnerable groups and individuals who may be excluded by efforts to provide disaster related warnings and relief
Water and Sanitation
• Ensure infrastructure is in place for clean, potable water to be piped into homes and delivered to underserved areas
• Build public handwashing stations in communities
Economic and Social Inequality
• Encourage the equitable sharing of domestic tasks through allowances for time off and compensation for workers
• Provide increased access to sanitation and emergency shelter spaces for unhoused people
• Implement protocol and train authorities to recognise and engage vulnerable populations
• Engage civil society organisations in the process of designing and implementing legislation and policy
• Develop women's economic empowerment strategies targeted to mitigate the impact of the outbreak and its containment measures, including supporting them to recover and build resilience for future shocks
• Implement moratoriums on evictions due to rental arrears and deferrals payments for those affected by the virus and for people belonging to vulnerable groups
• Provide Universal Basic Income for those with lost income
• Expedite the distribution of benefits
• Modify sick leave, parental and care leave, and personal time-off policies
• Direct businesses to invite employees to work remotely on the same financial conditions as agreed prior to pandemic
Access to Information
• Ensure that women and other marginalised groups are able to get information about how to prevent and respond to the epidemic in ways they can understand
• Increase subsidies to NGOs that will ensure messages are delivered through appropriate means to those who speak different languages or have specific needs
• Monitor restrictions taken in the public interest so that they do not result in any gender-specific harm to women and girls who are already extremely vulnerable and at risk of being denied their basic human rights
Leadership and Human Rights
• Strengthen the leadership and meaningful participation of women and girls in all decision-making processes in addressing the Covid-19 outbreak
• Ensure any task forces made by the government or other agencies to deal with the disaster are representative of women and girls. This may be done by including representatives of Women Departments or Commissions for the Status of Women in each province, who may further set up processes to consult women at the community level
• Commit to discontinuing emergency laws and powers once the pandemic subsides and restore the check and balances mechanism.
Shama Dossa is Associate Professor of Social Development & Policy at Habib University. Her research focuses on gender, disaster preparedness and response.
Ayesha Mysorewala researches gender and social protection, and works at IRD Pakistan
Published in Dawn, EOS, April 12th, 2020