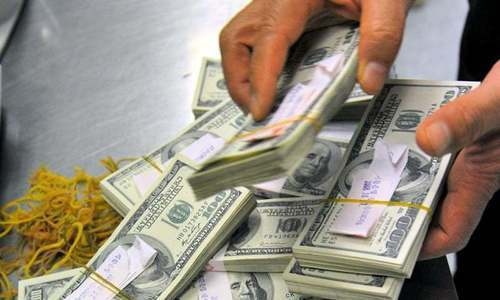 KARACHI: Over 79 per cent of all foreign investment in the country's capital markets — including bonds and equities — has fled the country in the last 40 days.
The State Bank of Pakistan's (SBP) latest data issued on Thursday showed the pace of outflows from the country's treasury bills, Pakistan Investment Bonds (PIBs) and equity markets has accelerated.
During the current fiscal year, foreign investment in domestic bonds and equity markets noted an inflow of $4.144 billion, however, that quickly turned into outflows during March. The pace has continued into April as well. As of April 8, total outflows during the current fiscal year have reached $3.274bn accounting for 79pc of the total investments.
Foreign investors had in the current fiscal year rushed to buy T-bills in the wake of high interest rates investing $3.431bn. But volatility fueled by the pandemic and investors' risk-aversion led to sudden outflows of $2.357bn in just 40 days.
Equity markets were worse off as investors pulled out $869m against inflows of $652 million during the current fiscal year. The outflow from PIBs was $45.4m.
Market experts believe the pandemic has changed the investment landscape and the return of these investments back to Pakistan seems highly improbable in the near future.
On the other hand, the government is solely focused on fighting the virus and does not seem to have any plan to check the flight of investment from the country.
The central bank had promoted domestic debt instruments in global markets to raise much-needed foreign exchange. Before the pandemic, the strategy was beginning to bear fruit as the government managed to use the funds to pay $1bn against the Euro bonds without borrowing new loans at the end of last calendar year.
However, some bankers are of the opinion that the outflows can impact the government's debt servicing abilities. Prime Minister Imran Khan recently said the external loans should be restructured but officially no such move has been made at the moment.
Published in Dawn, April 10th, 2020