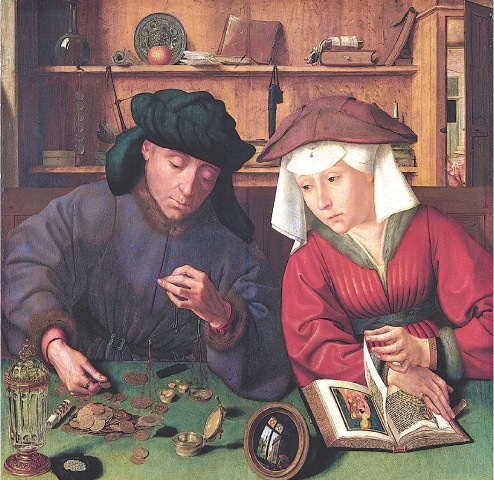 Art and commerce are prosperous bedfellows. When art makes headlines, it is usually about money. Consider the current record price, approximately 450 million US dollars, paid for Leonardo da Vinci's 'Salvator Mundi' in November 2017. It remains the most expensive painting sold to date, and questions about its real buyer and its current whereabouts are still making news.
Essentially art is the child of solitude, but this allegedly spiritual activity is intimately tied to wealth when it comes to name and fame. For the average viewer/buyer, personal taste, emotional value, cultural significance and prevalent trends are certainly important. However, in the fluid art market, these factors affect its value very little, if at all. Critics, museums, auction houses, collectors and mass media are the mechanisms of power that give fine art its metaphoric and economic glamour.
For the full joy and reward, the dominant motivation must be the love of art, but one would question the integrity of any collector who denies an interest in the valuation the market puts on his pictures. Collectors provide the capital that fuels the art world and what they are prepared to pay sets the limit for what an artist can earn. The decision to buy a certain artwork and how much to pay for it is, to a large degree, influenced by the gallerists buyers have come to trust. Art dealers often keep their client lists confidential and many collectors are passive investors, taking advice from dealers as often as acting on their own personal taste.
Writing for Forbes, Brendan Doherty, in his article 'Icons of Impact', remarks, "Art is the new gold. It's one of our most powerful engines of wealth creation but its power is deeply concentrated — most often in the pockets of the ultra-wealthy purchasers and the few artists whose pieces fetch such wealth. Today, just 25 artists account for 50 percent of all contemporary auction sales."
Artworks thus make great speculative assets. Internationally, buyers share a common interest in keeping their prices high and, to avoid paying taxes, the wealthiest use free ports to store their works — despite changing owners, some artworks are never unpacked, simply shifted from one assets balance sheet to another.
For many an artist, popularity typically coincides with profitability, which appears to be a practical approach to art
For many people, art as a marketable commodity may appear to be in complete contradiction with its aesthetic, spiritual and transcendent qualities but, according to the authors of Relative Values, "The common claim that art is opposed to commerce and that money contaminates art may be historically false. The recognition of art as a commodity may, in fact, be one of the central ways in which its specific character has been isolated and valued." They feel that the art market does not merely sell art commodities but actively helps to define what counts as art.
Another interesting perspective on the relationship between art and finance appears in The New York Times article, 'Profit From Art Isn't Dirty. It Means: Make More Art', by Carl Richards. He feels profit equals permission for plenty of artists. "The goal is to have the financial freedom to give the art the attention it deserves. And there's no better way to do that than to shift at least some attention away from making the work and toward making a profit. That approach isn't dirty; it's practical … If income is greater than expenses, that's called profit. And having it puts you one step closer to quitting your day job or having your art be your day job for a while longer." Profit makes it possible to do more art. And this is what all artists want — permission to keep making it?
This reasoning establishes a middle ground in the polarised space between radically successful and struggling penniless artists. Contrary to the myth of detachment, most artists desire that their art provides them with good livelihood. Good incomes are easiest to obtain for those artists who are able to match the expectations and tastes of their audience and, at the same time, show entrepreneurial and organisational skills.
This remains especially important in mass culture which either corrupts or isolates the artist. In artistic circles, popularity typically coincides with profitability. Without people paying more than their "fair share", many artists and forms of art would not be practical.
Published in Dawn, EOS, April 5th, 2020