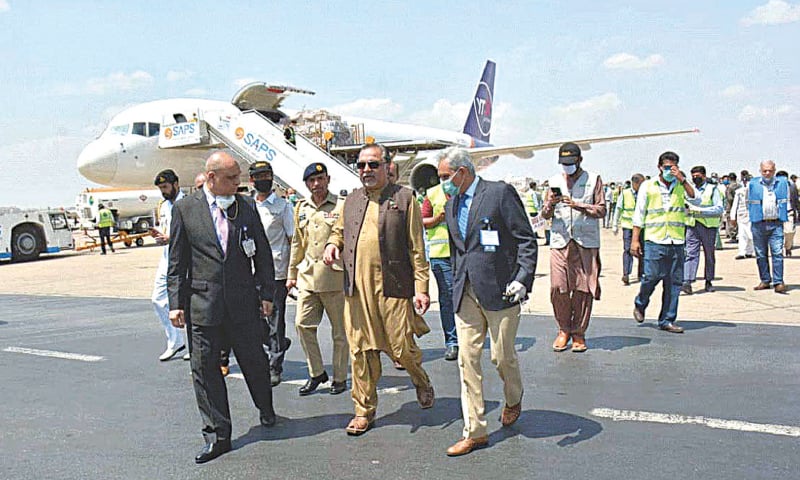 KARACHI: With the arrival of a second shipment of healthcare products and protective gear from China on Friday, Pakistan's coronavirus testing capability will improve significantly as the donation from Beijing would lead to tests of more than five million people, officials and health experts said.
A special Chinese plane brought the consignment to the cargo terminal of Karachi airport, where Sindh Governor Imran Ismail received the donation at a simple ceremony under the banner of Pakistan-China national flags.
The Sindh governor, a statement said, thanked the Chinese government on behalf of the people of Pakistan, saying Beijing was proving itself to be a true friend of the nation in these testing times.
"The fresh shipment of the donation carries 56,000 testing kits and consignment of protective N-95 masks for healthcare officials and volunteers. As an understanding between the two governments, further consignments of healthcare products and protective supplies will arrive soon from China," said the statement issued from the Governor House.
The Chinese government and people have stood by Pakistan in its hour of need, says Imran Ismail
Governor Ismail on this occasion said that the Chinese government and its people were keeping their tradition alive and they were again standing by the Pakistani people in their hour of need.
"The prime minister himself is monitoring the fast-changing situation. The people of Pakistan with the help of their great friend would come out of the crisis with unity and discipline," said the governor, according to the statement.
 90 persons can be tested with one kit 
Meanwhile, with the arrival of thousands of testing kits, the doctors, health experts and officials believed that the country's efforts to contain the spread of the coronavirus could enter a decisive phase.
An official at the National Institute of Health, a government-run medical research centre, said that one kit could test around 90 people in one go. With this calculation, he said, the fresh consignment could help test more than five million people within next few weeks.
Earlier this week, Sindh Chief Minister Syed Murad Ali Shah had received 500,000 face masks, including 50,000 N-95 masks, as a donation from the government of China.
The health experts believed that the testing process was crucial in the government's overall strategy, but it had to keep an eye on several fronts as part of precautionary measures.
"The mass testing is crucial but only for those who have symptoms," said Dr Qaiser Sajjad of the Pakistan Medical Association (PMA).
Published in Dawn, March 28th, 2020