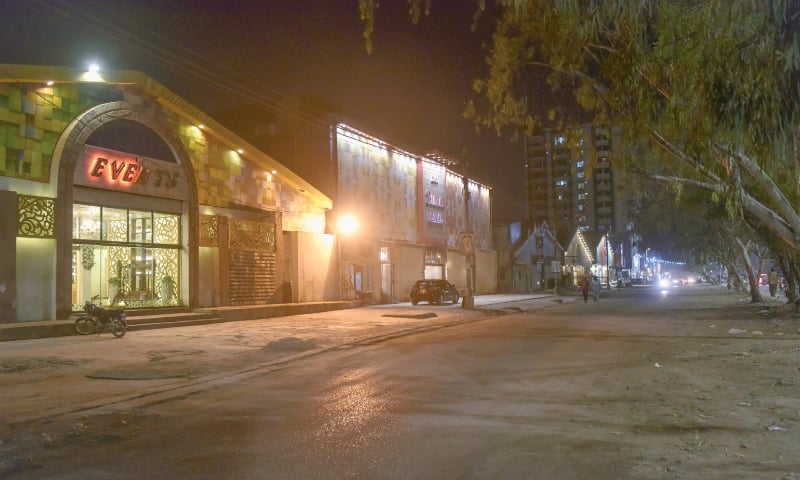 KARACHI: "When directives for the closure of marriage halls, banquet halls and marquees came to us over the weekend, there was confusion as to were we to close them when we got the notification on Saturday itself, or were we to close them the next day, which was Sunday," Rana Raees Ahmed, the president of the Marriage Hall Owners Association told Dawn.
"We then decided to call an emergency meeting of our association where it was unanimously decided to comply with the orders and ensure 100 per cent closure of all marriage and banquet halls with immediate effect," he said, adding that still by the time they were able to do that many places had already held afternoon weddings and in the confusion several caterers had also started dinner preparation but with the halls closed that dinner could not be served as the events also got postponed.
"It was not anything targeted at us or for hurting our businesses. Coronavirus is a pandemic. It is a global issue and places are being shut down because of it everywhere. It is a lockdown situation. So everyone, all stakeholders as well as the people who had booked halls were quite understanding regarding the situation," he said.
There are some 750 marriage halls in Karachi alone
"We had this understanding with the people who had booked halls that we would give them whatever dates they wanted for later, even six to eight months later, if they still wanted to come back to us. We were also giving full refunds," he said.
"Still, it was not an easy decision for us as there are so many things to be considered such as our employees.
"On average, each hall has around 50 people working for it, directly or indirectly. There are waiters, manager, guards, sweepers and electricians who are working directly and there are the photographers, wedding video makers, decorators, rent a car people, catering people and the people they outsource for meat, vegetables, oil, etc, who are involved indirectly," he said.
"And there are some 750 shaadi halls in Karachi alone, making it around 37,000 employees working for them directly. Each of these persons has a family to feed and many of them are also daily-wagers. After the closure of their places of work, most of them went home to Punjab or Sindh's interior to be with their families and those who are here are being provided all help we can give them mostly in the form of food," he said.
"It is wedding season. The Islamic month of Rajab and the months surrounding it are considered good for initiating new unions with life partners. We are facing big losses during this time. But it's no one's fault," he concluded.
Just married
Meanwhile, a few couples who went ahead with their weddings despite the closure of marriage and banquet halls, said that it was not possible for them to wait indefinitely till the situation improved and they could get married.
"My parents booked a restaurant after the banquet hall we had booked for our happy occasion closed its doors to us," said Arifa, who got married on Sunday. "It was a date that our families had agreed upon. We had also consulted an astrologer when deciding the date," she explained.
Another young person, Habib Khan, whose wedding plans were disturbed, went ahead and arranged a party at a friend's farmhouse. "My friend has a nice farm in Malir and we moved our valima party there on Saturday evening because we just couldn't delay the valima as we had guests who had flown in from abroad specially to attend the party. It all went very well, actually," he said.
"I tried to convince the wedding lawn owner to let us go ahead with our wedding, even told him that I had friends in the police department so no one would say or do anything but he wouldn't budge," said Mohammad Ashraf. "Then my father and uncle arranged to hold the wedding and dinner at someone's home. They had a huge lawn you see," he said, adding that looking at the situation now and seeing how fast the coronavirus cases are coming up, he thinks that they should have been more careful. "It is to prevent gatherings and we don't know how many people's lives we risked by coming into contact with by holding the event.
Another couple, though not as young as the others Dawn spoke to, and who were both getting married a second time with the groom being a widower and the bride being a divorcee, said that they had decided to throw a small party for their friends at a local hotel to celebrate their union on Monday. "But when the hotels, too, were affected after the government order, we just went ahead with the nikah at the mosque followed by lunch hosted by my father-in-law at his place. Even God likes simplicity," said the gentleman as he smiled back at his wife.
Published in Dawn, March 22nd, 2020