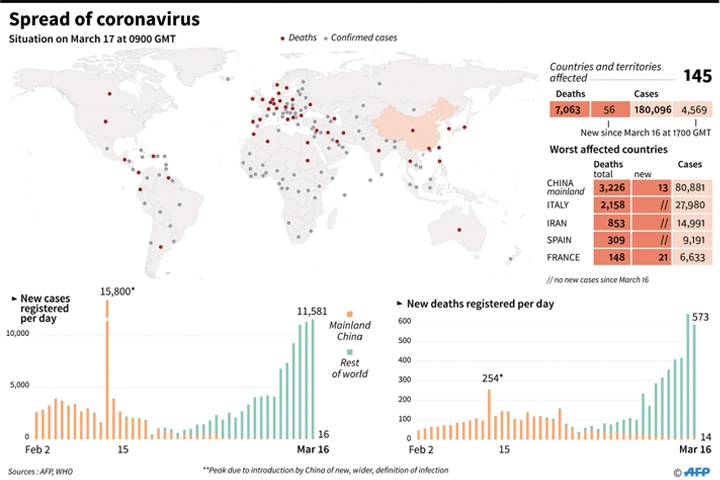 RIYADH: Saudi Arabia announced on Tuesday that mosques would no longer accept worshippers for the customary five daily prayers and the weekly Friday prayer, in exceptional measures intended to help limit the spread of novel coronavirus.
Prayers will continue only at the two holy mosques in Makkah and Madina, state news agency SPA reported, citing a decision from the Council of Senior Scholars, the kingdom's highest religious body.
Mosques will close their doors temporarily but continue to issue the Azan, which will direct people to pray in their homes rather than come to the mosque, SPA said.
The announcement risks riling fringe hardliners for whom religion trumps health considerations.
Islamic Affairs Minister Abdulatif al-Sheikh told state television that facilities for washing the dead at mosques that have them would remain open, but access would be restricted to a few people.
Funeral prayers will only be permitted at the cemetery, not in the mosque, he added.
Saudi Arabia, with around 150 reported infections and no deaths, has taken drastic measures to combat the spread of coronavirus, including suspending the Umrah, halting all interna-tional flights, and closing most public establishments.
The Arab world's biggest economy has also shut down cinemas, malls and restaurants and halted flights in a bid to contain the deadly virus.
More than 1,000 cases of the virus have been recorded so far across the six nations of the Gulf Cooperation Council (GCC).
On Monday, Bahrain's health ministry said a woman had died from the coronavirus, the first death from the disease among Gulf Cooperation Council states.
Turkey and some other countries have also suspended collective prayers in mosques, including Friday prayers, until further notice to limit the spread of coronavirus..
Around 90,000 mosques in Turkey will, however, remain open to individuals who wish to pray individually.
Turkey has in recent days stepped up its measures to contain the spread of the deadly virus, shutting schools and universities for a limited period.
Published in Dawn, March 18th, 2020