February 22, 2020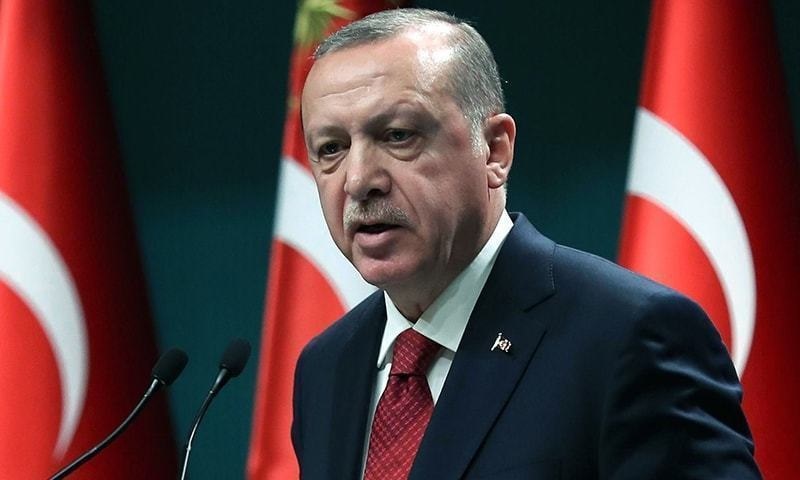 ANKARA: Turkish President Recep Tayyip Erdogan on Friday urged his Russian counterpart Vladimir Putin during a phone call to stop the Syrian regime's offensive in the last rebel stronghold of Idlib, his office said.
"The president during the call stressed that the regime should be restrained in Idlib and that the humanitarian crisis must be stopped," the Turkish presidency said in a statement after the two leaders spoke.
Russian air strikes in the northwestern province of Idlib are boosting a Syrian government offensive that has forced nearly one million civilians to flee -- the biggest wave of displacement of the nine-year conflict.
Turkey, which backs some rebel groups in Idlib, has lost 16 military personnel this month in clashes with Syrian forces. It has bolstered its positions and called for Syrian forces to pull back.
Recep Tayyip Erdogan's joint telephone call with the heads of France and Germany came amid mounting tensions between Turkey and Russia, which are backing opposing sides in Syria's civil war.
His office said the Turkish leader had "emphasised the importance of providing strong support through concrete actions to prevent a humanitarian crisis" during the call with France's Emmanuel Macron and Germany's Angela Merkel.
Turkey is determined to prevent a fresh influx of displaced people adding to the 3.6 million Syrian refugees it already hosts.
With Ankara threatening an "imminent" operation against the Syrian regime, Defence Minister Hulusi Akar inspected troops gathered at the Syrian border on Friday.
Erdogan spoke of establishing a "safe zone" to provide shelter and support to fleeing civilians facing harsh winter conditions, adding that Turkish organisations were already building structures in the area.
"Our work continues. We will have a discussion with Putin. I hope we will take a beneficial step with this," he said.
Merkel and Macron also held talks with Putin on Thursday, later calling for the fighting to end and proposing a four-way summit with Erdogan.
A Kremlin spokesman told reporters on Friday that "the possibility of holding a summit is under discussion", but that there was still no decision. Earlier on Friday, the EU's 27 leaders condemned Syrian government attacks, saying the offensive was "causing enormous human suffering".
"The EU urges all parties to the conflict to fully respect their obligations under international humanitarian law and international human rights law and to allow unimpeded and direct humanitarian access to all those in need," they said in a statement.
Syrian aid workers have put out desperate calls for a ceasefire and international help.
The UN says 900,000 people — more than half of them children — have been displaced in "horrendous conditions" since December 1, when the latest offensive began.
On Friday, Russian warplanes struck rebel-held areas in northwestern Syria as insurgents and government forces exchanged artillery and mortar fire in other parts of Idlib province, the last rebel stronghold in the country, opposition activists said.
The violence came a day after two Turkish soldiers were killed in an air strike in Idlib after an attack by Ankara-backed opposition forces that targeted Syrian government troops. The deaths came after Erdogan threatened to expand his nation's involvement in Syria if another one of his troops were hurt.
At this point, there can be no question of (our) withdrawal as long as the regime's oppression of the people of Idlib continues," he said. That's the only way we can achieve a cease-fire."
Published in Dawn, February 22nd, 2020