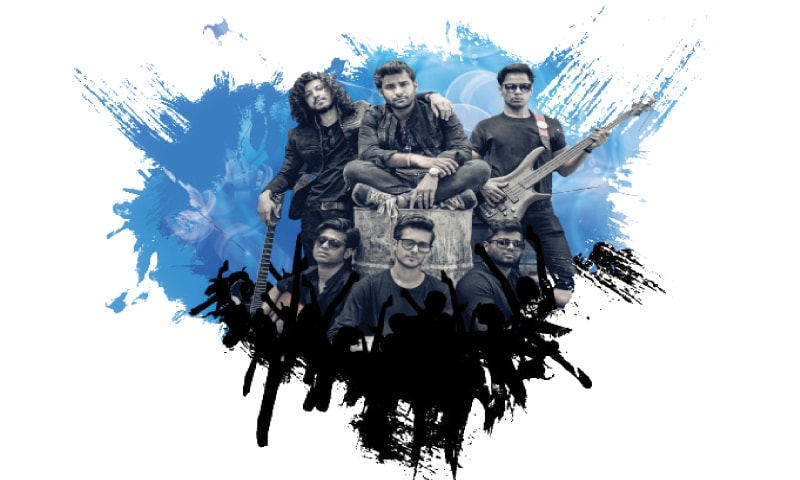 I'm being led up several flights of stairs, feels like going up a tower, to the newly refurbished Kashmir sanctum — their new-old studio. This is the place where the magic happens. Or rather, where the magic has always happened — before and after the band won the second season of Pepsi Battle of the Bands (BOTB) in 2017. It's a small recording space overall, but large enough for the band to jam comfortably. I'm told that's what they were doing before I arrived.
It has only been a couple of weeks since Bilal Ali, lead singer-songwriter for Kashmir, got married. But now that the wedding is over, his focus is firmly on the music. Inside, the rest of the Kashmir boys, Usman Siddiqui (bass guitar), Shane J. Anthony (drums), Zair Zaki (rhythm guitar), Ali Raza (keyboards) and Vais Khan (lead guitar), are crammed into a tiny but cosy control room. Almost three years on, they're a far cry from the band (and the people) they were when they first emerged as winners on BOTB.
Back then, they came across as shy and awkward, almost uncomfortable with being thrust into the national spotlight. The band I'm meeting today has been through a lot these past few years. "We've learned a lot," says Usman. "Let's just say we've encountered all kinds of people and situations." They know who to trust and whom not to … and what to do now, I'm told.
With two seasons having concluded after their win, they might be seniors on the show, but they're still technically newbies on the music scene. Now, older, wiser and more experienced, they definitely seem surer of themselves and finally comfortable with being a national act. They feel like subsequent winners have also learned from their mistakes.
As Kashmir walks Icon through a preview of its forthcoming album Khwaab, the band members explain the philosophy behind each song and why some of the more popular tracks feature way down in the song list
"We didn't know what was going to happen to us," says Bilal. "Bands that go on the show now know what to expect and what to prepare for."
They learned from your experiences, I offer. "Yeah, we were the lab rats," laughs Bilal, "for when the show restarted after 15 years." He's referring to the enormous gap between Season One of BOTB in July 2002 and the second season in which Kashmir won, and where one of the judges (Fawad Khan) was a band member of the runner-up from Season One, Entity Paradigm.
"We didn't know what was happening," says Bilal. "We didn't know who was showing us the right way, who was fooling us, because this happens. Yeh saaray dhokaybaaz hain. [They are all treacherous]."
This sounds like a song, I say. "It's our song," laughs Ali.
"I still remember our drummer Shane standing outside the studio trying to convince us not to go inside," relates Bilal. The band members didn't want the show to blow up in their face and lose "the 500-odd people that listened to us." Eventually Usman intervened and suggested if they were going to do this, they had to go in with an open heart. "If we go down, we go down together," he Usman laughs. "We went in and the rest is…" Shane trails off.
"We had a great experience but people expect a lot from us," says Ali hinting at the pressure they're feeling. They probably should, they're due to come out with their first album sometime at the end of February this year, along with a spanking new music video directed by Umar Anwar, who is himself making a sort of come back to music videos after a long hiatus in commercial ad-films.
"Kashmir won't always be Kaaghaz ka Jahaz. We also had to figure out, do we release a music video with each song? It's a dilemma because, as a musician in Pakistan, you're putting in more money than you're getting."
"We've learned that a visual link between the song and the audience is important," adds Usman. That's why the last few releases by the band — Pari, Parwana Hun etc have been accompanied by music videos.
Meanwhile, I'm here to preview their album. Kashmir has decided to call their album Khwaab and this is what it has to offer.
01. Pareshaniyan
The album kicks off with this upbeat, happy, preppy number that has been produced by Zulfiqar 'Xulfi' Jabbar Khan in Lahore. You notice the distinct percussions that don't seem to follow a traditional pattern, the fun baseline that morphs into acoustic strumming. It's a song you can dance to. The lyrics are fairly simple. The chorus goes:
Pareshaniyaan to aayein gi
Har pal tujhay satayeingi
Aur mushkilein barrhti jayeingi
Par tu na hona khafa
[The problems, they will come
Trouble you round the clock
And difficulties will keep increasing
But don't you give up]
The band released an audio version of it sometime in 2018, which is available to listen on YouTube. Xulfi further contributed by playing the mandolin and his second-in-command, house band member of Nescafe Basement and lead singer and guitarist for Karakoram, Sherry Khattak, played additional guitars.
Xulfi made them experiment with the percussions. "All of the band members are playing percussive instruments," relates Shane. "Not even instruments — anything, like guitar cases, cymbals kept on the floor that someone's stomping on. Even the drum kit, I didn't play the bass kick throughout the first half, I just hit it with my hand." The gamble paid off, Pareshaniyan is a happy, optimistic start to the album.
02. Bhaago
The band performed a version of this in the second episode of BOTB last year. The studio version starts off giving a very '70s retro vibe. Considering the context and meaning of the lyrics, it's a very dark song masked as an upbeat, happy one.
"It starts out like a fun playful song but Bhaago is a taunt, it's sarcasm towards people, towards us, that we're always trying to share in people's happiness but not in their sorrows," says Bilal. The main chorus goes:
Sab bhaago bhaago,
Sab bhaago uss se duur,
Dunya ka hai dastoor,
Sab bhaago uss se duur,
Jo hai mayoos.
[Everybody run,
Run far away from them,
It's the way of this world,
To run far away from them,
Those who are in despair.]
This version was produced by Andy Rogers from the BBC. The band met him when they recorded a few songs for the BBC Asian Network in Karachi. "Instantly, we connected because we had the same influences," relates Ali. "He told us how he met the Foo Fighters and how he's been doing their sound. He's worked with Radiohead, Thom Yorke and drummed for Paul McCartney as well."
03. Kaaghaz Ka Jahaz
They performed this in the season they competed, and it turned out to be one of their more popular numbers. The music video for this song came out sometime in 2018. This is perhaps their most 'traditional' sounding alternative rock song.
"This was the first song we recorded with Xulfi bhai," says Ali. "We like this version a lot. But the thing with people is that, if you've listened to one version and connected to it, the other one's not going to feel the same to you. The first impression is always the strongest for the people. But then there are also people who like this version the best."
But why move it to number three when this is one of their most popular songs? "We just felt like it was so overdone," says Ali. "We even open our concerts with Kaaghaz. So, we thought of changing it in the album and not opening with Kaaghaz."
04. Sab Saath Chalein
Take EDM and marry it with alternative rock, and it will give birth to Sab Saath Chalein. This song definitely takes everything you think you know about the band's 'sound' and turns it upside down. It has a bit of a late '90s/early 2000s retro sound to it, but maybe that's just what's in vogue nowadays.
Sab Saath Chalein is a happy song about peace and togetherness that sounds like the band collaborated with the Pakistani version of Daft Punk. Not surprisingly, perhaps the reason why is because Janoobi Khargosh, known for their electronic music, produced the song.
"We really enjoy playing this in live concerts," says Usman. How do they even manage to? "We play a modified version," says Ali. "The synths and the electric guitar take the electronic element, and the rest is taken up by the acoustic instruments. It's a different version but it's still upbeat and very energetic — and faster than this. People haven't really heard this song, but whenever we play it, the audiences enjoy it."
05. Khwaab
Halfway through the album, we're at the title track. The chord progression of the song is reminiscent and very symbolic of early 2000s' angsty rock music. One can pick out a particular influence — Staind.
"Break the Cycle was my favourite album," smiles Bilal, referring to the American rock band's third studio album.
But unlike his rock influence, the song doesn't descend into a high-powered metal sound, but in fact does the exact opposite; it becomes mellow, inviting some beautiful keyboard and guitar playing in complete contrast to the tone the song started out in, before going metal again.
"This is one of the most difficult songs, not just for me but for everyone, to record because the tempo of the song keeps changing," relates Shane. "I took 12 hours to record this."
"Xulfi bhai mapped out the tempos exactly the way it was happening naturally when we jammed," explained Ali. "If you look at bands such as Led Zepplin, they didn't even record on metronomes. They had a completely raw sound. That's what he was going for."
"If the song demands such a treatment then there is no point sticking to the more traditional methods," confirms Usman.
You don't have to wait for the album to listen to Khwaab, the band released a music video for the song sometime in 2018. It already has a quarter million views.
06. Parwana Hun
At this point, the album is going from preppy back to its rock roots. The band released the music video for Parwana Hun late last year, showing cave men/women/people, fire and a breaking-through-to-freedom scenario.
What you didn't know was that some of the band members almost drowned during filming. "There was a flash flood," explained Ali. They were filming close to the cave cities in Balochistan when it began to rain, and eventually hell was unleashed around them. One of the other members took out a video showing just how strong it was. There's a car — one of their cars — that's very rapidly being submerged in water.
While one part of the band was at camp, the other half was on the other side, and neither knew if the other was safe. "There were no roads where we were," relates Shane. "We were in the mountains."
"No mobile signals," says Usman. "It was very dark. We joked that we became parwanas. We'd run towards any car lights that we'd see in the distance. If we had a camera this whole video would've been different.
"More like the Blair Witch Project, Pakistan edition," laughs Shane.
07. Pari
One of their other more recent releases, Pari, is also a part of the album. I spoke to Bilal about it when the video first came out.
"Around three or four years ago, my sister was going through a really rough patch when I wrote this song for her," he says, his voice visibly cracking from emotion at recalling this period in his life. "I just sent her a small recording of it. The scale of the song was different back then. A few days later she texted me back and told me how it really helped her. She didn't know how to vent her feelings out to anyone. But I could see it in her eyes and I thought it was the right thing to do. She got better a few months later."
He hoped back then that the song would provide an outlet and a glimmer of hope for people who are struggling.
08. Soch
They call it the 'insomnia' song because Bilal wrote it when he couldn't fall asleep, and the lyrics reflect that:
Soch soch ke thak gaya hoon
Sonay do mujhay
[I'm tired of thinking
Just let me sleep]
Compared to how experimental the rest of the album is, Soch comes across as a regular but soulful alternative rock song, but it is also probably one of the most beautiful odes I've heard to insomnia. I'm told all of the band members' early influences come out in this song. They performed a version of this in Episode Six of the BOTB season they were competing in.
"Kashan Admani produced this song," says Bilal. "This is us in 2013." They also redid the song for his currently ongoing Acoustic Station series.
"This is my favourite song," says Ali. "I like it because this is the most Radiohead-ish song in our album."
The end of the song made me feel like I'm spiralling, I tell them. "That's the idea," smiles Bilal.
10. Dhoop
I had to make them play just the intro of this song over and over again because of the strong sense of déjà vu it evokes. In terms of its atmosphere, it has that same eerie feeling as Wicked Games by Chris Isaak, but I later figured that it was the intro of Blue Jeans by Lana Del Rey it reminded me of the most. There must be a name for this technique… this sorcery.
But this isn't where the déjà vu ends. A part of the lyrics go:
Dhoop mein kharra
Bikhar raha tha mein
Baadlon ne bhi
Saaya na diya
[Standing under the harsh sun
I was falling to pieces
Even the clouds
Didn't provide any relief]
Replace Bikhar raha tha mein with Jal raha hun mein, and those are a part of the lyrics in Vital Signs' Aitebaar. Before I have a chance to bring it up, Bilal relates a story about how he inadvertently wrote the VS lyrics before realising his mistake just in time. "But what else do you do in dhoop [sunlight]? Jal hi rahay hotay hain [You can only burn]" he laughs.
Interestingly, the song has been produced by one of the original VS members, Shahi Hasan, and I'm told he didn't notice the similarity in lyrics. An audio version of the song had been released on the BOTB channel sometime back.
It's a beautiful song with a haunting quality to it. Having said that, it reminds one more of twilight than dhoop any day.
"We made Umar bhai [Umar Anwar, who is directing the video for this song] listen to it and we spent several days in discussion," says Bilal. "The chorus, the verse has a very eerie and nostalgic feeling to it. We wanted to justify that. This song became more about patience and solitude, and reflecting on your past and smiling at it. You make mistakes and you grow from it. Somehow you can go back and tell yourself it's all going to be okay."
---
Listening to Kashmir's album Khwaab, I'm reminded of a scene from Cameron Crowe's semi-autobiographical film, Almost Famous (2000), in which real-life rock critic and provocateur (played by Phillip Seymour Hoffman) Lester Bangs is telling the protagonist, child prodigy William Miller, that rock-and-roll is dead.
Referring to that conversation, real-life editor of Rolling Stone magazine, Ben Fong-Torres, who is also a character in the film, said in an interview that, "It seems that from the late '60s on, the recent death of rock and roll has been a recurrent subject. Rock and roll is always dying.
"You have to listen to the Lester Bangs speech to get a sense of what he was talking about," says Fong-Torres. "It was the aggressiveness, the rebelliousness, the take-no-prisoners approach to rock-and-roll music that people thought had died. The other thing that had died was the belief that rock and roll would somehow change the world."
Listening to Khwaab, one gets the feeling that, if not the world, this approach to rock-and-roll might change the music scene … for the better.
Kashmir, the band, however, isn't satisfied with resting now that the album is almost out. They've learned from their mistakes and are already in the studio working on their second one.
Published in Dawn, ICON, February 2nd, 2020