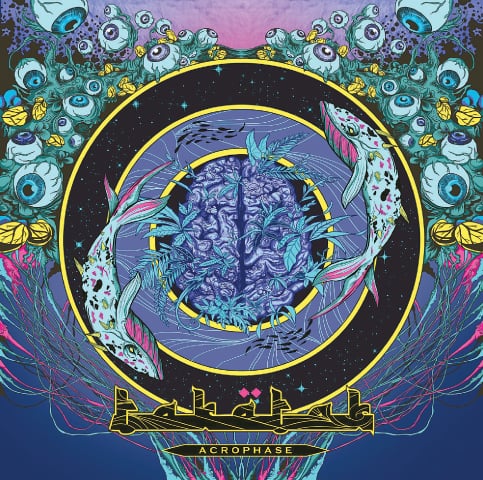 Takatak describe themselves as 'jolly desi progressive metal from Lahore.' Their latest offering, Fault Lines (song out on Patari and video out on Facebook and YouTube), is their first single from their upcoming new album, Acrophase. The song features the talents of Keshav Dhar and Shamsher Rana as well. Fault Lines was mixed by Keshav Dhar, an award-winning music producer, mix engineer, songwriter and musician from India, at his remote mixing and mastering studio, Illusion Audio. The song has been engineered by Daniel Arthur Panjwaneey and Adeel Tahir and mastered by Ermin 'Red Pill' Hamidovic at Systemic Productions in Melbourne, Australia.
The album artwork is by another India-based establishment, Acid Toad, which describes its work as 'art from the bizarre realm.' The man behind Acid Toad, Gaurav Basu, a graphic designer and illustrator from Bangalore, posted a very moving message about his experience of working on visualising Acrophase.
Here, I quote a part of it, "Our societies, history and governments have put a veil, that never allow us to view our neighbours from an everyday angle when, in reality, it's incredible how similar we are in terms of the struggles we face as creative individuals in our surrounding environments. This album embodies a subcontinental effort where a bunch of Pakistani lads cooked up one mean ass album, got it mixed by one of the most renowned musicians in India and had the artwork visualised and designed in the same land.
Metal has always been a niche subculture and even more so in our part of the world. But as it always does, this music has always introduced me to some of the most amazing people I have met across the globe in my life, irrespective of race, colour, nationality or religion, metal has always been beyond that bull****."
Takatak's Fault Lines harkens back to a golden age of progressive metal music
Coming to the song, Fault Lines, the somewhat simple-yet-apt performance-based music video is by Amar Ali and Umair Khawaja from Hybrid Imaging. Listening to the song, I feel like I've been transported back to the early-to-mid 2000s, when bands such as Korn, Linkin Park, Limp Bizkit, Slipknot and the like were all the rage on American music channels — which we accessed via satellite dish and later, cable network.
It has the same elements of youthful angst, expressing one's feelings of hopelessness about the self of the world in very vivid, 'un-pretty', rebellious lyrics. Case in point, this section:
Let's sink our filthy teeth into this mess
that we've created,
Let's buy ourselves a whole new hole
in this new wall
and dream we've made it.
Fault Lines is a song that stays true to its metal roots. Having said that, there's nothing jolly or desi about it, as per the band's description of themselves. Although Takatak was formed in 2009, they have just finished recording their new album, Acrophase in musician-producer Umair Dar's studio, A for Aleph, in Karachi late last year. As for Fault Lines, while I certainly don't see it becoming a mass hit, I imagine it will create a niche as a cult favourite.
Published in Dawn, ICON, February 2nd, 2020