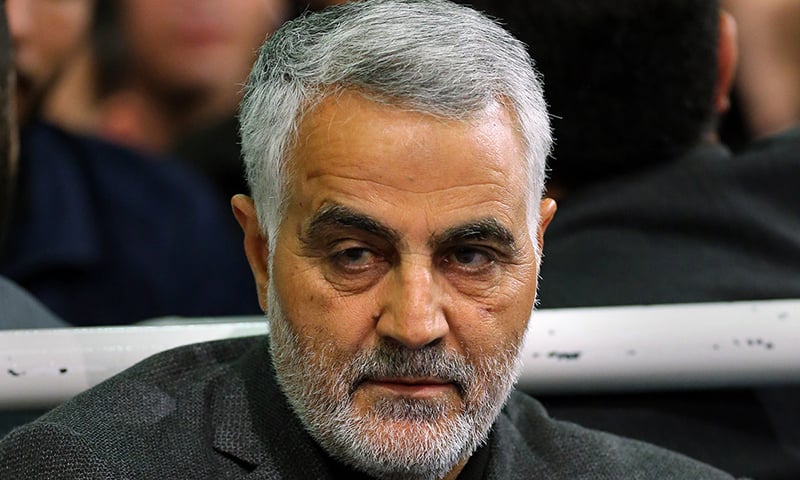 Top Iranian commander Qasem Soleimani was killed on Friday in a US strike on Baghdad's international airport in a dramatic escalation of tensions between the two countries.
Here are some reactions to the killing of Iran's top general.
Important to avoid unilateral actions: Pakistan
Pakistan expressed "deep concern" over the tensions resulting from the killing of Soleimani in a US strike, urging all sides to exercise restraint.
"Respect for sovereignty and territorial integrity are the fundamental principles of the UN Charter, which should be adhered to," a Foreign Office statement said, adding that it is "important to avoid unilateral actions and use of force".
Human Rights Minister Shireen Mazari in a tweet said the killing of Soleimani by the US "has in an instant upped the military ante in the region as Iran has declared it an act of war".
World 'more dangerous': France
The US killing of a top Iranian military commander has made the world "more dangerous," France's Europe minister said Friday, calling for efforts to de-escalate the deepening conflict in the Middle East.
"We have woken up to a more dangerous world," Amelie de Montchalin told RTL radio, saying President Emmanuel Macron would consult soon with "players in the region."
"In such operations, when we can see an escalation is underway, but what we want above all is stability and de-escalation," Montchalin said.
"All of France's efforts [...] in all parts of the world aim to ensure that we are creating the conditions for peace or at least stability," she added.
"Our role is not to take sides, but to talk with everyone," Montchalin said.
Assassination will 'increase tensions': Moscow
Moscow warned Friday that the killing of Soleimani would boost tensions across the Middle East.
"The killing of Soleimani [...] was an adventurist step that will increase tensions throughout the region," news agencies RIA Novosti and TASS quoted the foreign ministry as saying.
"Soleimani served the cause of protecting Iran's national interests with devotion. We express our sincere condolences to the Iranian people."
Russia and Iran are key allies in the Middle East, with the militaries of both countries backing President Bashar al-Assad's regime in Syria.
Moscow is also one of the world powers that negotiated the landmark Iran nuclear deal that Washington withdrew from in 2018, leading to a surge in tensions.
Konstantin Kosachev, the head of the foreign affairs committee of the Russian parliament's upper house, said Soleimani's killing was a mistake that would hit back at Washington.
"Retaliatory strikes will certainly follow," he said in a post on his Facebook page, adding that Israel was likely also worried. He said the killing marked the end of any chance to salvage the nuclear deal.
"The last hopes of resolving the Iranian nuclear problem have been 'bombed'," he wrote.
Syria condemns strike, opposition rejoices
The Syrian government condemned the killing which was hailed by the opposition.
Syria is "certain that this cowardly US aggression [...] will only strengthen determination to follow in the path of the resistance's martyred leaders," a foreign ministry official was quoted as saying by the state news agency SANA.
The official described the killings as "a serious escalation of the situation" in the region and accused the United States of resorting to "the methods of criminal gangs".
The unnamed official said the strike was "part of the (US) policy aiming to create tensions and fuel conflict in countries in the region."
Leaders of Syrian opposition groups for their part hailed the death of a man they blame for thousands for thousands of deaths in the nearly nine-year-old civil war.
"The murder of Qasem Soleimani, the number one perpetrator of Revolutionary Guards' crimes against the people of Syria and Iraq, is a blow that confirms that the world is able to stop Iran and protect Syrian civilians if it wants to," Nasr Hariri, a senior political opposition leader, said.
Ahmed Ramadan, another senior opposition figure, also praised the US strike.
"The killer of Syria's children has been killed, the killer of Iraq's free people has been killed," he said in a post on social media.
Spokesperson for Hamas Bassem Naim said on Twitter: "[The assassination] opens the doors of the region to all possibilities, except calm & stability. USA bears the responsibility for that".
Resistance will continue with doubled motivation: Iran
"All enemies should know that the jihad of resistance will continue with doubled motivation and a definite victory awaits the fighters in the holy war," Iranian Supreme Leader Ayatollah Ali Khamenei said in a statement carried by TV.
"Iran often refers to regional countries and forces opposed to Israel and the United States as a 'resistance' front."
"Soleimani's martyrdom will make Iran more decisive to resist America's expansionism and to defend our Islamic values," Iranian President Hassan Rouhani said in a statement.
"With no doubt, Iran and other freedom seeking countries in the region will take his revenge."
"The brutality and stupidity of American terrorist forces in assassinating Commander Soleimani [...] will undoubtedly make the tree of resistance in the region and the world more prosperous," Iranian Foreign Minister Mohammad Javad Zarif said in a statement.
On Twitter he said the assassination of Soleimani was "an extremely dangerous and foolish escalation".
"The US bears responsibility for all consequences of its rogue adventurism," he said in the post.
"He joined his martyred brothers, but we will take vigorous revenge on America," former commander of Iran's revolutionary guards Mohsin Rezaei, who is now the secretary of a powerful state body, said in a post on Twitter.
United States split
"Qassem Soleimani was responsible for the deaths of hundreds of Americans," US Senate Foreign Relations Committee Chairman Jim Risch, a Republican, said on Twitter.
"As I have previously warned the Iranian government, they should not mistake our reasonable restraint in response to their previous attacks as weakness.
"On behalf of every American serviceman and servicewoman who has either been killed or injured due to an Iranian provided IED [improvised explosive device] or rocket in Iraq over the years, today justice was done."
"Iraqis — Iraqis — dancing in the street for freedom; thankful that General Soleimani is no more," said US Secretary of State Mike Pompeo
Taking to Twitter, Former US vice president Joe Biden said: "No American will mourn Qasem Soleimani's passing. He deserved to be brought to justice for his crimes against American troops and thousands of innocents throughout the region. None of this negates the fact that this is a hugely escalatory move in an already dangerous region".
"President Trump just tossed a stick of dynamite into a tinderbox, and he owes the American people an explanation of the strategy and plan to keep safe our troops and embassy personnel, our people and our interests, both here at home and abroad, and our partners throughout the region and beyond."
"Soleimani was a murderer, responsible for the deaths of thousands, including hundreds of Americans," said US Senator and presidential candidate Elizabeth Warren.
"But this reckless move escalates the situation with Iran and increases the likelihood of more deaths and new Middle East conflict. Our priority must be to avoid another costly war."
US Senator Chris Murphy, a Democrat, said while Soleimani was "an enemy of the United States," the killing could put more Americans at risk.
"One reason we don't generally assassinate foreign political officials is the belief that such action will get more, not less, Americans killed," Murphy said on Twitter.
"That should be our real, pressing and grave worry tonight."
Taking to Twitter, former US ambassador to the United Nations Nikki Haley said: "Qasem Soleimani was an arch terrorist with American blood on his hands".
"His demise should be applauded by all who seek peace and justice. Proud of President Trump for doing the strong and right thing."
Trump's hawkish former national security adviser John Bolton lauded the persons involved in "eliminating Qassem Soleimani", saying the killing was "long in the making".
"This was a decisive blow against Iran's malign Quds Force activities worldwide. Hope this is the first step to regime change in Tehran," he said in a tweet.