These are lean times. Financial crisis has bitten down on the world and it doesn't show any signs of letting up. Spending budgets have shrunk, businesses are rampantly closing down and there's a niggling sense of dread as one looks on to the year ahead. Hollywood has, of course, long predicted the year 2020 to be apocalyptical but while the world doesn't quite seem to be coming to an end, the economic climate certainly is dire.
People are buying less, going out less and at a time when survival is key, entertainment and wardrobe budgets have sunk low in the priority list. But even in these hard, hard times, you could get a bit savvy and zero in on options that don't quite make huge dents in your pocket. When the going gets tough, the tough gets going and all that … here are some ways that could get 'you going'…
1. Read that review, always!
The year 2019 certainly left avid cinema buffs poorer — not just monetarily but also by a few brain cells. Now that it has supposedly 'revived', local cinema proved that it is very adept at churning out movies that are baffling at best and mind-numbingly boring at worst. Big banner movies launched with great pomp, aided by shiny trailers and brilliant soundtracks, only to flop miserably.
Of course, cinema tickets — and the irresistible buckets of popcorn that usually accompany them — don't come cheap and, for the sake of your pocket and your sanity, make a pact that in 2020 you'll only head out to the movies once you've read a review. And not just any review, but one written by one of those rare, honest film critics who refuse to sell out to paid promotions.
In hindsight, here's a silver lining: 2020 may just turn out to be a year for great reviews — and big blockbusters. Slotted to release in the coming year are two movies under Humayun Saeed and Nadeem Baig's Six Sigma Plus Productions, London Nahin Jaunga and another film which is tentatively titled Love Guru; Nabeel Qureshi and Fizza Ali Meerza's Filmwala Productions will be releasing Fatman as well as Quaid-i-Azam Zindabad; Adnan Siddiqui is turning film producer with the Imran Ashraf-starrer Dum Mastam and, who knows, the long-lost, long-awaited The Legend of Maula Jatt may also end up seeing the light of day!
2. Netflix … instead of cinema flicks — but you know this already, don't you?
If you haven't already realised how absolutely entertaining — and economical — the internet can be, what la la land have you been living in anyway?
Since local cinema has proven that it can sink to unbelievable lows (yes, we've ranted about this already but, having weathered 2019's slew of flops, we can't possibly rant enough), the web is your best bet. There's Netflix and Amazon Prime, of course, as well as a range of web-series that are available on YouTube. Interestingly, it's possible that a number of Pakistani projects will be made available on the web in the coming year. The Saba Qamar and Noman Ijaz starrer Mannjogi, for instance, is tentatively eyeing a mid-2020 release. And there's also Asim Abbasi's Churrails to look forward to.
Times are tough. Icon presents a list of 20 things you could do in the year 2020 to spruce up your lifestyle... on a budget
3. Watch TV
Because unlike cinema, TV's on a roll. A range of dramas were huge hits all through 2019: Meray Paas Tum Ho, Ruswai, Yeh Dil Mera, Cheekh, Ranjha Ranjha Kardi and Ehd-e-Wafa among them. TV's free. And you can always change the channel if you get bored — an option that, unfortunately, cinema doesn't possess.
4. Wait for that high-street sale … because it is most probably right round the corner
The so-called high-street boom isn't quite as incredible as it looks. There are sales popping up every few weeks, which means that brands are very obviously struggling to sell stock and break even. So, even if you've fallen in love with a brand new collection, even when it's enticing you endlessly with web-based advertisements and TVCs, it's prudent just to wait a bit and the clothes are likely to end up on sale. Even high-end designers — Nomi Ansari, Rizwan Beyg, Wardha Saleem and Nida Azwer, to name a few — are now selling off extra samples at 'sample sales' with discounts that go up to a whopping 70 percent. And any obsessive shopper will tell you that there's nothing like the high of zoning in on a big discount!
5. Repeat your clothes — and then, repeat them some more
We all repeat our clothes but most of us are also often assailed by the urge to buy new ones every time a special occasion comes along. And retail therapy can be great — except in times when you're struggling to cut corners. Fortunately, repeating clothes is now the new 'cool', endorsed by celebrities and even royalty round the world. The Duchess of Cambridge Kate Middleton repeats some of her favourite outfits all the time. And on home ground, the eternally savvy Adnan Siddiqui enjoys repeating his sherwanis. If he wants his looks to be different, he just has the buttons changed. Now that's clever!
In 2019, celebrities have even resisted the urge to splurge out on wedding-wear. Naimal Khawar Khan, in her much-publicised wedding to actor Hamza Ali Abbasi, wore her mum's bridal dress. And by the way, she's turned out to be the 'Most Googled Pakistani', in 2019. How about that?
6. Sell off that designer-wear
Of course, once you've repeated an outfit often enough, you may want to consider selling it off. And the market for pre-loved designer-wear and formals is merely a click away. A number of Instagram and Facebook-based pages are running thriving businesses, acting as intermediaries between sellers and buyers of pre-loved clothing. You can even stay anonymous if you want. Do a quick run-through of some of these pages and you'll be surprised to see the prices at which some clothes easily sell off. And you can use that money to buy more clothes, if you like!
7. Pop a bird on your head to make a cost-effective statement!
Sometimes, you may not have the money to buy clothes that stand out but absolutely need to make heads turn at an event. Here's an easy breezy option: head off to the poultry store at the corner, and grab on to a hen, duck, pheasant — your choice — super glue it on to a hat and wear it on your head.
8. Go to a game show … preferably in Ramazan
And if you're lucky, you could win yourself a motorbike or an Umrah ticket, a car, a refrigerator, solid gold or all of these things together! The prizes really pile up particularly in the month of Ramazan — apparently, that's when game show sponsors are truly feeling holy. Do go dressed up in your most garish clothes and, if you can, make a poster declaring your love for the host and hold it up high all the time, even when your hands hurt … just imagine that shiny motorbike twinkling at you and you'll be able to bear with the pain.
Also, do be prepared to dance, gorge on mountains of food in eating contests, sing songs and get your weight measured. There are big prizes awaiting you and they don't cost a penny … though they may cost you your self-respect.
9. Become a celebrity freeloader
This is easier said than done. But there are shortcuts to fame if you're truly clever about it. You could do a Neelam Muneer — make a video of yourself dancing in your car and release it on the internet. Or you could just download that nifty little app called TikTok and then make a video of yourself with it, preferably hiding behind the PM's chair. Refer to Hareem Shah's thriving social media feed for further inspiration on this regard.
Once you do manage to get famous, a wealth of entertainment awaits you. You could travel the world, for free, flying business-class (of course) and attend fashion shows and awards ceremonies. Do remember to take lots and lots of pictures and upload them on the internet, accompanied by ecstatic little captions. There's no need to be truthful and tell the world that the show wasn't quite as glitzy as it appears to be in the television edit. Or that, right in the middle of that flashy little ceremony, fire alarms went off and you had to leave the venue, stand in Norway's freezing climes for a long time and, eventually, you fainted because you were basically wearing just a slinky gown (is Hira Mani reading this?). Yes, don't be truthful, because then you won't be able to freeload at the next awards ceremony.
Here's another advantage to being famous: you could have a fancy wedding and basically get various brands to sponsor it. You may have to find a spouse but everything from the clothes to the décor to the food could come to you for free, and you could even make some money by selling the wedding pictures exclusively to a publication. There's nothing quite like living the celebrity life, is there?
10. Opt for a simple wedding
Speaking of weddings, if you're from the not-so-famous majority, you could opt for a simple one. Some of the most talked about weddings in 2019 were restricted to beautiful, one-day ceremonies. Hamza Ali Abbasi and Naimal Khawar Khan tied the knot — quite 'platonically', may we add — in an early evening ceremony. Designer Ali Xeeshan similarly chose a picturesque venue up in the mountains, spruced it up with flowers, a small stage and a dance floor, and invited family and friends for a day-long party!
11. Just act rich
Never underestimate the power of suggestion. Even when you're not rich, you can let your mind play tricks on you by merely acting rich. For example, when on a plane with a meagre economy class ticket, hang about the business class area for just a while. Maybe you could even get the flight attendant to take a picture of you there. And do float the image out on the internet.
12. Develop a blog — and sell everything and your soul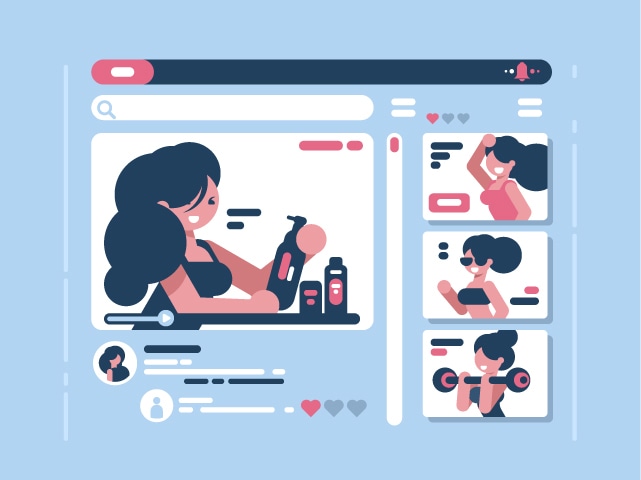 Blogging can be a lot of fun. All you have to do is establish your presence on a popular social media platform — Facebook and Instagram are current popular choices — and create content that will attract an audience towards you.
If you're interested in style and entertainment, you're likely to get loads of followers if you focus on celebrity weddings, celebrity couples and celebrity couples dancing at celebrity weddings. With a little bit of luck, you may manage to actually build a massive following with a video of celebrity PDAs (public displays of affection) when they propose at a major awards ceremony — yes, this happened in 2019 and you never know, it could become a total trend.
And once you've built your following, sell your soul and enter the lucrative world of paid reviews. TV channels and film production houses tend to fork out huge sums for favourable reviews that are floated out on to the internet. It's great business — although, on the downside, you may have to watch some of those TV shows and movies. Good luck with that.
13. Become an Insta-star!
This is very similar to being a blogger except, in this case, you're promoting yourself rather than celebrities. Being an Insta-star is the stuff of dreams — you get to pose in designer-wear, attend glitzy events, receive a massive number of gifts and you even get paid for most of this! But it isn't easy becoming one, especially in our holy land where you can't just drop a few clothes and 'impress' masses of followers. This is not recommended, unless you want to be trolled day and night for your wanton character. And especially if you have a conservative, murderous brother (as did the unfortunate deceased Qandeel Baloch). To be an Insta-star, then, an easier route would be to buy followers and then parlay them to get sponsorships from brands. It can be quite an investment, yes, but it could reap big rewards in the long run.
14. Read books!
Remember the time when social media hadn't taken over all your free time and you could just curl up with a good book for hours? Perhaps it's time to slow down and return to those steady, relatively economical tomes. You could really engross yourself in a story that you enjoy, without paid endorsements barging in on your mind, encouraging you to spend, spend, spend. Plus: being labelled snooty and aloof by trolls.
15. Live it up at festivals
Festival tickets aren't cheap. But they offer great entertainment, for an entire day. You could be frugal about the food that you buy — there is absolutely no need to buy an elaborate meal when you can make do with an unpretentious bun kebab and, at some point in the late evening, there's usually a live concert! That's well worth those ticket prices, we think!
16. Hang out at the mall…
Exciting new experiences may await you at the mall. You could get a makeover for free. You could sample food for free. Better yet, if a movie's about to release, there's a chance that the entire cast will be there, dancing for you, just like that, for free! Squeeze in a selfie with the stars and you've got something to show off to your friends.
17. Become a stylist
The year 2019 proved that anybody can become a stylist — you don't even need to have 'style' for it. You'll need to forge friendships with a few designers, particularly those that are smitten with celebrity culture and are willing to lend out clothes for free. You also need to have a certain confident air about you — act like you know your stuff, even when you don't; hold your head high and pretend that the celebrity that you've just styled is looking amazing, even if they look like they've just stepped out of a floral, bling-infested shower.
Remember The Emperor's New Clothes? Maintain the right attitude and no one's going to tell the emperor that he's not wearing any clothes, or ghastly clothes in this case … unless you run into that truthful little boy who decides to shout out the truth in the story.
It helps if you know a few celebrities you can convince they will look their stylish best under your discerning eye. Should be easy — most local celebs don't have much style anyway.
18. Imitate Atif Aslam or Rahat Fateh Ali Khan … like they do in Bollywood
Atif Aslam and Rahat Fateh Ali Khan are exemplary artists who have distinctive, irreplaceable styles of their own and the people across the border know this. It's the reason both singers have had very successful playback singing careers in Bollywood, with a slew of hits to their credit.
But now that Indo-Pak tensions don't show any signs of subsiding, Rahat and Atif are currently off the Bollywood circuit and enterprising Indian musicians have risen to the surface, trying their best to imitate their voices. Some of them have high-flying, thriving careers now — and so can you!
19. Clean up the beach
If you live close to the beach, you could start cleaning it up! The Karachi beach, particularly, is a garbage dump perpetually in need of a good clean-up and, who knows, you might get to rub shoulders with the likes of Shaniera Akram, Bilawal Bhutto Zardari and Bakhtawar Bhutto, who have all been stepping in to do their bit. That could help with the Insta celebrity attempts. Gather a group of friends and, if nothing else, you could enjoy yourself while also making a worthwhile effort.
20. Join politics — and try not to get caught out
Actor Hamza Ali Abbasi wants to get political, with some newly surfaced religious inclinations to boot. And Aamir Liaquat, game-show hit host of yore and subject of countless memes, is already a member of parliament. He struts around preaching from his moral high-horse and attending shows with his second wife. If even Faisal Vawda can take over the talk show screens, why can't you?
Politics — in Pakistan, particularly — is a very lucrative career option that does not require any particular credentials and gives you leeway to build mansions, go on expensive vacations and wear designer clothes. It's even better than being a freeloading celebrity.
But as you enjoy your life as a wheeling-dealing, super successful politico, do make sure that your reprehensible ways don't make the mistake of becoming an opposition politician. Dire consequences may await you otherwise.
Published in Dawn, ICON, December 29th, 2019