December 01, 2019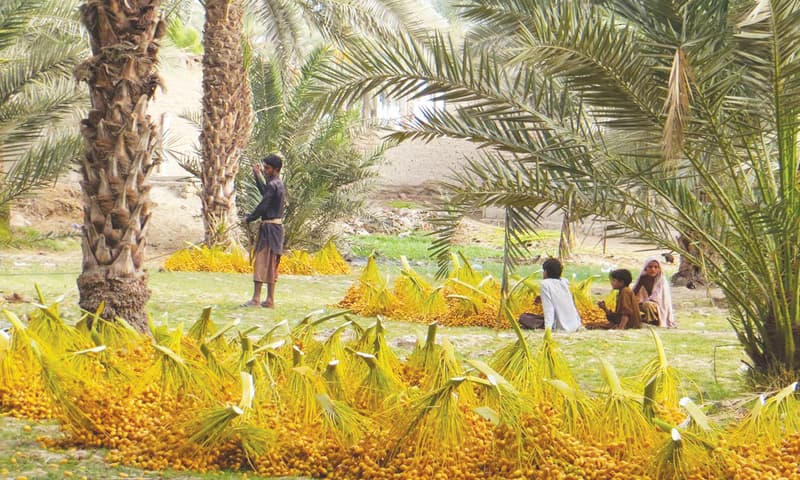 ISLAMABAD: The Food and Agriculture Organisation (FAO) of the United Nations has listed five reasons for dates to become food of the future, stating that dates are nutritious and important for livelihoods besides being part of a long heritage and culture, tolerant to difficult environmental conditions, and have untapped potential.
Discussions are now ongoing to review how traditional and local crops can make an impact in achieving Goal-2 of the Sustainable Development Goals that aims to end hunger, achieve food security and improved nutrition and promote sustainable agriculture. The FAO recently organised an activity sponsored by Saudi Arabia to promote the benefits of date production for economic, environmental and social development.
The FAO said cultures and respect for the value of food were being revitalised, and fruits and vegetables that had been overlooked on a global level were gaining new attention. There was a wide range of foods that fit this description, but one in particular was dates.
The date palm has been cultivated since 4000BC and is potentially the oldest domesticated tree in the world. It is difficult to identify the exact centre of origin for date palm, although evidence suggests that this could be Iraq. However, what is certain is that date palm has served as a critically important staple food, a main source of wealth and is of unrivaled cultural importance in arid regions of North Africa and Middle East.
Date palm is a multipurpose tree that provides fruit, fibre, sheltering material and fuel. The world production of dates was valued at $8.4 billion in 2016, while global trade accounted to some $1.2 billion, providing a major source of export revenues as well as of livelihoods and income for millions of rural small holders.
Date palms are genetically diverse with several known varieties: 595 accessions are conserved in genebanks held in Afghanistan, Cuba, India, Jordan, Libya, Pakistan, Spain, Sudan, Trinidad and Tobago, Tunisia, UK, USA and South Africa. In addition, there are 1,104 accessions of date palm relatives belonging to the same genus conserved in genebanks that can be used for breeding purposes.
Food and agriculture around the world form an important part of cultures and identities. To celebrate and preserve this heritage, FAO has designed the Globally Important Agricultural Heritage Systems (GIAHS) programme to award sites around the world that have maintained traditions of growing and harvesting foods that are unique and well-adapted to local landscape.
The FAO said that date palm was an important sector not only for the food and nutrition security of people in rural areas but also for their livelihoods. However, in the last 30 years, these livelihoods are being threatened by the 'Red Palm Weevil', the most destructive pest of palm trees worldwide. The red palm weevil originated in South East Asia and has spread rapidly to other regions.
The FAO is developing a mobile application, to be known as 'SusaHamra' to assist farmers worldwide in collecting data when inspecting and treating palms for this pest. It is also combining remote sensing with artificial intelligence to map palm trees and monitor the spread of these pests to help safeguard livelihoods throughout the Near East and North Africa region.
Published in Dawn, December 1st, 2019