November 29, 2019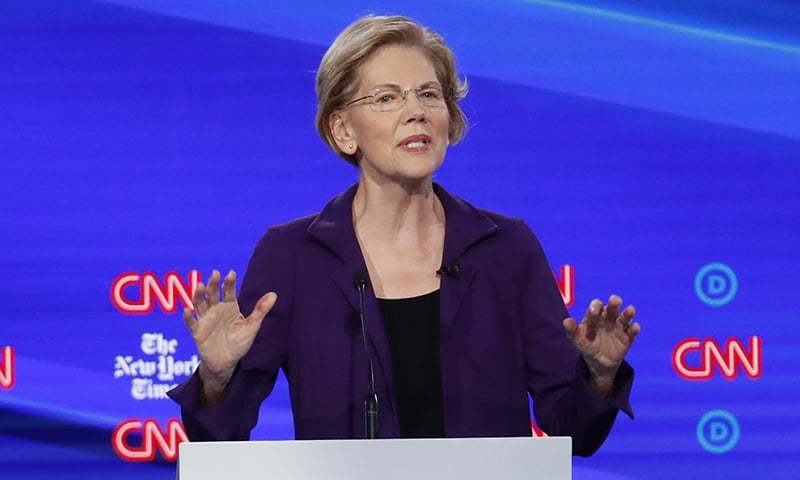 WASHINGTON: Leading American politicians expres­sed their outrage on Wednesday at immigration officials for creating a fake university to entrap and deport hundreds of foreign students.
"This is cruel and appalling," said US presidential candidate Elizabeth Warren. "These students simply drea­med of getting the high-quality higher education America can offer. Immigration and Customs Enforcement (ICE) deceived and entrapped them just to deport them," Senator Warren tweeted.
Congresswoman Alexandria Ocasio-Cortez, another Democrat, also criticised the ICE scheme in a tweet. "Now ICE is setting up fake universities to trap students. Yet we were called radical for opposing it," she wrote. She urged lawmakers to oppose such "mass incarceration" schemes.
The operation during 2017 and 2019 offered students a chance to enroll at the so-called University of Farmington to maintain their visa status, get a degree and training permits that would allow them to stay in the United States.
More than 600 students, mostly Indians, enrolled at the university, which was created in January 2016 by ICE officials. It was registered with the Department of Licensing and Regulatory Affairs as an educational institution at Farmington Hills, Michigan.
Authorities even set up a website for the university, with details of its history of admission and fees. The website showed that the university would charge between $2,500 and $10,000 per year for a graduate degree, which was noticeably low by American standards, attracting hundreds of students.
US officials, who spoke to various media outlets, argued that the applicants should have known the tuition at American universities averages between $36,000 to $60,000 per year.
The Detroit Free Press reported on Wednesday that an additional 90 students at the sham university had been arrested by ICE in recent months — bringing the total arrests to about 250.
An indictment submitted in a US court claimed that the university was being used by foreign citizens as a 'pay to stay' scheme which allowed these individuals to stay in the United States as full-time students in an "approved" educational programme.
It claimed that the students who enrolled and made tuition payments to the university knew they would not attend accrual classes, earn credits or make progress towards an actual degree in a field of study.
US authorities "trapped the vulnerable people who just wanted to maintain [legal immigration] status", Rahul Reddy, a Texas attorney who represented some of the students, told the Detroit Free Press this week.
Reddy said that in some cases students who transferred out from the University of Farmington after realising they didn't have classes on-site, were still arrested.
Almost 80 per cent of those arrested have been deported to India, while others are contesting their removal orders.
Published in Dawn, November 29th, 2019