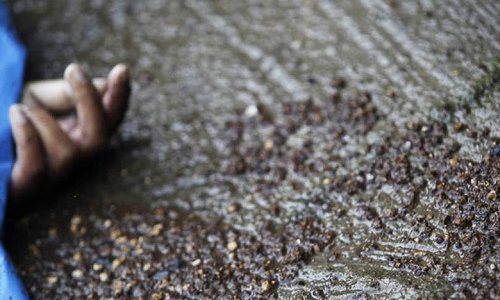 LAHORE: An armed clash between rival groups on Saturday over a piece of land claimed lives of five residents of Dial village near Batapur, leaving six others injured.
According to locals and police, Bhatti and Nazir groups had developed enmity over an eight-marla piece of land.
On Saturday, Nazir group gathered to discuss the issue when three armed men of Bhatti Rajput group riding motorbikes arrived there and opened indiscriminate fire on them, a witness who also suffered a bullet injury told the media at hospital.
As a result, four men -- Amjad (40), Imran (35), Ijaz (30) and Zafar (35) -- were killed on the spot, while seven others were injured. One of the injured, Muir Ahmad (65), later succumbed to his wounds at a hospital where he was shifted to in a critical condition.
He said the firing was so intense that people ran to take cover.
He said the groups had also clashed earlier over the same issue in June this year.
The injured man said the head of Bhatti group - Rafaqat Ali - also got injured when an armed man of Nazir group returned the fire.
On being informed of the clash, a heavy police contingent arrived at Dial village.
Lahore Operations SSP Mohammad Naveed told Dawn that Rafaqat Ali and his accomplices had earlier been arrested and an FIR was lodged against them for injuring a man of their rival group in June. However, the suspect was released on bail almost a week ago, he said, adding that on Saturday morning soem members of the both parties against scuffled over the disputed land, that resulted in the incident.
Quoting police inquiries, the SSP said Rafaqat was mastermind of the armed attack in which five men of Nazir group were killed.
He said Nazir also suffered a bullet injury in the crossfire and was arrested and a murder case was lodged against him with Batapur police station. His accomplices fled the scene, he said.
The SSP said police had been deployed at the village to prevent any law and order situation.
Mr Naveed said heads of both parties were close relatives.
The bodies of those killed in the clash had been shifted to the city morgue for autopsies.
Published in Dawn, November 10th, 2019